Michelin's Movin'On Conference Fosters Creativity, Collaboration, and Networking
Aim of conference is to help build the framework of future mobility, says Nicolas Beaumont, senior VP of sustainable development and mobility 
June 28, 2018 Last Updated: June 28, 2018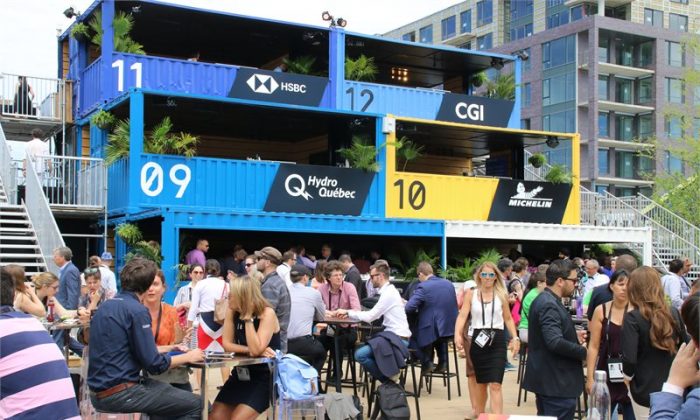 MONTREAL—Imagine a gathering of more than 5,000 active participants from such disparate disciplines as academia, politics, cities and municipalities and, naturally, business. That was the Michelin Group's Movin'On 2018, a summit held in Montreal in early June that for three days became the focal point of the business world.
The event featured presentations, workshops, talks and panels, and labs, as well as demonstrations of the latest vehicles and technologies. People from all over the world attended—people who came to listen, learn, and share, and, hopefully, to collaborate.

But this was not your average "convention." Far from it. The objective of the World Summit on Sustainable Mobility was to turn ambitions into plans of action.
We sat down with Nicolas Beaumont, senior vice president of sustainable development and mobility at Michelin. He's the man who leads the charge and executes the plan.

Beaumont briefly defined the evolution of Movin'On, which is co-organized with transformative conference leaders C2 and with the help of 155 partners. Originally presented as the Michelin Challenge Bibendum in 1998, the commitment was to bring together stakeholders from the world of transportation and explore future solutions. Michelin played an active role in the new mobility ecosystems of the time by rallying the various participants, acting as a hub—the common element to bring everyone together.
"For many years, the Michelin Challenge Bibendum served as a facilitator to stimulate tomorrow's mobility solutions. Today, sharing of information and mobility in general are progressively holding the key to all that we do and might accomplish—individually and together," Beaumont said.
"We believe in gathering as many relevant partners, from both the public and private sectors, to access their expertise and to help build the framework of future mobility. This diverse selection of partners will produce a creative environment where the sparks of great ideas will be generated."

Beaumont said this year's event attracted more than 5,000 participants from 60 countries and 155 partners, which was a considerable increase over last year. He explained that Michelin considers the summit a networking event, and all partners share the costs.
Each stakeholder brings their own individual ideas and, more importantly, their way of doing these things. This can not only offer a different perspective but also deliver a degree of agility and help make good things happen quickly and efficiently. The format of Movin'On means that these partners can speak and interact informally, which can generate the most innovative solutions for the sustainable future of mobility.
Why Sustainable Mobility?
To many, Michelin is known primarily as a tire company. Why sustainable mobility? What was the motivation for the Movin'On conference and for Michelin's interest?
Beaumont explained that Michelin has had an interest in sustainable mobility for many years. In fact, the very first "green" tire was launched by the company back in 1992.
"Today, the Michelin Group's interest in sustainable mobility stems from the challenges of maintaining viable economic growth while reducing our environmental footprint. At Michelin, it is vital we present our global organization as a responsible business for our stakeholders–and ultimately for the planet," he said.
"In fact, Michelin has taken on a leadership role to promote a path towards the reduction of carbon emissions within the transport sector between now and 2050."

Michelin announced at the event that its tires will contain 80 percent recycled or reusable material by 2048.
"Movin'On is a platform not just for Michelin, but for and about all people tackling mobility," said Florent Menegaux, who will take the French tire company's top spot next year when Jean-Dominique Senard retires.

Beaumont said that while he believes Michelin has carved out a role for Movin'On going forward, the organization would have no problem should the conference continue to evolve without the Michelin brand name being attached. Michelin would continue to take a lead position, but there are other partners who are as determined to move the collective agenda forward.

While this event was the second one held in Montreal, such was the overwhelming response from participants that the conference will return to the city June 4-6, 2019, with the promise of even more collaboration and the sharing of ideas, technology, and innovations to further develop future partnerships toward a sustainable future.
David Taylor is an independent automotive lifestyle writer, producer and editor based in Barrie, Ontario who is fascinated by innovation and technology which enhance the overall driving experience. He's also a member of the Automobile Journalists Association of Canada (AJAC) and is Co-Chair and a Director of that organization's Canadian Car of the Year Award (CCOTY). Follow him on Twitter @Omemeeozzie or on Instagram @hugoscaroftheweek.