After being found with her three sons—and subsequently arrested—in Savannah, Georgia, Michalene Melges, 40, from Lake Geneva, Wis., now faces seven charges.
Melges faces three felony counts of interfering with child custody, three misdemeanor counts of contributing to truancy, and one count of disorderly conduct—and will be extradited from Georgia to Wisconsin to face the charges in Walworth County Circuit Court.
As of Wednesday, Melges' is being held at the Chatham County Jail in Savannah awaiting extradition, according to Lieutenant Pete Nichols of the Chatham County Sheriff's Office. A court date has not yet been set.
Melges and her three sons 14-year-old Hans, 12-year-old Kristian "Max," and 10-year-old Maverik "Buddy," were safely found at around 1 p.m. Tuesday, the Lake Geneva Police Department announced.
"When we put it out to media last night, we got a citizen tip of someone who saw them in Savannah," Lt. Ed Gritzner told MyRacineCounty. 
That citizen, told Lt. Gritzner that she and her husband saw Melges and her children at a vacation resort in Savannah. She said the children "stood out as being so well dressed," leading her to remember seeing them, according to a WKOW report.
Savannah Police and FBI agents were then able to intercept her and the children soon after at their next destination, where they were taken into protective custody, police said.

Gritzner also confirmed that Melges remained in custody throughout Tuesday afternoon.
Lake Geneva police spoke with the boy's father, and Michalene's ex-husband, Hans Melges on May 17 and May 24, FOX 6 Now, citing a criminal complaint. The father said he had not spoken with Michalene or the boys since May 9—the same day she rented a van from Lake Bluff, Ill.
Also on May 9, Melges reportedly told her own father, "You'll never see the kids again," after he and his wife visited Melges' home and attempted to "confront her about her behavior," which led to an argument, the complaint states.
In the complaint, Hans told police he was scheduled to see the kids on May 6, but prior to that arrangement, he had a verbal altercation with Michalene. The following day, also a scheduled visitation day, he received a phone call from one of the boys, who said they didn't want him to fight with their mother anymore and advised him not to pick him and his brothers up.
The complaint states that Hans said Michalene failed to present the kids for scheduled visitations on May 13, 14, 16, 20, 21, and 24. Despite reaching out to her, he says he hadn't heard from her.
An "Amended Marital Settlement Agreement" was filed in January, the complaint says. It was signed by both Michalene and Hans, and stated Hans would have the children on Mondays from 4:30 p.m. until 7:30 p.m; Fridays from 4:30 p.m. until 9:30 p.m.; and Saturdays from 2:30 p.m. until 9:30 p.m.
In the complaint, Hans stated that he was notified when the boys had not attended school on May 16, and that the boys' absence had not been excused. Two days later, he was told by the school that Michalene had excused them from May 10 to 13, however. The document also states that Melges' co-workers were not informed of her departure, and also hadn't heard from her since May 9.
"She does have sole custody—but he is allowed visitations and during this process, multiple visitations were missed. There was also a condition that if she is to leave a 150 mile radius, she's to notify the court as well as Mr. Melges and that did not occur. Michalene is being very vague in the information she's sharing with authorities in Georgia," Lt. Gritzner said, according to the FOX report.
Lt. Gritzner also said there had been no history of domestic violence among the family, and there was no existing custody battle at the time of her disappearance.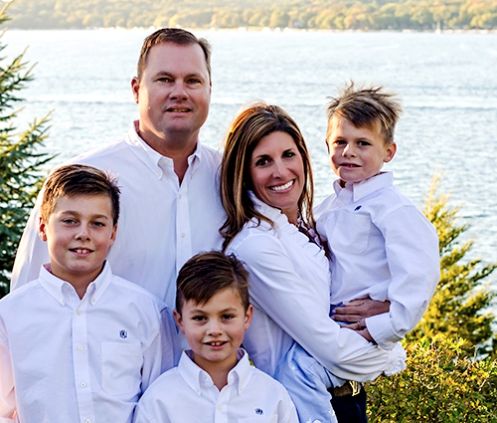 "He was extremely relieved when I spoke with him. His biggest concern, as was our's, was the welfare of those children," Lt. Gritzner said, when asked of the boys' father.
Gritzner said earlier in the day that the boys' father and other relatives were headed to Georgia to retrieve the children.
After she rented the van, believed to be for their vacation, on May 9, Michalene and her sons were last seen leaving their Lake Geneva home on May 10. The van was then returned to a rental company in Plano, Texas, on May 13—but the rental company said they didn't see the family drop the van off.

Authorities said Melges' credit cards and cellphones were unused while they were missing. Several Facebook commenters believed Melges had run away.
According to a Lake Geneva News report, Melges is a local real estate agent and appeared on the cover of Top Agent Magazine in 2014.