PUNTA GORDA, Fla.—Parents of students in Miami-Dade County made one thing clear to school officials this week—they are waking up and not woke, said the leader of a citizen watchdog group.
And it's just more evidence that "parents and guardians across America are actively taking steps toward regaining their rights in education," Alex Serrano, president of the area's chapter of County Citizens Defending Freedom-USA, told The Epoch Times.
On Sept. 7, parents packed the chambers of the Miami-Dade School Board and spoke for more than eight hours about a proposal to recognize October as "LGBT History Month."
In response to the outcry, and out of concern that the proposal would run afoul of Florida's new Parental Rights in Education law, the board voted 8-1 not to recognize LGBT History Month.

Miami-Dade County Public Schools is the nation's fourth largest school system and serves nearly 332,000 students.
In addition to other activities, the proposal suggested the "possibility" of providing resources for teachers in 12th Grade social studies to teach about "important landmark civil rights" cases.
Those would have included the Supreme Court's 2015 Obergefell v. Hodges ruling that recognized same-sex marriage, and Bostock v. Clayton County, a case that protects employees from being fired for being gay or transgender.
The plan to focus for a month on LGBT concerns may have moved forward if parents hadn't shown up to voice their concerns, Serrano said. At the Sept. 7 meeting, a parade of parents told the board they wanted topics of sex, sexual orientation, and gender addressed at home, not taught by teachers.
And parents' objections largely were driven by culture, Serrano said, noting that Miami-Dade historically has been "predominantly Hispanic."
That "community does have more conservative values in terms of family values—in terms of being more conservative in relation to these types of subjects," he said. "Hispanic families prefer to deal with that at home."
The values of the Hispanic community have never left their "conservative roots," despite voter rolls that seem to indicate an alignment with Democratic Party values, he said.
"I would say that the shift is that the [Hispanic] community is finally becoming more aware of what is going on," Serrano said.
"If you look at the voter registrations historically, it may be and look blue, but if you look at the values of the community it is predominantly Hispanic, and Hispanics have more conservative values."
At the school board meeting on Sept. 7, Serrano told board members they would be in violation of many of the state statutes if they set aside October to honor LGBT history.
"We identified a potential breach when we saw the agenda item come through," Serrano said.
After viewing item H-11, Serrano sounded the alarm through CCDF-USA, sending out an email call to action. Parents mobilized.
Serrano said the agenda item was "lacking in legal sufficiency" as it related to age-appropriate instructional materials and encroached on parental rights and was "not suitable to student's needs as provided for by Florida statutes.
"We had roughly 10,500 engagements," Serrano said. "So that gave us data that we could use, which I used in my comments—the values of the community don't align with this item."

For more than eight hours, parents, teachers, and students spoke on the issue. About 90 percent opposed LGBT History Month.
The lone school board member in favor of the proposal was Lucia Baez-Geller whose term does not end until 2024.
"There is an election year and the anti-LGBT rhetoric is a tool used by some to spread misinformation," Baez-Geller said after the vote. "This is just plain disinformation."
Setting aside October to honor LGBT accomplishments would "recognize the dignity and the respect for each other" and would not indoctrinate students, she said.
"It does not force an agenda on students," Baez-Geller said. "And, as was stated incorrectly, this item does not take away parental choice."
A chorus of groans arose from the audience.
Her proposal would have directed school leaders to explore the feasibility of leading lessons about the Supreme Court cases. The proposal "clearly outlined that any move must fall in line with state curriculum standards, and all applicable state and federal law," Baez-Geller said.
She also said that students would have been able to opt out of the lessons.
Serrano countered that the language of the initiative was "ambiguous" and did not answer a plethora of questions that had gone unanswered.
"It didn't include any access to what materials might be posted in the hallways or at the entrances of schools," he said.
"It didn't include any sort of language referring to opting out of it. And how would you opt out of something that you'd essentially have to remove your child from school for an entire month?"
Serrano asked if the opt-out was an "excused or unexcused absence."
"More importantly, you're directly impacting their access to foundational learning, which is the primary premise of education," he said. "We saw that the agenda item was open to all sort of scrutiny in terms of the various statutes."
School board meeting attendee, Jordan Toast agreed, and said he was "concerned about the current and future state of the education system."
Toast spoke at the meeting, identifying himself as a Miami native and gay man. He said he understood the "importance of a healthy and balanced education—and diversity of thought."
"What is happening right now is no longer acceptance—it's indoctrination," Toast said, as audience members cheered and clapped.
"The children deserve an education that will develop them, give them a platform for critical thinking and problem-solving. We are moving in a direction that will create entitled, confused, depressed, and potentially dangerous adults."
Parents need to be in "100 percent control of their child's development and education," Toast told the board. He said the education system has been "hijacked" by agenda-pushers disguised as "social justice warriors."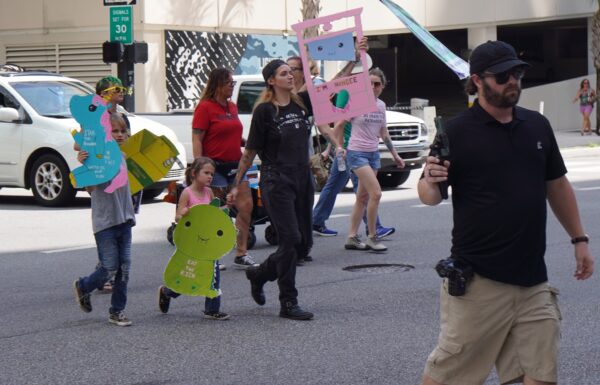 Some who spoke against the measure said it went against their religious beliefs. Others said it would further indoctrination and sexual abuse of children.
Still, others agreed it was a good idea. Student adviser to the school board Andrea Pita Mendez said that "after weeks of speaking to students, to teachers and others," she hoped the board would pass the initiative.
"Our students want this to pass," said Mendez. LGBT history "plays an important role in U.S. history."
"I heard many of you speak of the fact that in your generations this wasn't seen, this wasn't heard—you grew up in a very different time than we are."
The nation is "highly polarized," she said. But "we are the ones that sit in those classrooms, that embrace diversity and inclusivity because we do love each other, and we do support each other, and we do want to see each other go very far in the world."
School board member Christi Fraga was alone in voting against the measure last year. She opposes setting aside a month to honor LGBT history because it creates a "hostile" environment, she said.
"If we are going to allow the teachers to decide what will be taught in classrooms during this time, that concerns me," Fraga said during the meeting.
Last year, school board members passed a similar resolution 7-1 recognizing LGBT History Month.
Their rejection of the measure this year would be on "solid legal footing," their attorney advised.
"I do believe this is in direct violation of our parental rights bill," Fraga said. "If not so directly, in [the] spirit it is. Because this is saying a full endorsement in the entire district of this month, that includes kindergarten through 12th Grade."
In March, Florida Gov. Ron DeSantis signed into law the bill that became known by opponents as the "Don't Say Gay Bill."
The bill prohibits teachers from leading classroom instruction on gender identity or sexual orientation for students in kindergarten through third grade. It bans such lessons for older students unless they are "age-appropriate or developmentally appropriate."
DeSantis has repeatedly said that parents, not teachers, should be speaking with children about sexual orientation and gender identity.