Mexico Rides Rollercoaster to World Cup Knockout Phase
Defending champion Germany eliminated by South Korea
June 27, 2018 Last Updated: June 29, 2018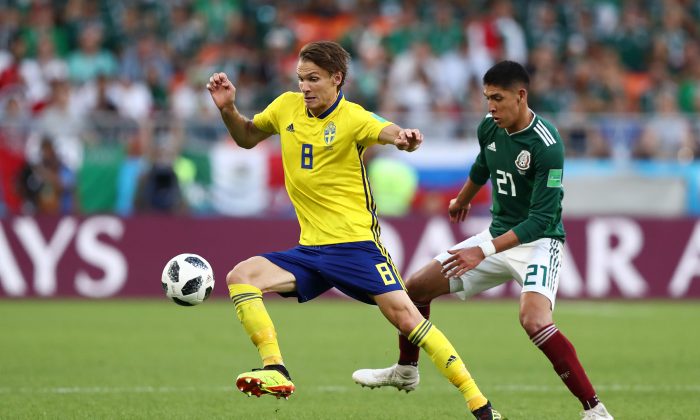 It's the beauty of sport where in one moment, the agony of defeat turns into the ecstasy of victory. Mexico was thrashed 3–0 by Sweden in Ekaterinburg on June 27, and then had to hope Germany didn't beat South Korea in Kazan.
And the Koreans came up with two stoppage-time goals to send the 2014 defending World Cup champion home and Mexico onward. It was a sequence of events no sane mind could have predicted.

After starting Russia 2018 with two wins—including the first for a CONCACAF team over Germany in World Cup play—the Mexicans nearly threw it all away. They just needed a draw against Sweden to assure progress.
Mexico went from looking like a solid, well-oiled machine to a fragile team without ideas and confidence. Sweden won the group with a powerful performance in the second half after being unlucky in the first half. And Germany actually finished bottom of the group and marked the first time in their glorious history that they lost two World Cup group stage games.
While it's become surprisingly common for defending World Cup champions to fail to reach the knockout phase at the subsequent World Cups, Germany's exit is particularly stunning.
The world's top-ranked team had reached 16 straight quarterfinals or better at the World Cup.
Nevertheless, France in 2002, Italy in 2010, and Spain in 2014 all exited the group stage after winning it all four years prior.
Did Not Work
The three-goal loss was the worst for Mexico at a World Cup since 1978 when it lost by six to West Germany, but what's important for Mexico is that it qualified for the knockout phase.
The match started ominously for Mexico as Jesus Gallardo picked up the fastest yellow card in World Cup history—after just 13 seconds. And from there, Sweden started putting Mexico under pressure and never let up.
Mexican head coach Juan Carlos Osorio said the thumping was a lesson for him. He experimented with a different structure for his back line and it didn't pay off. Tactically, Mexico got it wrong as well.
"Today, my sin was to be a purist," he said. Osorio thought he could play the same style of appealing football against Sweden.
"This type of game has really taught me something today," he said, adding that he doesn't expect his next opponent to play the same way Sweden did.
Mexico dominated possession, but Sweden was far more dangerous with the chances it created. The Swedes had a distinct height advantage and used a direct style with threats from set pieces to trouble Mexico.
"The team was able to cope with it during the first half," Osorio said. "Once they [Sweden] scored things got really, really difficult for us."
Curse of the Last 16
Overall, the Mexican team has shown solidity in all aspects of the game and has reason for optimism. Its goalkeeper Guillermo Ochoa was heroic in the first half against Sweden to keep the game scoreless; he leads the World Cup in saves.
In midfield, "El Tri" have a good combination of creativity and toughness and can attack from wide areas with players like Miguel Layun and Hirving Lozano.
Up top, a rejuvenated Javier "Chicharito" Hernández, 30, became his country's all-time leading scorer with 50.
Mexico now has stability in the coach's role with the Colombian Osorio who had never kept the same squad from match to match since taking over in 2015—until against Sweden.
And the coach can call upon the experience and leadership of 37-year-old Rafa Marquez who is playing in his fifth World Cup.
The Mexicans have among the best fan support with an estimated 30,000 to 40,000 in attendance for each match. Fans in the stadium proudly belt out "Cielito Lindo" after their wins, although they were on pins and needles after the hammering from Sweden.
Mexico has been extremely consistent in World Cups, but also never reached the upper echelons of the international game. It has now reached seven straight knockout stages, but only twice a quarterfinal (1970, 1986).
It is their 16th World Cup and only four other nations have played in more World Cups.
If Mexico is to reach its third World Cup quarterfinal, it will have to overcome the five-time winner of the world's biggest sporting event Brazil. Brazil won Group E and are will face Mexico on July 2 in Samara.
Follow Rahul on Twitter @RV_ETSports