First Lady Melania Trump has reacted to the death of Karl Lagerfeld, who passed away on Feb. 19 at the age of 85.
Trump, a former model, paid tribute to Lagerfeld, who worked for Chanel and other studios.
"Today the world lost a creative genius. We will miss you Karl! #RIPKarlLagerfeld," tweeted Trump, a longtime fan of his.
Today the world lost a creative genius. We will miss you Karl! #RIPKarlLagerfeld pic.twitter.com/8MMcWqDphE

— Melania Trump (@FLOTUS) February 19, 2019
She posted a photo of Lagerfeld and herself wearing a dress and jacket from Chanel and another 2017 photo in Israel showing a white cashmere skirt suit Lagerfeld had personally designed for her, the AFP news agency reported.
The first lady also posted his original sketch for the design, "which featured a pearl-buttoned, belted peplum jacket and pencil skirt," said AFP.
Trump also wore Chanel clothing to her first state dinner, which, according to AFP, was a "shimmering, sleeveless gown." She and President Trump were hosting France's Emmanuel and Brigitte Macron in April 2018.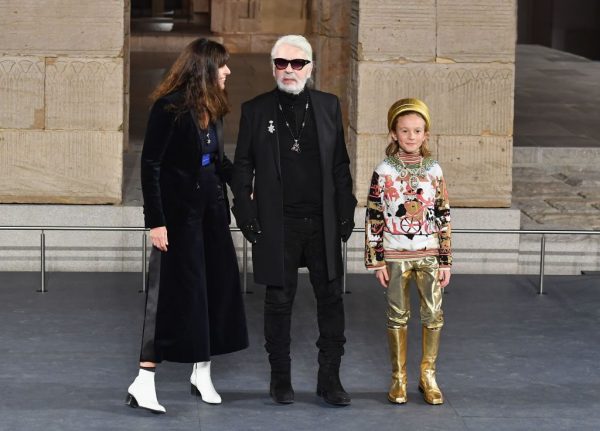 Lagerfeld told the Wall Street Journal that Americans should "deal with" the election of President Trump amid calls for resistance against his presidency.
"Fashion magazines and fashion people are fashion, they are not politics," Lagerfeld told the news outlet.
He added: "I knew Trump before, when he was not in politics. I'm not American, but he's a democratically elected president of America, so people have to deal with it."
Lagerfeld also praised Melania Trump as a "very nice woman" who is "pretty handsome." He also praised the first lady's looks and Ivanka Trump's looks in the WSJ interview.
Other Tributes
Italian designer Donatella Versace and a number of other fashion luminaries issued tributes following Lagerfeld's death.
"Today the world lost a giant among men," said Anna Wintour, editor-in-chief of Vogue magazine, as reported by the BBC. "Karl was brilliant, he was wicked, he was funny, he was generous beyond measure, and he was deeply kind. I will miss him so very much," her statement added.
Alain Wertheimer, the chief executive of Chanel, credited Lagerfeld for transforming the brand.
View this post on Instagram
"Thanks to his creative genius, generosity and exceptional intuition, Karl Lagerfeld was ahead of his time, which widely contributed to the House of Chanel's success throughout the world," he said, as reported by the BBC.
"So incredibly sad to hear this," model Victoria Beckham wrote on social media. "Karl was a genius and always so kind and generous to me both personally and professionally. RIP."
"Karl…..I cannot tell you how much you meant to me and how much I will miss you," actress Diane Kruger wrote on Instagram. "I will never forget your kindness towards me, your laughs, your imagination. I came to France to see you this week and introduce you to my daughter…I'm heartbroken I was too late. Rest In Peace, I adore you."
Anna Wintour reacts to Karl Lagerfeld's death: 'I will miss him so very much' https://t.co/d94Fqk68jw

— Jairo Rodriguez (@RealtorJairo) February 19, 2019
"Nothing feels right today..at a loss for words and so heartbroken by the loss of Karl. His humor, wit, love and passion for fashion will live on forever," model Bella Hadid said on Instagram.
"Thank you for the inspiration that you gave to this world and for all of the hearts that you touched in the process. Every time I saw you it felt like the first time & I will miss your hugs so much. I feel so lucky to have been in your presence. Sending my love to the Lagerfeld family and to all closest to him. I am so sorry. We all love you so much. Rest In Peace KL."