Melamine Found in More China-Made Products
September 30, 2008 3:54 am Last Updated: October 1, 2015 10:47 pm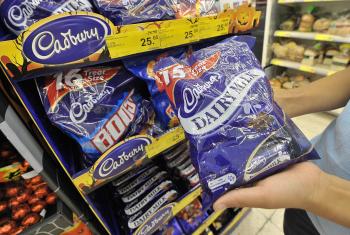 The number of "Made in China" food products tainted with melamine continues to increase around the world, with China's tainted milk scandal now extending to Cadbury chocolates, Heinz baby cereal, and Silang House potato crackers distributed in Hong Kong.
Wuzhou BingQuan, a Chinese-made soy milk, also was tested in Indonesia and is suspected of being tainted by melamine.
Britain's Cadbury, one of the world's largest chocolate makers, announced a recall of eleven of its products on Monday. The recalled Cadbury products are Chinese milk-based chocolates being sold in Hong Kong, Taiwan, and Australia.
Cadbury's Asian District Office said that preliminary testing had found different levels of melamine in eleven types of chocolates, made in their Beijing factory. As a result of the findings, the company is issuing a recall as a precautionary measure, providing further detailed information after more tests are conducted.
However, according to sources, some supermarkets in Beijing are still selling the same Cadbury product lines recalled in Hong Kong.
Hong Kong's Center for Food Safety also tested for melamine in other Chinese milk-based products. After testing, they ordered retailers to pull Heinz DHA+AA Vegetable Formula Cereal and Silang House of Steamed Potato Wasabi Cracker products off their shelves.
Indonesia's Health Department found melamine in four China-made soy milk products illegally imported to Indonesia. The authorities said the four contaminated soy milk products were made by Wuzhou BingQuan Industrial Shareholding Co. Ltd. in Guangxi Province. One of the soy milk products tested positive, with over 93 milligrams of melamine per kilogram. This raises questions over whether non-dairy products are also being affected.
After Indonesia's testing results, Singapore's Agri-Food and Veterinary Authority said it will now test for melamine in both dairy and non-dairy products made in China.
On September 29, China's state-run media published an article stating:
"Chocolate manufacturer Cadbury issued a statement which announced that the chocolate produced in its Beijing facility contains some ingredient that is 'questionable.' Therefore, Cadbury will voluntary recall the product from Hong Kong, Taiwan, and Australia."
Read the original article in Chinese