Mayor of Houston Stands Firmly Against Splitting Families at the Border
June 20, 2018 Last Updated: June 20, 2018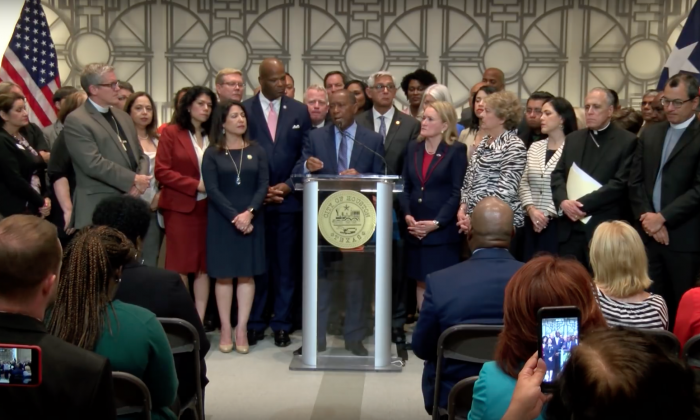 After a face-to-face meeting on June 19 with the nonprofit Southwest Key, Mayor Sylvester Turner, joined by council members, the chief of police, and community leaders, said that they have gathered and are standing united in opposing an unjust and immoral policy of ripping apart immigrant families. They are against taking innocent children away from there parents and guardians at the border and that it violates decency and is not representative of our American values. "It is not representative of who we are," the mayor said.
Turner explained that he is speaking not only against the policy of splitting families but especially when the plan is to place children ages zero to 17 in a former warehouse and homeless shelter on the edge of downtown Houston.
The property owner who leased a former warehouse and homeless shelter near downtown Houston for use by Southwest Key is David Denenberg. The city of Houston and the Harris County were in negotiations with the property owner to use the property as a long-term homeless shelter. The plan was for the city to give homeless people a safe place to sleep and for the county to provide the necessary treatment and food.
At the meeting that took place earlier that day, Southwest Key acknowledged that they did lease the building for the purpose of housing children that are being separated from there families at the border. According to Turner, they said that they will provide complainant care for the children.
"Let me just say I do not question their intent, but I also made it clear to the Southwest Key that I do not support the facility being used for this purpose," said Turner.
Over the year Turner explained that he has tried to stay clear of the national dialogue on many issues but this issue is different, "Because this involves our children, this one is different and there comes a time when Americans, when Houstonians, when Texans have to say to those higher than ourselves this is wrong, this is just wrong."
This wouldn't be an issue if Southwest Key was providing accommodations and care for families as a whole explained the mayor.
"It is unimaginable to me for an infant, a 1-year-old, or a 3-year-old to be separated from his or her mom, a father, or a family member, taken to another location not knowing when they were going to be reunited," said Turner.
"Southwest Key cannot combine its good work with a bad policy and come out smelling like a rose," he said. "I do not want to be an enabler in this process. I do not want the city to participate in the process. I do not want out facilities, our property owners to participate in this prosses," said Turner.
The mayor personally asked Mr. Denenberg to reconsider leasing the property and to participate in this process.
Turner said he will ask the Texas Department of Family and Protective Services to deny a child care facility license to Southwest Key. Further, he said, city departments will move methodically in determining whether to grant local permits to the property for dormitory use, fire safety, and food service.