When Roald Dahl's kid's classic Matilda was brought to the big screen in 1996, it helped make little Mara Wilson a star. Having previously appeared in the heartwarming Mrs. Doubtfire in 1993 and Miracle on 34th Street in 1994, Wilson was perfectly cast as the telekinetic heroine, Matilda Wormwood, who got revenge on her mean parents and evil school principal using her special powers.
Danny DeVito and his real-life wife Rhea Perlman delighted audiences with their portrayal of Matilda's awful and uncaring parents, but behind the scenes, they became surrogate parents that Mara Wilson desperately needed.
While this actress had captured the hearts of the nation with her spirit, it was difficult to be in the spotlight at such a young age. However, when the chance to be in Matilda came up, she couldn't say no.
As Wilson, who is now 31 years old, told Parade in 2013: "My whole family loved that book. My brother was reading it in his fourth-grade class and my mom would go to his classroom and read the book out loud because she had this wonderful voice and could become all the characters."
Seeing as "the book was a big part of my life already," Wilson managed to impress director Danny DeVito at the audition and win the part.
Wilson told Good Morning America: "I was so thrilled because that was a book that I loved, that I adored." For the budding actress, this was the first time she played a girl who she saw herself in.
But just as Wilson won the incredible part, tragedy struck. During filming in March 1995, her mother, Suzie, whose readings of Matilda had delighted local elementary school kids, was diagnosed with breast cancer and became incredibly ill. Wilson had to go through filming with her mother's sickness hanging over her.
That was when Danny DeVito and Rhea Perlman, who played such awful parents in the movie, became Wilson's "fun uncle and fun aunt," as she told Good Morning America. "They were incredibly kind people," who took her under their wing as her mother fought a losing battle against cancer.
"I really owe them forever for all the good things they did for me while my mother was sick."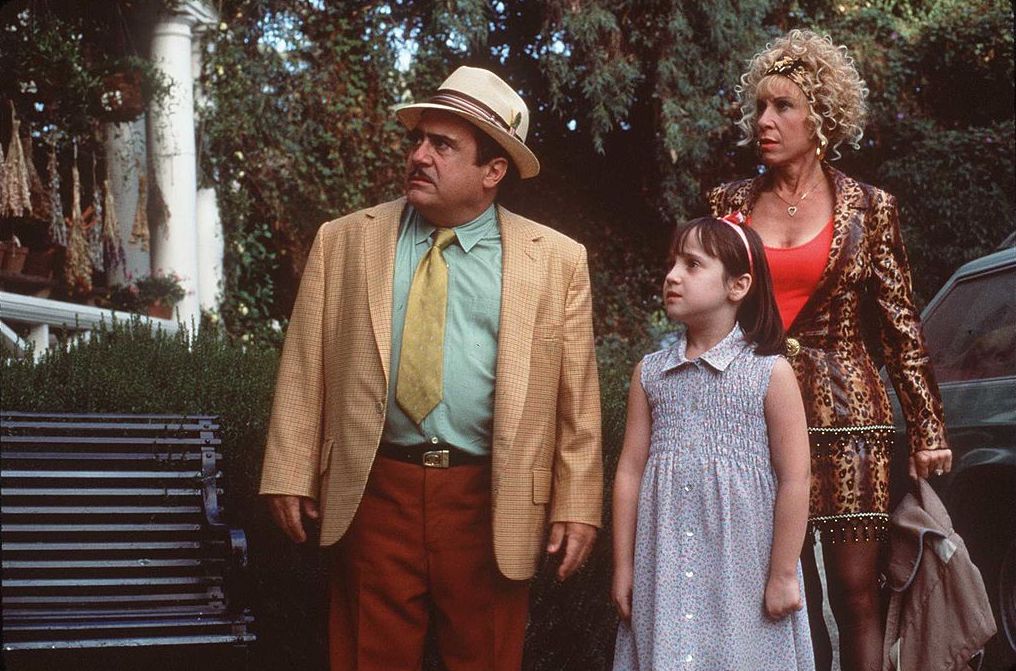 Meanwhile, DeVito and Perlman's kindness and making the movie kept Wilson going. As she explained to Parade: "it felt very familial on that set. I was going through a hard time and I know I had hard days, but everyone on the film was so nice." As long as she was working with her friends and the support of the cast and crew, things were better. "I could focus on everything good that was going on in my life."
The filming wrapped up, and after months of chemotherapy, Suzie Wilson passed away on April 26, 1996. Danny DeVito dedicated the movie to her. While the rest of the Wilson family were heartbroken that Suzie never got a chance to see the finished film on screen, DeVito later told Mara Wilson that he had given her mother a special gift before her death.
As she told Good Morning America, "I thought that my mother had never gotten the chance to see the movie, but he said he actually brought a print of the movie to her while she was sick, while she was dying."
Love my haircut, happy to see Yasue at @SamBrocatoSalon as always pic.twitter.com/SIwT01k2qm

— Mara "Get Rid of the Nazis" Wilson (@MaraWilson) May 29, 2019
These days, Wilson writes for a living and has published a well-reviewed autobiography in 2016 called Where Am I Now? in joking reference to the typical angle of social media coverage that she and other child stars tend to receive.
She still misses her mom and remembers how hard it was to come to terms with her tragic death, but as she told Good Morning America, "I definitely feel like having [DeVito and Perlman] there, and having people willing to take care of us and help us out, made it easier."