More than two dozen bodies have been recovered by authorities in California after a boat caught fire on Sept. 2 and a marine biologist and a 17-year-old girl are feared to be among the dead.
Thirty-nine people were on board the 75-foot commercial vessel, which was on a scuba excursion near the Channel Islands, when it caught on fire.
Among them was Kristy Finstad, a 41-year-old marine biologist who was on board to help with her family's scuba diving company, Worldwide Diving Adventures.
Finstad's brother, Brett Harmeling, 31, posted a message on his Facebook page. "Please pray for my sister Kristy!! She was leading a dive trip on this boat," he wrote.
"We're still waiting to hear, unfortunately. It's not looking good," he told the New York Daily News.
"She'd be the person who could make it if it's possible. She could hold her breath for an insane amount of time. It just doesn't sound like there was a chance for anyone to get out," he continued. "She's a very strong, strong woman. But they've been searching for a long time already."
Finstad's husband, Dan Chua, who also helped with the scuba company, was not on board. He was leading a group in Costa Rica when the fire broke out.
While five of the six crew members on board escaped from the ship, most of the people died. One of the men said he left his girlfriend below deck on the ship while another had suffered a broken leg, reported the Los Angeles Times.
Another man revealed that a 17-year-old girl was on the trip with her parents to celebrate her birthday.
#CoastInc: @VCFD responded to boat fire off the north side of Santa Cruz Island at approximately 3:28am. @USCG helping support rescue operations for people aboard a dive boat. #ChannelIslands @USCGLosAngeles @CountyVentura @SBCOUNTYFIRE pic.twitter.com/DwoPGfBjtA

— VCFD PIO (@VCFD_PIO) September 2, 2019
#Coast Incident- The 75' vessel Conception is shown returning to Santa Barbara Harbor in this January 12, 2019 photo with a rainbow from a winter storm as seen from Shoreline Park in Santa Barbara. The vessel caught fire and sank early 9/2 with 38 on board. 5 have been rescued. pic.twitter.com/0BnENZ7Khm

— SBCFireInfo (@EliasonMike) September 2, 2019
"This is probably the worst-case scenario you could possibly have," Santa Barbara County Sheriff Bill Brown said at a press conference. "You have a vessel that's on the open sea, that is in the middle of the night. Fire is the scourge of any ship."
"If not everybody, most everybody was asleep at this time … they would have been sound asleep when this fire started. So you can imagine that, of all scenarios, to be in a remote location, have a fire that occurs, have limited if any firefighting capabilities to address that, and then, all of a sudden, have a fire that spread very, very rapidly—you couldn't ask for a worse situation," he added.
During a mayday call between a Coast Guard dispatcher and the captain of the boat, the Conception, the dispatcher responded after the fire was apparently reported.
"And there's 33 people on board the vessel that's on fire, they can't get off? … Roger, are they locked inside the boat? … Roger, can you get back on board and unlock the boat, unlock the door so they can get off? … Roger, you don't have any firefighting gear at all? No fire extinguishers or anything?"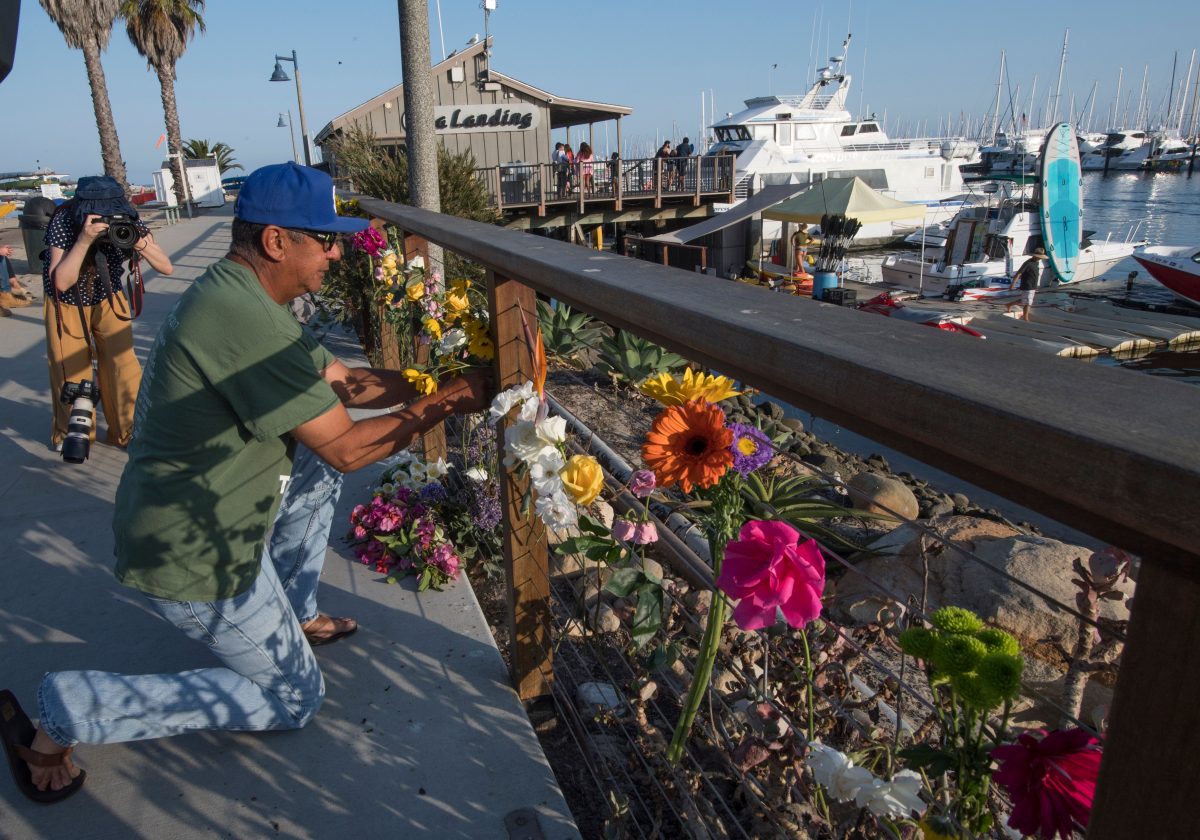 "Was that all the crew that jumped off? … Roger, is the vessel fully engulfed right now … Roger, and there's no escape hatch for any of the people on board?" the dispatcher said during the conversation. The caller's words couldn't be heard.
The Ventura County Fire Department said it responded to the boat fire around 3:28 a.m.
The vessel became "fully engulfed in fire" and "sank to the ocean floor" around 7:20 a.m., Santa Barbara authorities said in a press release.
Authorities said at the press conference that an explosion had not been confirmed but that if an explosion had happened, it could have been from the scuba tanks.