Arizona's Maricopa County on Nov. 27 responded to a request from the office of Arizona's Republican Attorney General Mark Brnovich, which had asked for details from the county on how it had handled the election after a "plethora of reports from election workers, poll watchers, and voters, including the county's admission of widespread printer problems," as well as that "poll workers appeared to be improperly trained on 'check-out' procedures."
Maricopa County includes Phoenix and about 60 percent of Arizona's population.
In a lengthy report (pdf), the Maricopa County Elections Department stated that the county had "followed state and federal laws to ensure every voter was provided the opportunity to cast a ballot in the elections."
Arizona gubernatorial candidate Kari Lake and other Republicans have also claimed that voters have come forward to reveal multiple issues they faced when casting their ballots on Election Day and that those issues effectively disenfranchised Arizonans.
Arizona Democratic Secretary of State Katie Hobbs, who was challenging Lake, declared victory earlier this month. Lake has yet to concede.
"Coming out of the Thanksgiving holiday, I'm grateful for County staff who worked with great care and resolve to answer questions from the Arizona Attorney General's office about the November General Election," Board of Supervisors Chair Bill Gates, a Republican, said in a statement on Nov. 27.
"In the coming days, we will provide additional facts and transparency to the AG and other interested parties. Most importantly, we will fulfill our statutory responsibility to canvass this election on Monday."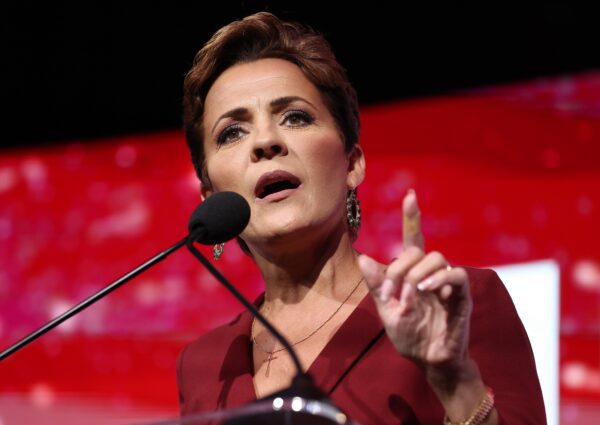 'Door 3 Procedures Are Legal'
The report states that Maricopa County's "Door 3 procedures" are lawful and that "every single one of the 16,724 legal ballots deposited in secure Door 3 on Election Day was counted."
Door 3 refers to a secure ballot box that officials said voters could place their ballots into on Election Day to be counted later.
Elsewhere, the report states that a total of 206 voters checked in at one location and then voted at a second location on voting day.
"Of these 206 voters, 84 successfully checked out of the first voting location and checked in at the second location. Since these 84 voters successfully checked out of their first location, they were issued a standard ballot at the second location," the report said. "Poll workers were aware of this check-out procedure and were able to implement it early in the day on Election Day."
"Voters commonly ask to spoil their ballots and poll workers are very familiar with the process of issuing them a new ballot."
The remaining 122 voters that voted at two locations didn't check out at their first location and were given a provisional ballot when they arrived at the second voting location.
"For these 122 voters, the Elections Department performed a review to confirm if there was a printer issue at the first location and if there was a variance in the number of check-ins as compared to the number of ballots tabulated," the report states.
"After this review, the Elections Department determined that the provisional ballot should count for 109 of the 122 voters. There were two additional voters that the Elections Department would have counted their ballot, but the voter did not insert the provisional ballot into the provided envelope and then drop their envelope in the onsite early/provisional ballot box."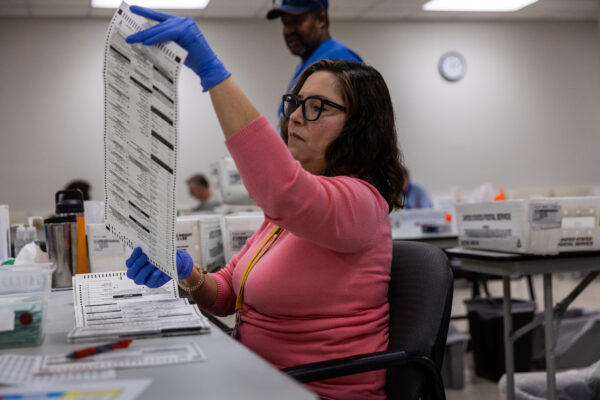 'Voters Still Provided Reasonable, Lawful Options for Voting'
"The ballots for the remaining 11 voters were not counted because the Elections Department could not verify that a printing issue occurred at the voter's first location and/or that there was a variance between the number of check-ins and the number of ballots counted at the first voting location."
Elsewhere, the report addressed issues with printers that surfaced on Election Day and which printed ballots that were too light for tabulators to read.
Despite there being reports of printing issues at 71 vote centers across the county on Election Day, which represents 31 percent of the 223 vote centers that were open on Election Day, the county said that not all of these voter centers were actually experiencing a printer issue.
The report said that a review had found that 43 vote centers had been confirmed to have suffered from an intermittent printer issue.
Tom Liddy, head of Maricopa County's civil division, told Arizona Assistant Attorney General Jennifer Wright—who heads the Elections Integrity Unit—in a Nov. 27 letter (pdf) that the failure of printers to print ballots capable of being read by precinct-based tabulators can't violate elections laws because all voters were "still provided reasonable, lawful options for voting" and the county's contingency plan of instructing voters to place their ballots into a ballot box to be tabulated later is "used by eight counties in the state."
Liddy also claimed that "no Arizona law requires ballots to be tabulated in polling locations using precinct-based tabulators."
The Board of Supervisors said it will hold a public meeting to canvass the results of the election, as required by law, on Nov. 28 at 9:30 a.m.
State certification is set for Dec. 5.