The audit of 2020 election ballots and machines in Arizona's largest county could go beyond mid-May, an official said on May 3.
State Senate President Karen Fann, a Republican, booked the Arizona Veterans Memorial Coliseum through May 14 to conduct the audit, which is reviewing more than 2 million ballots cast in Maricopa County in the presidential election, along with 385 tabulators and other machines used last year.
Former Arizona Secretary of State Ken Bennett, a Republican tapped by Fann as the audit's liaison, had expressed confidence that the process would be finished by May 14. But he told The Epoch Times on May 3 that it could run longer.
"There's no deadline for the audit," Bennett said. "The goal is not speed; the goal is accuracy and completeness."
The analysis of equipment used in the 2020 election was completed over the weekend. But the review of ballots and other paper materials "might need to be extended a little bit," he said.
The Arizona Senate ordered the audit, and Bennett is helping to run it, working with Cyber Ninjas and three other firms the state's upper chamber hired.
The coliseum, which sits in Phoenix on the Arizona State Fairgrounds, is scheduled to host some 17 high school graduations beginning May 15.
"We knew when we came in the building that beginning the 15th for five days there were 17 or 18 high school graduations to be held over a five-day period, and if we have to step aside and let that happen and then come back, we have as much time as we need," Bennett told The Epoch Times.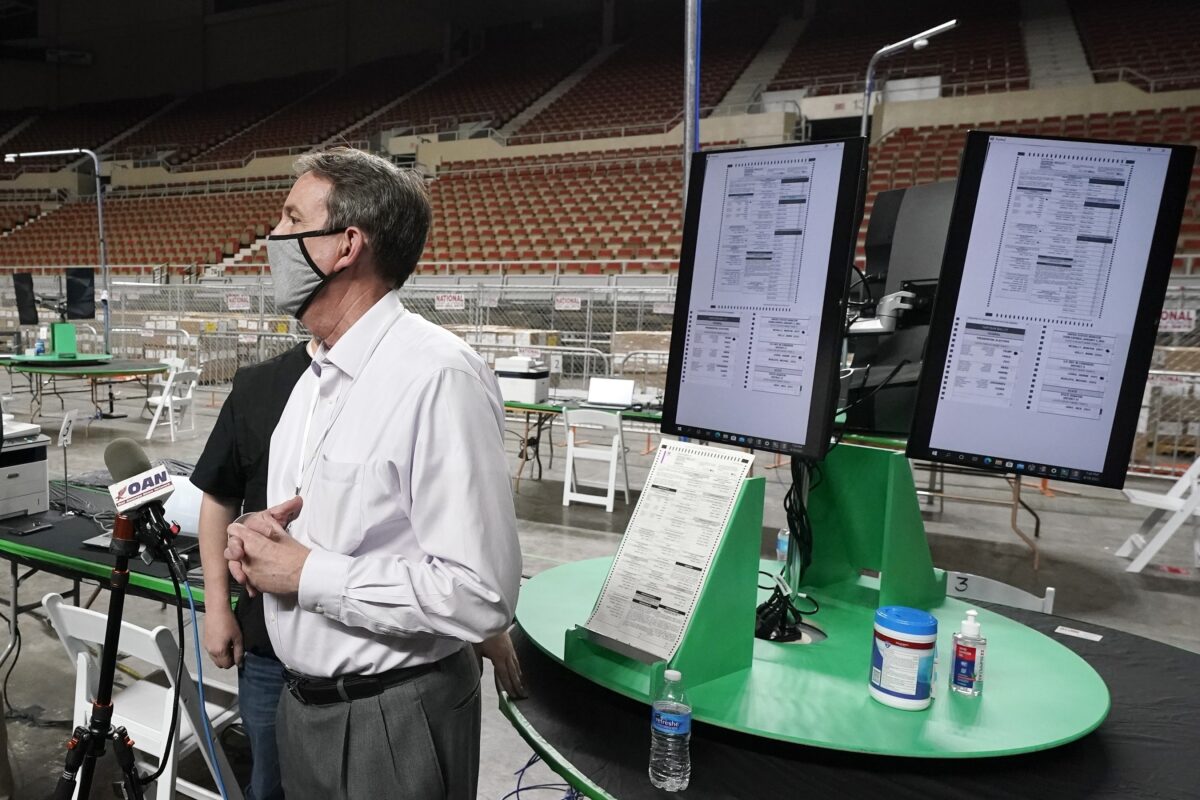 In that scenario, materials that have yet to be audited would be kept onsite at a different place that the liaison described as totally secure. As with the audit itself, the site can be tracked online via 24-hour streaming.
Fann didn't respond to a request by The Epoch Times for comment.
About 20 tables at the coliseum were being used on May 1, with counters working in two 5-hour shifts. Bennett said he hoped to have 46 tables filled this week with workers manning three shifts. Workers took a break on Sunday, May 2. On Monday morning, approximately 25 tables were staffed.
Somewhere between 150,000 and 175,000 ballots have been counted, as of the latest tally. According to the Arizona secretary of state's office, 2.089 million ballots were cast in Maricopa County in the 2020 election, 61 percent of the total ballots cast in the state.
The state Senate ordered the audit "to ensure the integrity of the vote." The audit started on April 23. A judge last week rejected Arizona Democrats' attempt to block the audit over concerns about security.