The prevalence of homelessness in the United Kingdom has been a problem for years, and is especially heartbreaking during the cold, unforgiving winter months. Manchester City captain Vincent Kompany has decided to do what he can to make a difference.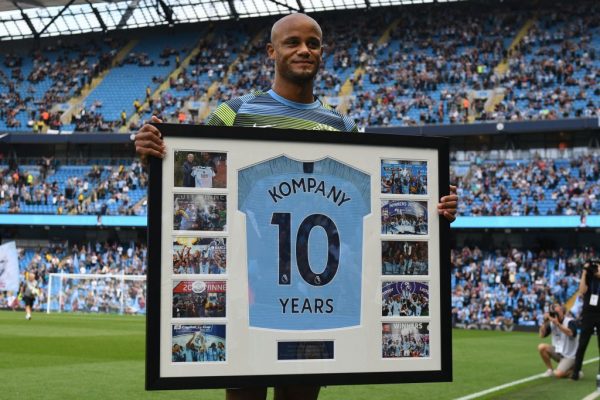 Vincent has been with the football club for 11 years, and has built a sterling reputation during that time. He knows he has a voice, and he's putting it to great use by teaming up with Manchester Mayor Andy Burnham to launch Tackle4MCR, a campaign that will help rough sleepers in the northern English city.
"I could have chosen a number of topics because we don't live in a perfect world," Vincent recently posted on the charity's Twitter feed, "but this is the one I felt most compelled to put on my shoulders."
If you didn't manage to get tickets to our fundraising dinner next Monday, don't worry there are still many ways you can help support #Tackle4MCR. Visit the website for more information: https://t.co/43WlDfXvAI pic.twitter.com/1vgurLbv7H

— tackle4mcr (@tackle4mcr) January 28, 2019
Speaking to U.K. television channel ITV, Vincent explained his thinking: "More and more people are left out and have no access to the benefits of [the] rapid development, often leaving them no choice but to end up on the streets." Vincent then stressed that he and Andy can't make a lasting difference on their own: the project "can be successful, if everyone plays a part."
Vincent feels indebted to Manchester for 11 years of career success and what he affectionately calls his "lovely family."
The Belgian native has become one of the Premier League's most prized center-backs and has contributed hugely to Manchester City's status as the "fifth most valuable club in the world," according to Forbes, in 2018.
On behalf of Carla and myself, thank you all for your amazing support at the @tackle4mcr fundraising dinner. It meant such a lot to us both. Thanks to your generosity we've been able to raise an incredible amount on this very special night. #tackle4mcr pic.twitter.com/gSaS8aZbtv

— Vincent Kompany (@VincentKompany) February 5, 2019
"I've received … unconditional support from the fans through thick and thin, and so much more to be grateful for," the football star explained. He's clearly decided it's time to give something back to the city that has given so much to him.
Tackle4MCR will oversee three fundraising initiatives throughout February, April, and August of 2019.
Vincent raised 216,000 pounds (approx. US$279,500) at a gala dinner on Monday, Feb. 4, including the sale of one of his own prized football shirts. Sporting royalty Gary Lineker dug deep into his own pockets and offered 13,000 pounds (approx. US$16,800) for the shirt. Then, in a true gesture of generosity, Lineker gave the shirt straight back to Vincent.
👏 Gary Lineker paid £13k for one of Vincent Kompany's shirts at the defender's @tackle4mcr charity auction last night – and then handed it straight back to him

Class act!

📱 Insta: garylineker pic.twitter.com/xO0NMSErYB

— The Sportsman (@TheSportsman) February 5, 2019
Mayor Andy Burnham's "A Bed Every Night" scheme will be the direct recipient of this particular auction win. Mayor Andy explained the project to the Manchester Evening News: "Earlier this week, I met councillors with local responsibility for tackling homelessness and we plan to start early work with them on drawing up local plans," he said.
Mayor Andy also donates 15 percent of his salary to the cause every single month.
"New buildings will need to be identified in each area," the mayor continued. "Many churches, mosques and other faith buildings were used last winter and we are hoping that even more will be found for this."
January can be a dangerous month for people who are #homeless and sleeping rough, with many not making it through the cold weather. #Tackle4MCR is working to end rough sleeping in Greater #Manchester for good. Visit the website for more information: https://t.co/43WlDfXvAI pic.twitter.com/wXUzDmNAo1

— tackle4mcr (@tackle4mcr) January 23, 2019
Just as Vincent hoped, it seems that everybody is playing their part. And we hope for the sake of Manchester City's regional pride that theirs will continue to be a reciprocal relationship with the local community: the homeless community, in particular, who desperately need a helping hand.
Vincent, you're a star. Both in football, and in life!
If you are affected by the issue of homelessness, or want to help spread the word of Vincent and Mayor Andy's excellent new initiative, be sure to share and comment on this article!