It's not every day you meet your idol by the side of the road.
But for military veteran Anthony Maggert, an opportunity to help a driver with a blown tire led to a once-in-a-lifetime encounter.
On Wednesday, Jan. 23, Anthony was driving to the Walter Reed National Military Medical Center in Washington D.C. and passed a man struggling to change a tire by the side of the road. He pulled over, knowing he could help, and was immediately taken aback; the tire-changing driver was Colin Powell.
Anthony couldn't believe his luck; he'd been a fan of the legendary general for years. "I'm not really starstruck that much," he told CBS News, "It was just a situation like, here's somebody on the side of the road who needs help, why not get out?"
He would have helped even if the stranded driver wasn't Colin Powell, he assured CBS: "I just wanted to make sure he was safe!" Anthony said.
Veteran Anthony has served in both Iraq and Afghanistan. His longevity ended up surprising him: "I never thought I would do 23 years in the military," Anthony admitted. He was inspired to enlist after reading Colin Powell's books, a fact that he was keen to pass on as he assisted Powell with his roadside mechanics.
Anthony proudly revealed that he and Powell "chatted it up like two Army buddies" whilst working on the car.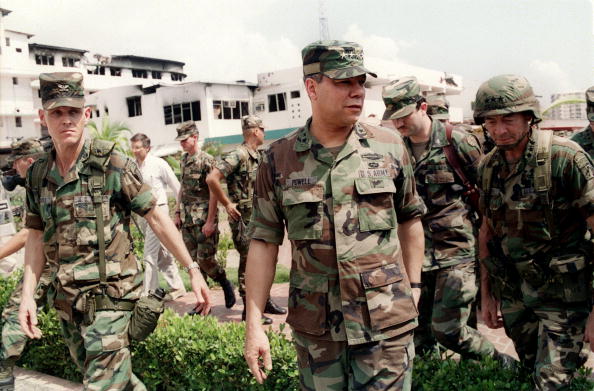 Anthony remains very positive about his time in the army, despite having been infected with flesh-eating bacteria and losing one of his legs in Afghanistan. He now wears a prosthesis.
This fact didn't go unnoticed by Powell, who regaled social media with coverage of his roadside interaction:
"As I drove along Interstate 495 my left front tire blew out," Powell wrote on Facebook. "I am a car guy and knew I could change it, but it was cold outside and the lug bolts were very tight. I jacked the car up and got several of the bolts removed when a car suddenly pulled up in front of me. As the man got out of his car I could see that he had an artificial leg."
Powell asked Anthony for the story behind his prosthesis, and the two men shared memories of past experiences.
Later, Anthony contacted Powell with a personal message of gratitude:
"Gen. Powell, I hope I never forget today because I'll never forget reading your books. You were always an inspiration, a leader and statesman. After 33 years in the military you were the giant whose shoulders we stood upon to carry the torch to light the way and now it is tomorrow's generation that must do the same. Anthony Maggert."
And Powell responded: "Thanks, Anthony. You touched my soul and reminded me about what this country is all about and why it is so great."
Yesterday was a reassuring day for me. I was on my way to Walter Reed Military Hospital for an exam. As I drove along…
After leaving the military in summer of 2018, Anthony decided to enrol in culinary school. "I go to New York City—lower Manhattan—every weekend. I'm the very first, that I know of, amputee to go to the Institute of Culinary Education," said Anthony. It seems that Powell continues to inspire Anthony to chase his dreams and surpass mediocrity.
Every blown tire has a silver lining.
Powell's own message to Anthony ended with the following sage words: "Let's stop screaming at each other. Let's just take care of each other. You made my day."
Would you help a stranded driver on the highway? You never know who it could be! Share this uplifting story with friends and family.