Man Sues McDonald's Over Opiates in Coke
August 2, 2018 Last Updated: August 2, 2018

A man from Utah is suing McDonald's restaurants and beverage distributor Swire Coca-Cola after he was allegedly served a cup of diet coke filled with an opiate drug.
Trevor Walker of Riverton, Utah claims he was given a cup of diet Coke which contained the heroin substitute, Suboxone.
According to papers Walker filed in Utah's Third Judicial District Court, Walker and his family purchased two Happy Meals, two chicken sandwiches, and two diet cokes at a McDonald's drive-through in Riverton on August 12, 2016, KSTU reported
Walker drank his diet coke on the way home, the documents stated. While at home he began to feel odd effects.
"My life and being here is the biggest miracle of the whole situation," Walker told KSTU.
"As I started to shift my body, I started to sense almost like a lapse in time, like between the time I would move my hands there was a delay."
According to the complaint, Walker began losing sensation in his fingers. After his hands went completely numb, he began to lose sensation in his arms and legs.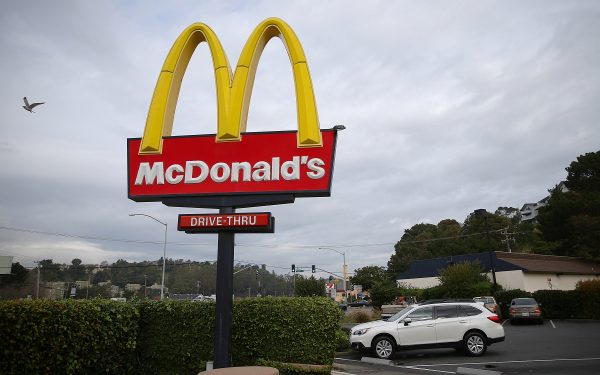 Home Alone
Walker was the only adult in the home when he started feeling unpleasant sensations. He was there in charge of his three young children. His wife was still on the road, running errands.
Walker sent his wife two texts as he felt the strange effects spread through his body, according to the complaint.
The first text read, "Something is vey [sic] wrong with me. I am having sensations in my arms and everything is moving slowly. I'm feeling scared. I don't know what to do."
The second said, "I'm so scared I'm trying to be calm. I need you."
The complaint said that shortly after sending the second text, Walker passed out, collapsing onto a nearby table and falling to the floor.
When Walker's wife got home she sent him to the emergency room.
The documents stated that while her husband was being treated, Walker's wife looked at his drink and noticed that it had "speckles and a film on the surface." Walker had never taken the lid off so he hadn't noticed anything odd about the drink.
Walker's wife called the police. Officers from the Unified Police Department came to the hospital to collect the cup for testing.

Synthetic Opioid in the Diet Coke
The Utah State Crime Lab found that the cup contained the medication Suboxone, a combination of the synthetic opioid buprenorphine, and naloxone, a drug used to combat opioid overdoses, KSTU reported
Suboxone is often used as a heroin substitute in drug-treatment programs, because it stops withdrawal effects but also doesn't have powerful opioid effects.
Trevor Walker was reportedly taking medication which reacted negatively with the suboxone, which caused the dramatic slow-down of his nervous system.
"The drug negatively interacted with Mr. Walker's medication, causing him to lose feeling in his arms and legs, lose the ability to walk, and eventually lose consciousness," the complaint stated, according to KTSU.
Walker's urine also tested positive for buprenorphine, according to the court papers.

Missing McDonald's Video
Walker is not claiming McDonald's deliberately served him chemical-laden cola. He is suing the company because, he claims, McDonald's destroyed the video record of transactions at the drive-thru that day. The video might have proved which employee actually put the drugs in the diet Coke cup which was handed to Walker.
Walker has demanded a trial by jury, possibly recalling the generous settlement given to Stella Liebeck, the 79-year-old woman who suffered third-degree burns from an excessively hot McDonald's coffee in 1992.
In 1994 a jury awarded Liebeck over $2 million, though the final settlement was reduced to less than $600,000.
Watch Next:
A Mother Shares the Story of Her Son's Heroin Overdose