Graham Nicholls had an oppressive feeling just before entering an out-of-body state on April 25, 1999. He seemed to leave his body and find himself in a jungle. He came to a clearing in the trees, then the experience split and he found himself standing on the corner of Moor Street and Old Compton Street in Central London, in Soho. There was an explosion a short distance off. He witnessed the chaos, he saw a man running close by him, he seemed to feel the emotions of those who were injured or simply frightened.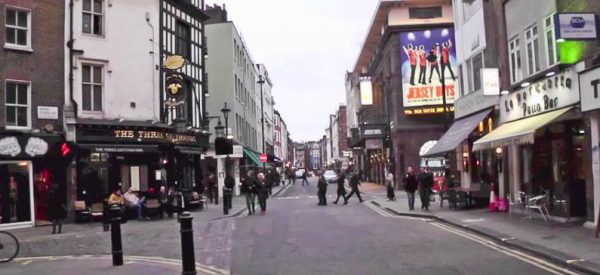 Lawrence Brighton was among a small group of people who witnessed Nicholls's out-of-body experience (OBE). Brighton remembers that Nicholls emerged from the OBE in an agitated state and explained to the others in detail what he had seen and felt.
Nicholls had never claimed in the past to experience precognition, though he had many OBEs before this one, but this time he told the witnesses he felt what he saw was precognition.
Five days later, a nail bomb exploded in a pub on Old Compton Street, about the right distance from where Nicholls had stood in his OBE.
Five days later, a nail bomb exploded in a pub on Old Compton Street, about the right distance from where Nicholls had stood in his OBE. It was a terrorist attack. All the details of his vision that he could verify against the event matched, and nothing from his vision was incongruous with the actual events.
Nicholls began having OBEs as a child and has continued to experience them, study them, and write about them as an adult. With some of his other OBEs he has also attempted to verify what he saw.
Other OBEs Nicholls Has Verified
He once had an OBE in which he traveled to a man's house (he did not know this man) and saw the man's name on letterhead, along with the man's postal code. When Nicholls returned from his experience, he verified that man's name and address.
In one of his OBEs he also traveled to the Alexander Nevsky Cathedral in Tallinn, Estonia. He did not know what it looked like beforehand, he says, and he told his partner in detail what he had seen when he emerged from the OBE. He wanted to make sure he made the detailed description of the site to another person before traveling to the cathedral to verify it so there was no chance of afterward making the details of his memory match his real-life observations.
He reported seeing a tarpaulin and yellow tape on the right side of the cathedral. When he visited the cathedral, he took photos of it and indeed found a tarpaulin and yellow tape where he had seen it in the OBE.
Follow @TaraMacIsaac on Twitter, visit the Epoch Times Beyond Science page on Facebook, and subscribe to the Beyond Science newsletter to continue exploring ancient mysteries and the new frontiers of science!