An Italian man captured an image over the sea, and some claim it's a famed religious figure.
Alfredo Lo Brutto, from Agropoli, Italy, captured the figure above the sea. Some say that it looks like the renowned Christ the Redeemer statue in Rio de Janeiro, Brazil.
"I was enchanted by the view. I don't often share pictures on social media, but when I took this one, I instantly felt like I wanted other people to see it, because it was so beautiful," he said, reported the Daily Mail.
Man Sees Image of Jesus Christ Burst Through Clouds In Italy – https://t.co/dCxx01pZdH

— Peter Palumbo (@PeterPalumbo1) March 24, 2019
He captured it over the Tyrrhenian Sea.
The Christ the Redeemer statue is 125 feet tall, located on a rock near Rio.
Construction started on the famed figure in 1922.
Blimey!!! Terrific shot!
Alfredo Lo Brutto, from Agropoli, Italy, captured the incredible pictures of the glowing figure standing above the sea while at his home on Friday. pic.twitter.com/hovJ16HXFt

— Pippa Ettore (@pettore) March 4, 2019
He didn't provide any other details.
Oggi a @vitaindiretta abbiamo parlato della foto che ha fatto il giro del mondo sul web. Per Alfredo Lo Brutto è il Cristo Redentore che cammina sulle acque di Agropoli.
Voi cosa ci vedete in questo scatto? #LaVitaInDiretta pic.twitter.com/xQNs9gxeMe

— barbara di palma (@barbaradipalma) March 4, 2019
'Firefall' Goes Viral
"Firefall," an illusion created by sunlight on a waterfall in Yosemite National Park, California.
The natural phenomenon that makes it appear that fire or lava is flowing over a cliff. It only lasted a few days.
"Firefall" is only visible for a short time in February and draws a number of tourists and photographers each year.
Vaché Geyoghlian, a photographer from Fresno, California shot several photos of it on Feb. 18.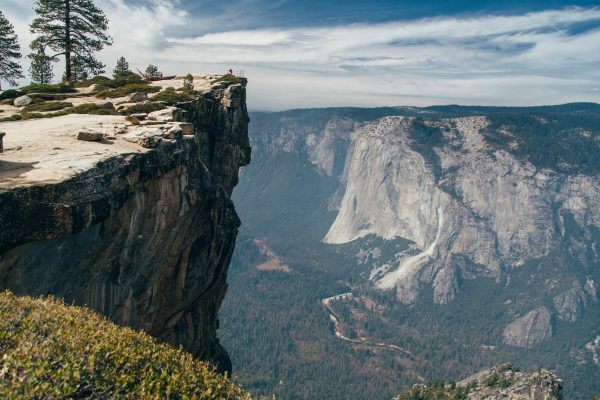 "My reaction was complete amazement," he said, reported CNN. "I was overwhelmed with excitement to finally get to see it in person AND get some good shots of it too."
"My friend and I got to that specific spot at about 2:00-2:30 p.m. and we were the first ones there," Geyoghlian added. "That didn't last long as the entire area filled with hundreds of people looking to witness/photograph the 'Firefall.'"
"We have a designated parking area at Yosemite Lodge and visitors walk from there to the viewing areas," said National Park Service spokesman Scott Gediman.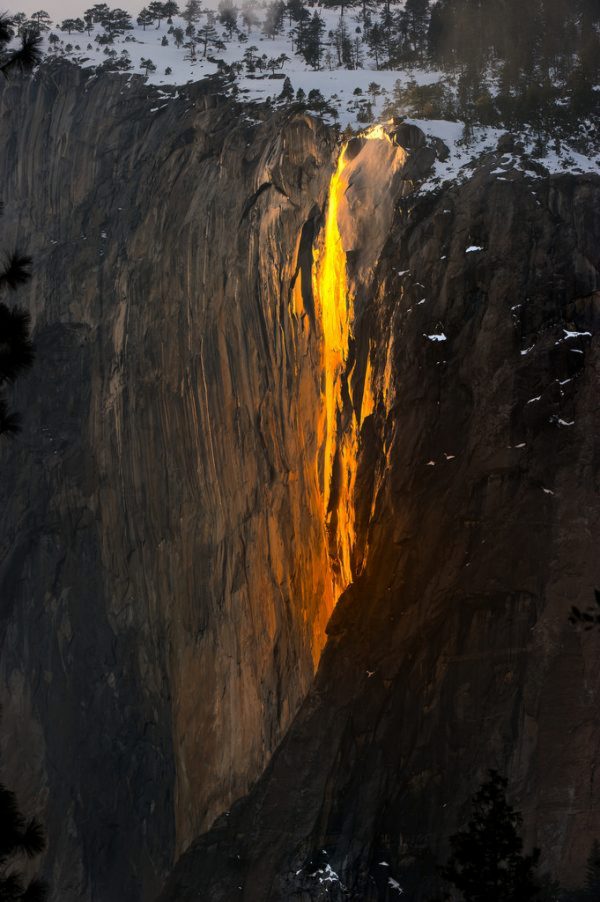 "With the snow and storm activity recently, it has been hit or miss," he added.
The park does have a 24-hour hotline with information about it. You can call 209-372-0200.