A paramedic diagnosed with a rare cancer, given just 6–12 months to live, had two main items on his wish list: to marry the love of his life, and raise enough money to prevent her struggling with mortgage payments on their new home.
Gabriel Vivas, 30, already beat testicular cancer. Yet after being diagnosed with Ewing's sarcoma/peripheral primitive neuroectodermal tumors (PNET), a rare neuropathic bone cancer, he quickly realized his priorities in life. On July 15, Gabriel and his sweetheart, Natalie Sturgeon, 25,  said "I do" in an intimate Staten Island ceremony accompanied by family and close friends.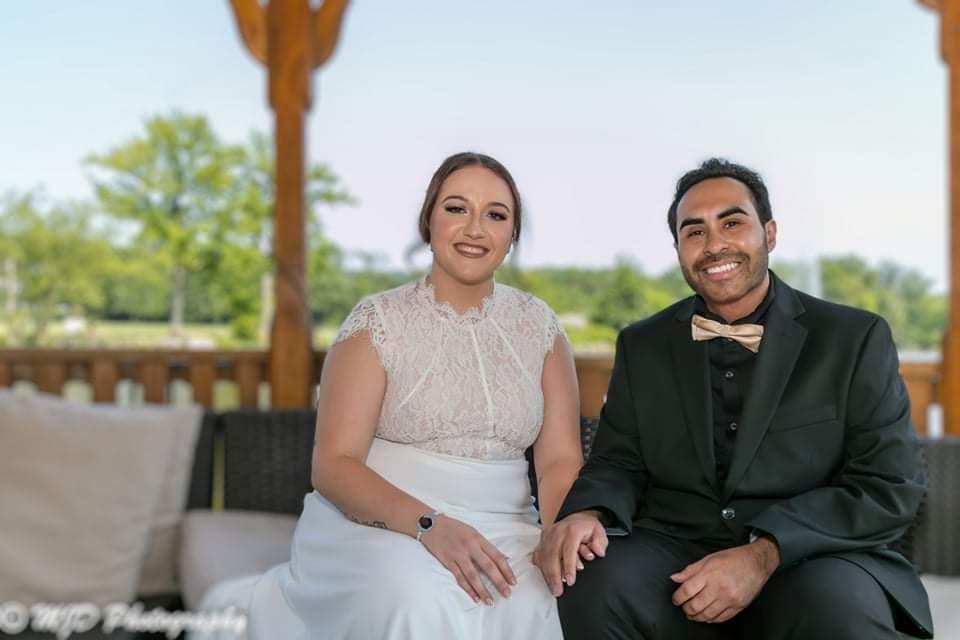 Speaking to The Epoch Times via email, Gabriel described his wife as "strong-minded, funny, and very intelligent… She is honestly out of my league," he admitted, "so I landed lucky big time!"
Family friend Amanda Dasaro rallied a crowd of Staten Islanders to organize the couple's dream wedding in just one week, SILive reported. Funded entirely by donations of time, money, and services, the ceremony was held at The Stone House in Clove Lakes Park.
All eyes were on Gabriel as he walked the aisle with the help of a cane and a suitcase in his free hand containing Natalie's wedding ring. His stunning bride followed, meeting Gabriel at the altar.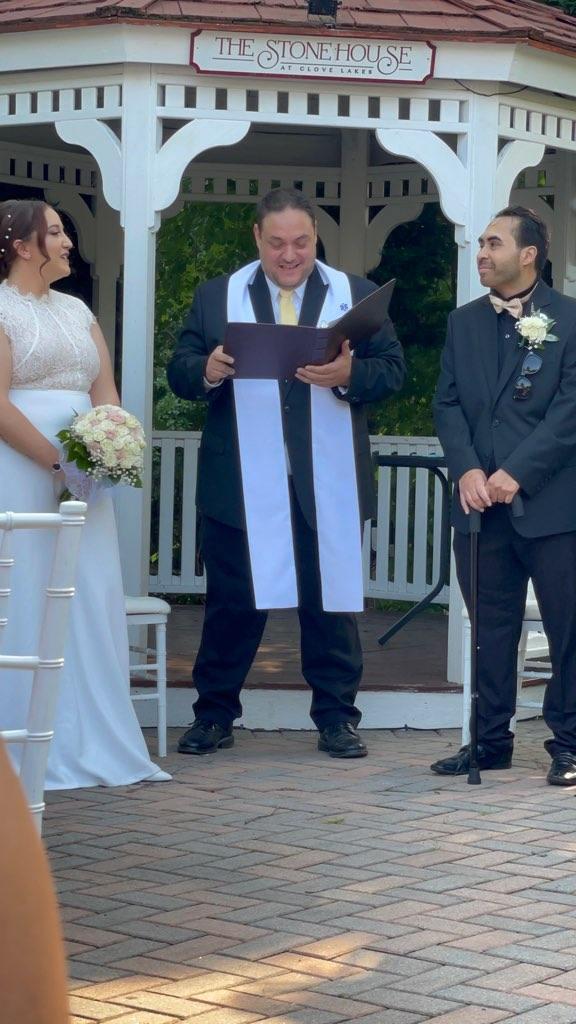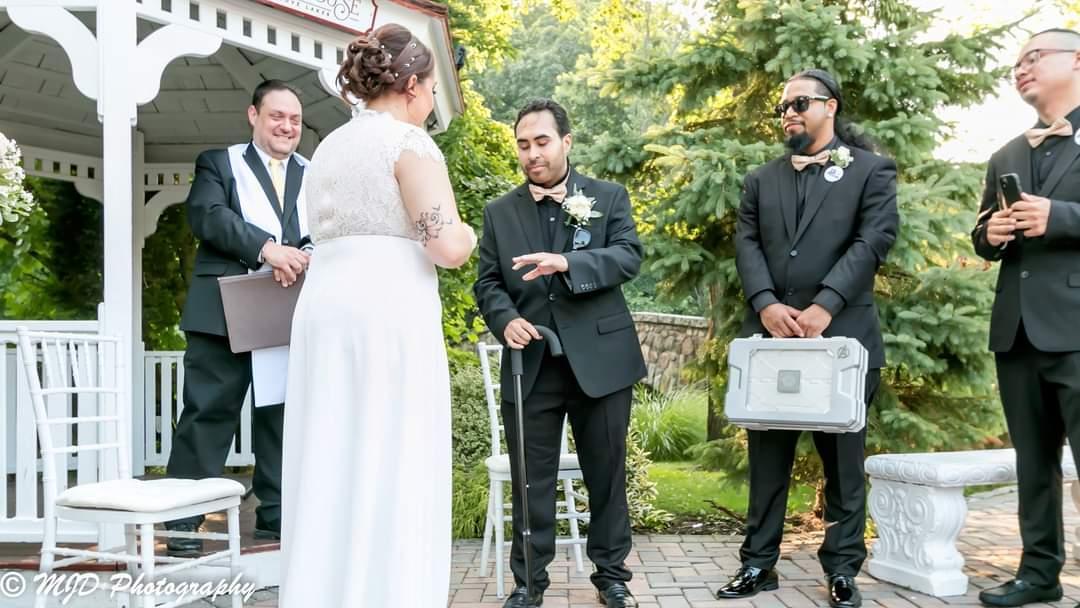 Natalie claimed she always thought her wedding would be "characteristic of whatever relationship I was in at the time." Her shared vows with Gabriel were exactly that. It was "more than a wedding," she reflected, "it's a show of support for him."
Marveling at the efforts of his loved ones, Gabriel said he used every ounce of strength he had to dance, have fun, and wed the woman of his dreams. "We were okay with a backyard wedding," he told The Epoch Times, "but people really gave us a dream to remember."
Seeing everyone's contribution and efforts, Gabriel said he was "amazed," and "grateful."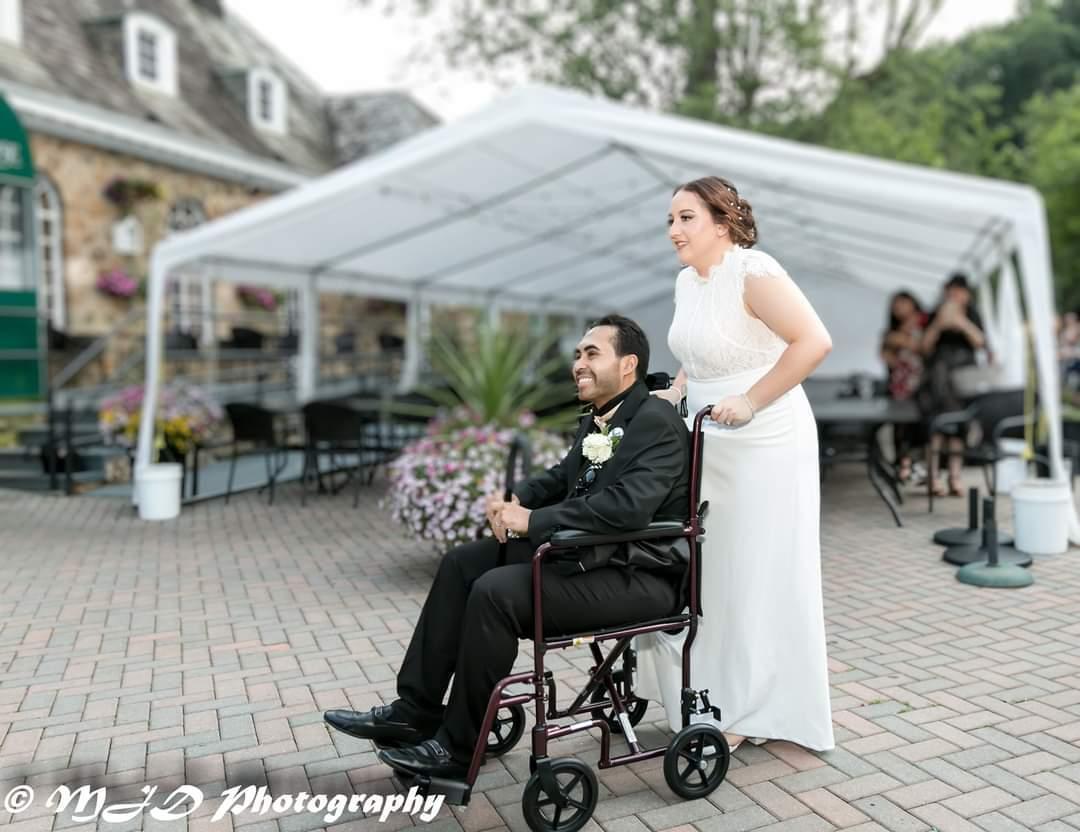 The newlyweds forewent a honeymoon; Gabriel was fitted for a chemotherapy port not long after their vows. A GoFundMe page is raising funds for Gabriel's journey and Natalie's future, yet despite their hardship, the couple remain focused on the positive.
"I hope everyone around the world, no matter what battle they are having, cancer or not, [knows] that it's okay to be scared and expect the unknown," said Gabriel, "but to have patience and keep your hopes up … miracles have been made and unexplained."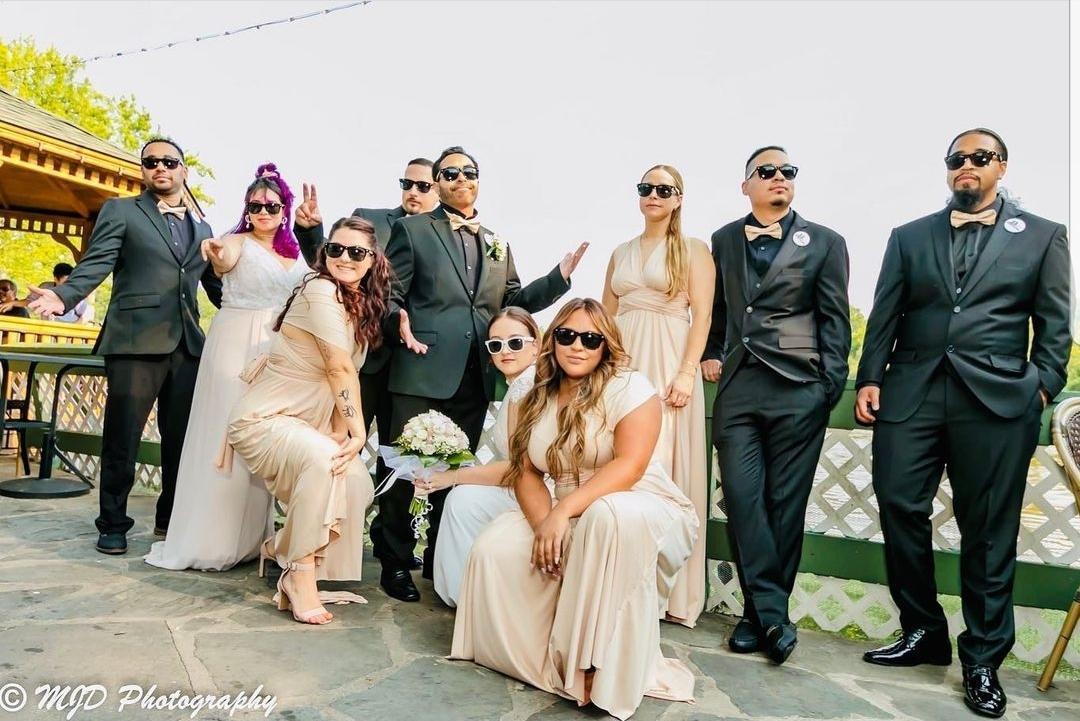 Natalie, originally from California, moved to New York to study pre-med but instead became an EMT before enrolling in nursing school. The couple met at work, and Gabriel, born and raised in Brooklyn, was won over by Natalie's humor immediately.
After a year of friendship, it was Natalie who suggested they take the next step forward during a trip to Disney World. Gabriel playfully made her wait a week for an answer.
He was also there when Natalie lost her mom to cancer.
"She already dealt with this once, and I don't want to end our life dream so early," he reflected. "I wanted to grow old with her. She has her dad on her side, but at least I know she has a huge new family to support her if I am to pass earlier than expected."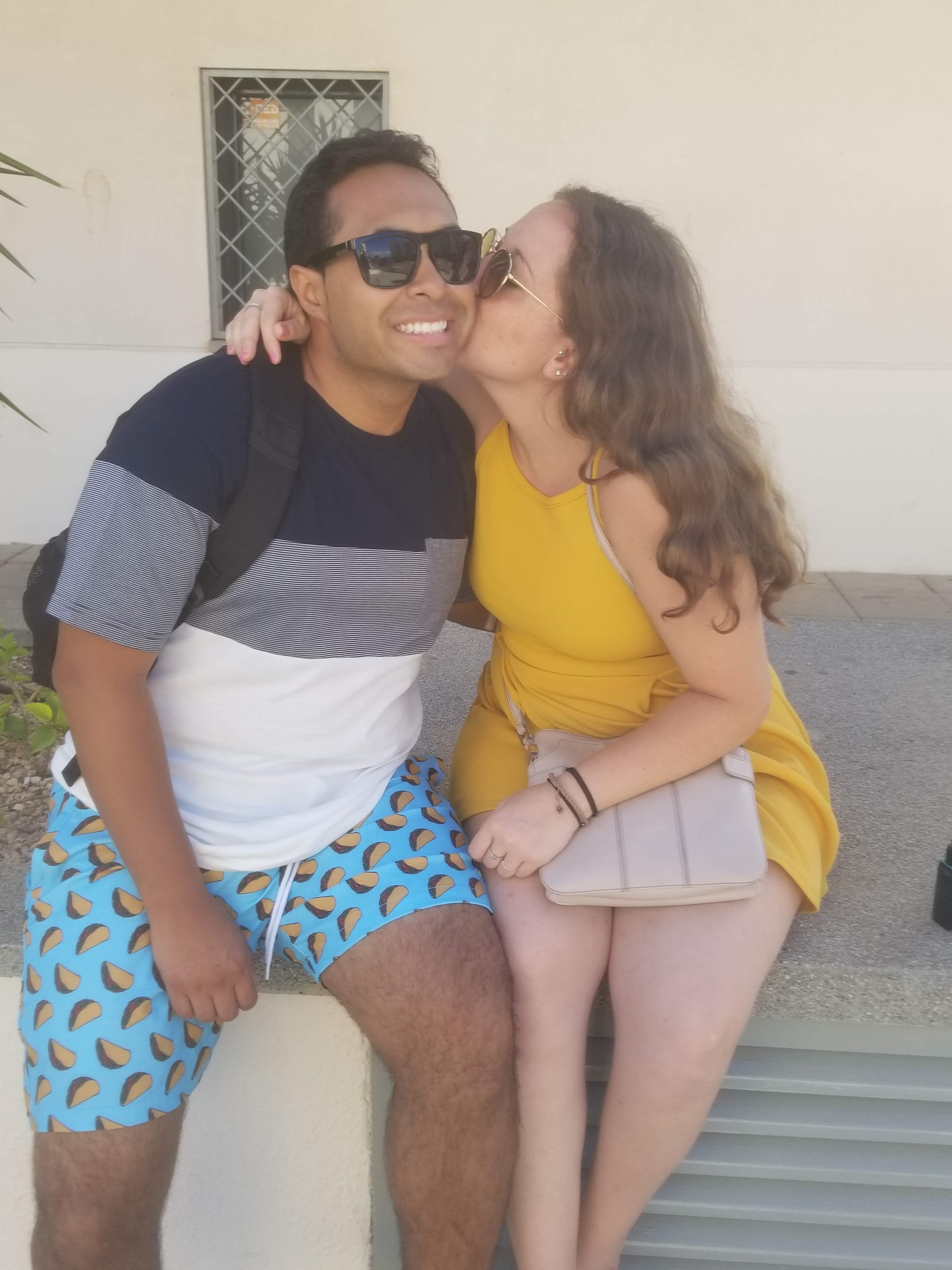 Gabriel was a healthy, hardworking, social, family-oriented man before his diagnosis, claiming his life at 30 was "what I would say people strive for most of their lives."
Today, he can no longer walk or run, has trouble eating, and has lost the strength for everyday activities. Yet, while he knows his family and friends hide their fears behind hoping for a miracle, he feels nothing but love from every angle.
Natalie's love, and her courageous mindset, give Gabriel the mental strength he believes is crucial to his ongoing battle. "She is the reason I strive to push myself, she helps me when I'm down," Gabriel said.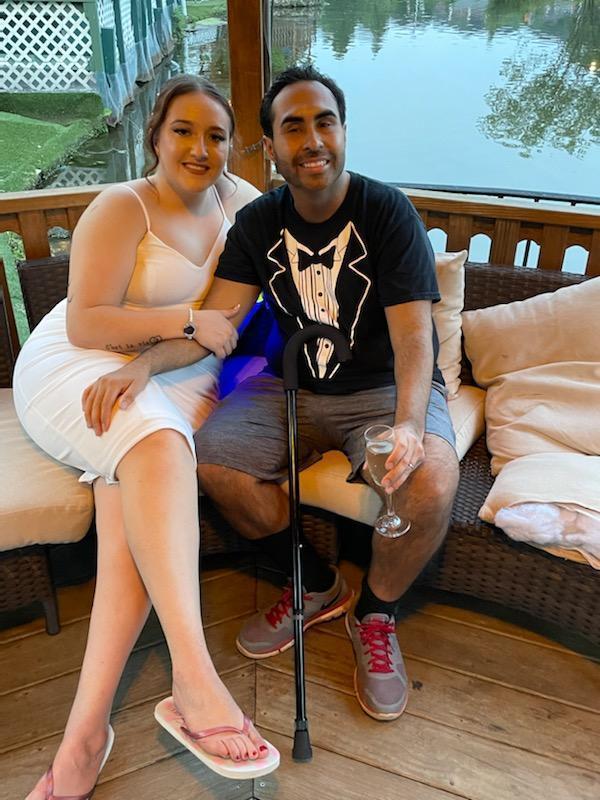 "I am still here and fighting for my life," he said. "No one in this world is ever alone. I just want to live long to help more people in need and spend more time with my new wife. She is the world to me."
Share your stories with us at emg.inspired@epochtimes.com, and continue to get your daily dose of inspiration by signing up for the Epoch Inspired newsletter at TheEpochTimes.com/newsletter