Asparagus is the vegetable that welcomes spring in all her glory. Though it's available year-round, it's really in the springtime that asparagus is at its best—fresh, tender, and sweet.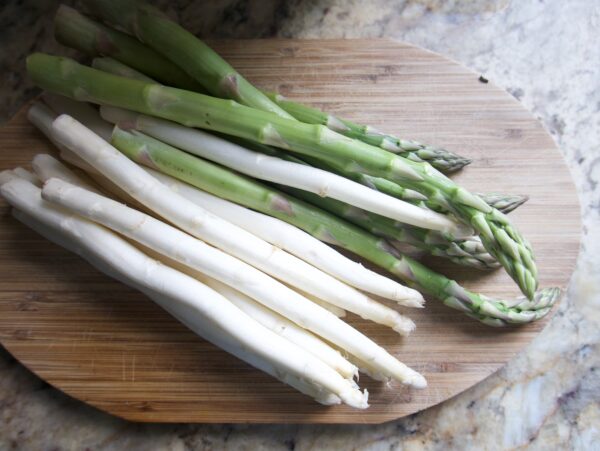 Growing up in the Andalusian countryside in Spain, my sisters and I always looked forward to asparagus season. We would run through the fields to forage for wild asparagus, whose thin, spindly spears we then transformed into delicious omelets and quiches. Wild asparagus is slightly bitter, as is any wild-grown thing, but becomes tender and flavorful when cooked.
Thick-as-thumbs white asparagus is grown in dark and fertile soil, buried in the ground to prevent the spears from producing chlorophyll. Especially treasured in European countries including Spain, Germany, France, and the Netherlands, these colossal gems are available only for a few weeks, so grab them if you see them. I adore white asparagus simply steamed and served with mounds of lemon mayonnaise.
Green asparagus, the most common variety, is also available in different widths. At the market, look for firm, smooth stalks with closed-up tips; avoid the droopy, sad-looking ones, please. At home, the day I plan to cook the asparagus, I put them in a vase filled with water on the kitchen counter—just like a bunch of flowers—to keep them hydrated until ready to use.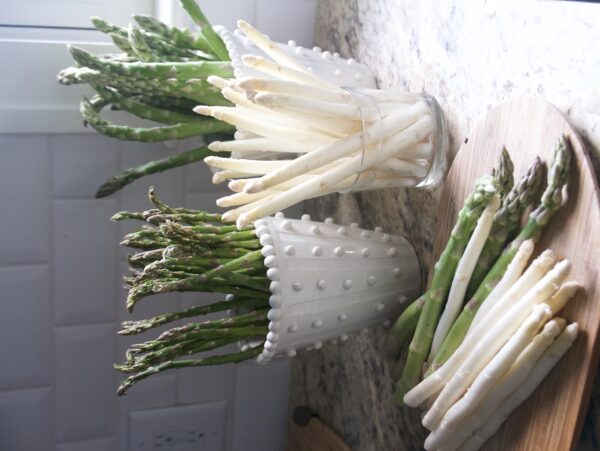 Among the myriad ways of cooking asparagus, my favorites are the ones I am sharing today.
Pan-fried asparagus is an easy and classic way of serving the thick green spears, and makes a wonderful first course, served warm or at room temperature. Lightly browning the asparagus in the pan adds depth of flavor and a bit of smokiness, while the garnishes, chopped-up hard-boiled eggs and capers, add creaminess and zest. Use the thickest spears you can find for the best juicy-tender texture and a great presentation; thinner ones tend to shrivel too much in the high heat.
Thin asparagus, meanwhile, can be turned into a cool and sophisticated salad. I quickly cook them with other early spring green vegetables, peas and haricots verts, and add a simple vinaigrette and fresh herbs to enhance their flavor. The result is a beautiful, bright green tangle that is as refreshing to look at as it is to eat.
Lastly, if you can find white asparagus, try a chic, two-toned cream of asparagus. It calls for both colors of asparagus, cooked into separate soups and then swirled into a piece of art on your plate. This is a perfect way to use up asparagus at the end of the season, when they may be a bit tougher and more fibrous.
Simply cooked asparagus makes a great accompaniment to lighter fare, such as eggs or seafood. I love serving it as a finger food with steamed lobster, as the classic dipping sauce of butter, lemon, and garlic is delicious for both. And frankly, once you start eating with your fingers, you might as well make a feast out of it!
Victoria de la Maza is an award-winning cookbook author, columnist, and international TV host. Passionate about great food, she combines American traditions with her European heritage to create classic-with-a-twist recipes and ideas for stylish entertaining at home.
RECIPE: Pan-Fried Asparagus With Hard-Boiled Eggs and Capers
RECIPE: Spring Salad of Asparagus, Peas, and Haricots Verts