The Maine House of Representatives on Feb. 23 rejected a proposal calling for a five-year prohibition on all COVID-19 vaccine mandates in the state, which has some of the most restrictive orders in the nation.
By a 76–59 vote with 13 lawmakers absent, the Democratic-controlled Maine House voted down the measure. The chamber voted to forward it to the Senate for consideration.
Tiffany Tereck, a co-founder of Health Choice Maine who lobbied in support of the bill, told The Epoch Times that her group considers the fight against COVID-19 vaccine mandates far from over.
Tereck pointed to sole Republican gubernatorial contender and former Maine Gov. Paul LePage's bid to unseat incumbent Democrat Janet Mills. An Ipsos poll shows Mills's job approval has dropped to 48 percent while LePage is winning over undecided voters.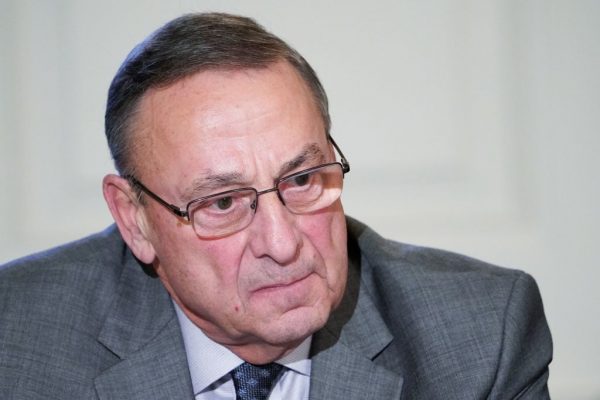 "We're far from done with this fight," Tereck said. The bill called for a five-year moratorium to allow for studies of the vaccine's potential harm to pregnancies and reproduction.
The rejection by the Democratic-led House came just a day after the U.S. Supreme Court dismissed, without a finding, a petition filed by about 2,000 Maine health care workers challenging Mills's elimination of religious exemptions from the vaccine mandate.
That made Maine one of only three U.S. states—along with New York and Rhode Island—whose COVID-19 vaccine mandate for health care workers doesn't allow for religious exemptions. Mills added a warning that her administration would revoke the business license of any employer that granted such an exemption to an employee.
Matt Staver, founder and lead counsel of Liberty Counsel, told The Epoch Times he was "very disappointed" as well as "very surprised" by the Supreme Court's rejection, especially given Justice Neil Gorsuch's dissenting opinion of the court's rejection of the Maine group's emergency petition it filed in October, Staver said.
"Because there is no real dispute that the challengers are likely to be permanently harmed if the mandate remains in effect, the real question before the court in deciding whether to grant emergency relief was whether the challengers are likely to succeed on their argument that the vaccine mandate violates their right to freely exercise their religion," Gorsuch wrote.
"The answer to that question is clear," he wrote, "the mandate is unconstitutional." He was joined by Justices Thomas Clarence and Samuel Alito in his support of the Maine petition.
Staver said his organization is considering filing a motion to reconsider, which he acknowledged is an unusual move, citing an opportunity to deepen the constitutional challenge to Mills's acceptance of medical exemptions and not religious exemptions as a matter of discrimination.
He also wants to expand his argument that prohibiting employers from granting a religious exemption is a civil rights violation.
"This really leaves an injustice unremedied," Staver said.
As for legislative efforts to block the COVID-19 vaccine mandates, the Republican-led proposal came from all corners of the northeastern state—the largest in New England.
Its main sponsor, Republican Tracy Quint represents Aroostook County, which borders Canada, while Republican Heidi Sampson, a co-sponsor, represents York County in the southern part of the state, which includes some of its most blue communities, such as Ogunquit, York, and Kittery.
However, it would have been a near political miracle if the bill was approved by the House.
Maine's entire government system—including the executive branch and both chambers of the legislature—is controlled by the Democrats. In addition, the 13-member Maine Health and Human Services Committee has only five Republicans.
Some of its strongest opposition to the moratorium proposal came from the American Cancer Society. In a statement against it on its website, Hilary Schneider, the society's Maine director of government relations, said that the bill "undermines evidence-based, public health policies" and especially poses a risk to Mainers with compromised immune systems such as cancer patients.
"Vaccine requirements help protect immunocompromised patients, including kids, and blocking businesses and organizations, as well as cities and towns, from enacting these policies jeopardizes the health of patients and silences their voices," she wrote.
The Maine Hospital Association, Maine Medical Association, Maine Primary Care Association, Maine Health Care Association, Maine Dental Association, and the state's two largest hospitals—Northern Light Eastern Maine Medical Center and MaineHealth—also opposed the bill.
Mills maintained a staunch position against religious exemptions even in the wake of the shutdown of emergency rooms at Maine hospitals and a shortage of emergency medical technicians around the state.
Last month, Mills opted instead to fill the void with National Guard personnel.