Lost at Sea and Loving It
Thalassa Restaurant in Tribeca provides a nautical escape
July 21, 2013 9:52 am Last Updated: July 21, 2013 9:58 am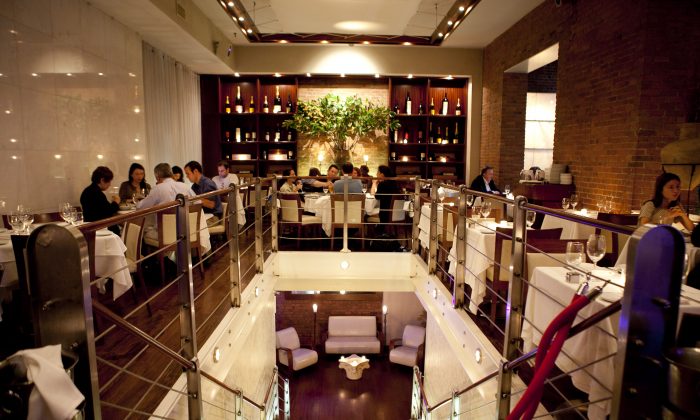 Entering Thalassa is like stepping aboard a luxury yacht. 
The mast-like columns climb to the 18-foot-high ceiling, while white drapes over the bar recall wind-filled sails. The sleek, white marble bar and subtle nautical details set a scene dramatic enough to disarm you of any last vestige of stress you may be carrying.
The classy, relaxed vibe is perfect for a romantic dinner, or simply a getaway from the hustle and bustle of Manhattan.
Thalassa (meaning "the sea" in Greek) is housed in a former historic building in Tribeca and owned by the Makris family, who also own Fantis Food, a leading Greek food importer for nearly 100 years. As such, the restaurant thrives off the high-quality products the company imports, including estate olive oil and exclusive wines. It also means unique access to seafood straight from Greece to the restaurant, via JFK airport.
It's not the lightest carbon footprint, but the freshness of the fish is exceptional. If you are a seafood aficionado, you can't miss Thalassa and its contemporary Greek cuisine.
Among the dishes I tried, the crown jewel was without a doubt the main fish course—a whole grilled lavraki ($36). Also known as branzino, this lean white fish was cooked minimally—seasoned with sea salt, brushed with a lemon and olive oil emulsion, and grilled over a fire using a metal grill cage. It's served with capers, parsley, and oregano. Although it was ever so simple, to me it eclipsed the other dishes. 
If you can imagine yourself aboard a ship, hauling in the fish, and grilling it on the spot with a dash of olive oil and lemon, this experience might come close to it.
Lavraki is just one of the fish flown in from Greece. There are others, lesser-known and worth trying. Near the entrance of Thalassa, whole fish are displayed on ice. Among them, the lethrini is notably hard to find here. And you can't help but notice: its eyes are huge. Chef Ralpheal Abrahante said the fish's large eyes are due to living in deeper, darker water. The flesh is sweet and delicate. At any given time, the seafood selection, being seasonal, changes.
A notable thing about Thalassa is that fish isn't charged by the pound, as is common practice elsewhere. It's charged by the piece, eliminating any surprises that can accompany the bill when you order fish. 
"The fish here is maybe a pound, a pound and a half," said Abrahante, gesturing to a fish. "This $36 fish could be $50 if it was by the pound somewhere else. They charge intestines, scales, everything. Here, our philosophy is we feel it's not necessary."
"We don't sacrifice quality. No substitutions for the fish. If you order that, that's the fish you're gonna get," he added, referring to a practice where restaurants are sometimes known to swap in different fish than the one requested.
The fish at Thalassa is all wild-caught. Abrahante says of the lavraki, for example, "There are a lot of copies, because farmers farm them in tanks. But I feel you lose something from the fish. In a tank, there are no natural nutrients being released, that give the fish that flavor, that color. If you go to another restaurant, this fish, if they charge $4, it means it's not wild. There's no way. It's expensive. We pay $10, $15, $20 a pound for the fish."
Some of the fish hails from closer to home, such as sea bass or pompano, fish that customers are used to and ask for.
"I'm fascinated with the vast amount of seafood, the variety of it," said Abrahante, adding that a cow only has 24 different cuts. "There's this vast ocean that has wild edibles at my fingertips, just waiting for me to create something with it."
Eating Healthy
"Our motto is always: eat fish, live longer," said Abrahante. "Keep it simple. There's no need to complicate simple flavors. If the product is fresh, then the true, inner beauty of it, which is the flavor, will come out naturally."
Truth be told, though, during dinner, the flavors were so wonderful I forgot I was eating very healthy food. And while I was there, the kitchen was very good in accommodating the dietary needs of a gluten-free dinner companion. 
One of the most popular appetizers is the octapodi ($25), which is grilled exactly the way it should be—succulent and tender. It comes from the cool waters off Portugal. The mark of any good octopus is how tender it is, and it benefited from a little bit of personal touch to tenderize it—a massage. In the old days, Greek restaurants on both sides of the pond used to throw the octopus into a washing machine for that sole purpose. In New York City, the Department of Health put the kibosh on the practice. 
It's a quite hefty helping, good for sharing, and a good deal for the serving size. 
Another of my favorite dishes was the Maine divers scallop wrapped in kataifi filo ($22), which is normally reserved for desserts, with sheep's milk butter and kalamata balsamic reduction. The filo is crunchy on the outside, and cradles the sweet scallop inside. 
There was also an all-too-addictive tower of lightly fried eggplant and zucchini chips ($24), topped with tzatziki sauce. It was incredibly well presented and a delight to slowly conquer. But this, as with the scallop appetizer, is a dish best shared. Make sure to leave room for the main course!
With the kind of space it has, three floors, including the downstairs wine room and a gallery loft upstairs, Thalassa hosts many events. With each customer being different, there often also comes different dietary needs or allergies to be catered to. 
Abrahante takes the helm with aplomb. "I tell my chefs in the kitchen, or my wait staff, just relax—the difficult, I handle immediately, the impossible just takes me a few minutes longer. That's it. Then at the end of the day, you see everything just comes together."
Glancing into the kitchen, I noticed the quarters were tight—a lot of high pressure in a small space. "It is like a football game. but once you all work as a team, we look like ballerinas. That's how it is."
That's a long way from his kitchen start. "I remember my first day in a real kitchen. The chef walked out for three minutes, it was like half an hour for me. I'm by myself, everything's burning. He comes back, like, 'Look, look, look!' He's throwing things at me, he's all upset, I had to make a decision: either stay or not come back. I came back the next day. At the end it all worked out. I found my calling for now. This is what I do. Customers trust me with their health, their money," he said. They are very much in good hands.
Thalassa
179 Franklin Street (between Hudson & Greenwich Streets)
212-941-7661
www.thalassanyc.com
Hours: 
Monday–Thursday: 5:30 p.m.–11 p.m.
Friday–Saturday: 5:30 p.m.–12 a.m.