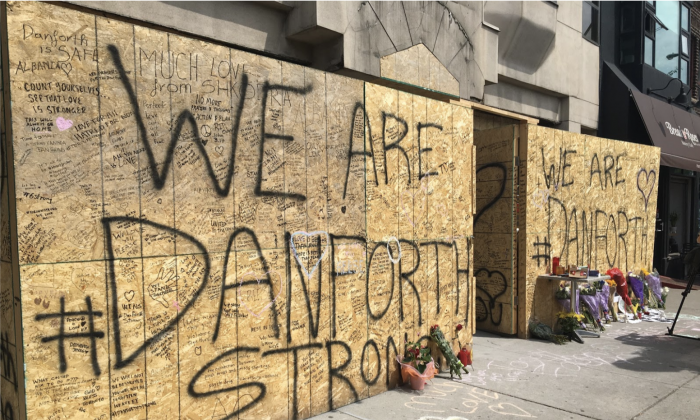 'Look Fear in the Eye': Upsurge of Support for Toronto's Danforth After Mass Shooting

TORONTO—Walking along Toronto's Danforth Avenue on July 24, it's a sunny summer day and people are enjoying lunch on the restaurant patios that line the street. It's difficult to imagine that this is where a fatal mass shooting took place just two nights before.
On July 22, Faisal Hussain opened fire on civilians who had been enjoying an otherwise normal Sunday night. He killed 10-year-old Julianna Kozis and 18-year-old Reese Fallon, while injuring 13 others before exchanging gunfire with the Toronto Police. The 29-year-old was later found dead from a gunshot wound.
When tragedy strikes, people come together to support each other, and that's what the Toronto community did.
Mere hours after Hussain's shooting rampage, an upsurge of support began growing for the victims and business owners in the area, with many saying on social media that they would make their way as soon as possible to the normally bustling Danforth to dine and shop.
Using the hashtags #TorontoStrong and #DanforthStrong, social media users mentioned their favourite haunts and encouraged others to frequent the area and support local businesses.
"Hey Toronto! What if this week we all tried to go to the #Danforth for dinner, or for an ice cream, or just for a walk. Show support to our neighbours. We are a city of communities and we are nothing without each other!" tweeted "Corner Gas" actress Tara Spencer-Nairn.
Hey Toronto! What if this week we all tried to go to the #Danforth for dinner, or for an ice cream, or just for a walk. Show support to our neighbours. We are a city of communities and we are nothing without each other! #TorontoTheGood #TorontoStrong

— Tara Spencer-Nairn (@TSpencerNairn) July 23, 2018
"I'll be going to mr greek tonight to have a gyro..opa!" someone named RearViewMirror replied, just one of many responses to Spencer-Nairn's suggestion.
Normally a regular in the Greektown area, Kaitlyn Riordan, artistic director of Shakespeare in the Ruff, returned on July 24, although she said her first reaction after the shooting was "to be very afraid" and stay indoors.
"Then I thought about all the people that I see here every day and all the kids in the park, at the camp, and I realized we had to come out today, and we had to eat a souvlaki for lunch, and had to be in the park and look fear in the eye," she said.
"This neighbourhood means a lot to us."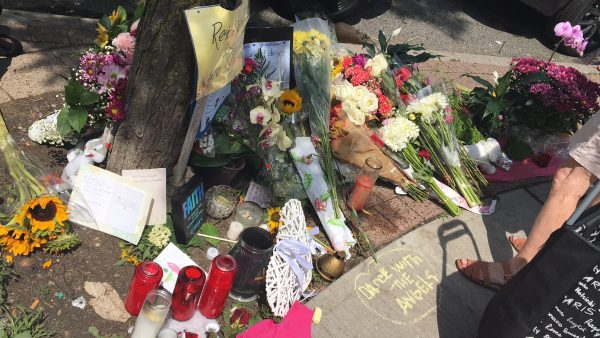 A candlelight vigil was held on July 23 and makeshift memorial sites began to appear along Danforth the next morning. Some wrote messages on a wall with a large "we are #danforthstrong" spray-painted across. Others left flowers, notes, and photos to commemorate the victims.
Keiley Routledge, who lives in the area and owns a business on Danforth, set up a GoFundMe page in conjunction with two Toronto city councillors that has raised over $25,000 for anyone in the neighbourhood facing health care costs, funeral arrangements, or lost wages.
Many members of the community also took to social media to urge people to donate blood through Canadian Blood Services.
All three levels of government sent out condolences, including Prime Minister Justin Trudeau, Ontario Premier Doug Ford, and Toronto Mayor John Tory.
"I am of course angry, as we all are, that someone would carry out such an attack, which really amounts to an attack on our city itself," Tory said at a city council meeting on July 23.
On the issue of gun reform, Tory said, "Why does anyone in this city need to have a gun at all?"
Growing Gun Violence
According to Toronto Police Services, there have been 228 shootings in the city this year—23 more than all of 2017 and over double the amount of 2014. Twenty-six deaths by shooting have occurred so far in 2018, an increase of 53 percent compared to the same period last year.
On June 26, an emergency meeting on gun and gang violence saw Toronto City Council request the federal government to strengthen the firearms control legislation (Bill C-71) to allow municipal police services access to legal firearms sales records, similar to regulations in the United States.
The meeting followed four separate gun-related incidents over the weekend of June 22-24.
Torontonians were shocked when a brazen daylight shooting in the bustling entertainment district on July 22 left two up-and-coming rap singers dead and a woman injured. Police are looking for a 16-year-old boy in relation to the shootings.
The rise in gun violence has left the city on edge. On Danforth Avenue on July 24, local resident Matthew Ferrera said the Greektown area is becoming more dangerous.
"I feel like [police] should keep their eyes on this area," he said, "The Danforth can be really scary, especially at night."
RECOMMENDED