The Chinese regime announced a new cluster outbreak of the CCP virus in Wuhan on May 11, the first official indication of a severe outbreak in the epicenter since authorities ended lockdown measures in early April.
Locals reported that the current outbreak in Wuhan is more severe than how authorities have portrayed it.
A mother also began petitioning authorities, hoping to seek justice for the death of her daughter due to the virus.
The CCP (Chinese Communist Party) virus, commonly known as the novel coronavirus, first broke out in Wuhan city, the capital of Hubei Province in late 2019.
As authorities have underreported virus data, it is difficult to know the true scale of the outbreak in Wuhan.
But on May 11, China's National Health Commission announced 10 new domestic diagnostic cases in the country, with five of them in Wuhan, and the others in northeastern Chinese provinces.
Residential Compound
The Wuhan Municipal Health Commission published details about the five new cases. They were all diagnosed on May 10, and live at the Sanmin residential compound in Dongxihu district of Wuhan.
Previously, an 89-year-old man surnamed Gao who lived in that compound was diagnosed on May 9.
The new patients are Gao's 81-year-old wife, 46-year-old Li, 29-year-old Chen, and a couple, 76-year-old Zhang and 72-year-old Yuan.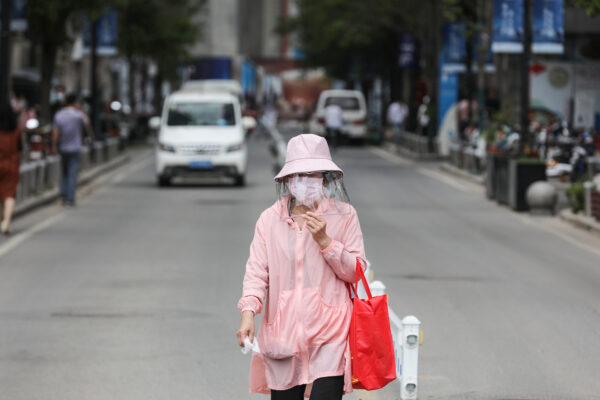 Chen began to develop symptoms on May 2 and tested positive on May 5. But she was only diagnosed on May 10 after her symptoms deteriorated.
Zhang felt uncomfortable on May 5 and visited a local hospital. He tested positive on May 6, and was finally diagnosed on May 10.
On May 10, the Dongxihu district was upgraded from "low" to "medium" risk region for virus spread.
On May 11, Zhang Yuxin, the Party boss of Dongxihu district, was dismissed from his position, punished for failing to prevent the cluster outbreak. Meanwhile, the Sanmin residential compound was placed under lockdown.
Chinese state-run media Hongxing News reported on May 11 that the Sanmin residential compound was located in an old neighborhood, with over 4,900 people in 1,943 households living there. About half of them are migrants from other cities.
Since May 10, residents entering or leaving the compound must have their body temperatures screened and their cell phone-generated health codes scanned.
Hongxing News reported that all residents were forced to take nucleic acid tests and that it was likely the compound would soon be fully locked down—with residents not allowed to enter or leave the area.
Quarantine Center
On May 10, Wuhan residents posted on several social media platforms footage of more than ten people dressed in protective suits, masks, and goggles, placing gurneys onto the back of a vehicle. The person taking the video said the staff in protective suits were transferring about 20 people from a quarantine center to three truck-modified ambulances.
From the videos, most of the transferred patients appeared to be old people. Some sat on wheelchairs. The video also recorded people's chatter. They said: "Here is Lavande Hotel [modified into a quarantine center] at the Liuduqiao neighborhood… We'd better wear our masks properly [to protect ourselves]."
Liuduqiao is in Jianghan district, about 10 miles east of the Sanmin residential compound.
Wuhan residents also posted on the WeChat app that there was a cluster outbreak inside a residential compound in Qiaokou district on May 6. But the related posts were soon removed.
Daughter's Death
50-year-old mother Yang Min is hoping to seek justice for her daughter, 24-year-old Tian Yuxi.
Tian was infected with the CCP virus after she visited Wuhan Union Hospital on Jan. 16, and died of the virus on Feb. 6.
"If we had known the virus was capable human-to-human transmission [back then], we wouldn't have gone to the hospital, and my daughter wouldn't have died," Yang told the Chinese-language Epoch Times in a phone interview.
Chinese authorities did not publicly confirm human-to-human transmission until Jan. 20.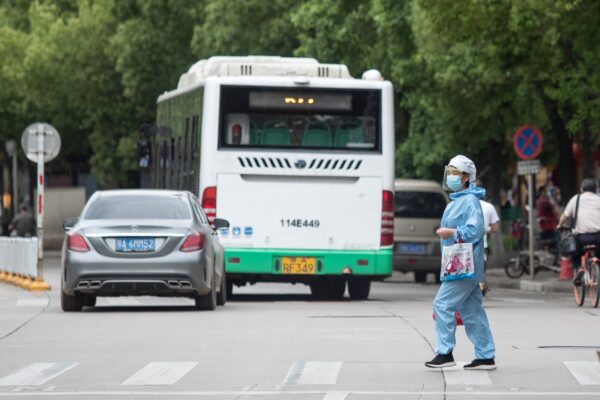 Yang said the death certificate issued by Jinyintan Hospital indicated that her daughter died of COVID-19, the disease caused by the CCP virus.
"I want to ask the Wuhan city government why it didn't tell us the virus could be transmitted among humans when it knew," Yang said.
The Epoch Times obtained internal government notices indicating that Chinese authorities knew of the virus's potential to spread weeks before admitting it in public.
After her daughter passed away, Yang tried to appeal to authorities via official channels, but got no response.
"Yesterday was Mother's Day. My child died. Who am I a mother to now?,"  Yang cried.
On the morning of May 11, Yang protested on the streets by holding two boards, on which she wrote the story of her daughter's death and her appeal to authorities.
As Yang was walking, two policemen appeared and grabbed away Yang's boards. Then she was taken away and detained by four men. They released her several hours later.
"Four men dressed in black pushed me into a room in an unknown place… I asked for their identities, but they refused to show me," Yang said.
Yang believed that these four men were hired by local authorities to intimidate her into stopping her protests.
"I won't stop. I will continue my protest until I get justice for my daughter," Yang said.