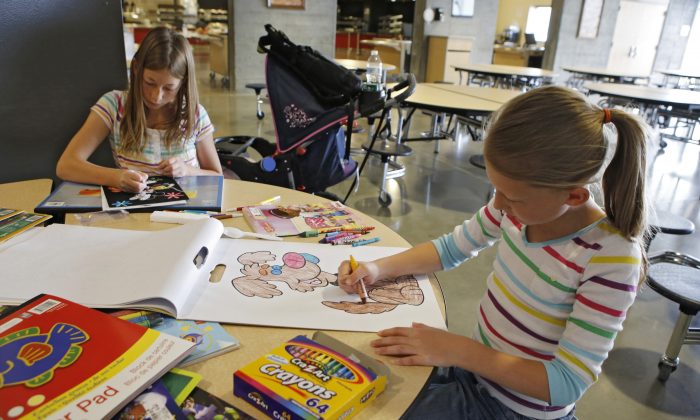 LINK: People Help Each Other Out After Black Forest Fire
LINK: Photos of the Black Forest Fire
LINK: El Paso Resident Finds Fire Evacuation 'Surreal'
——————————– 
Latest numbers (updated 4:32 p.m. EDT/2:32 p.m. MDT)
California
Hathaway Fire
San Bernardino National Forest, 6 miles north of Banning
3,520 acres
43 percent contained
Colorado
Black Forest Fire
16,300 acres burned
40,000 people evacuated
20,000 homes evacuated
389 structures lost
5 percent contained
800 personnel battling the fire
Royal Gorge Fire
3,216 acres
20 percent contained
Idaho
NEW: Bruneau
Near Twin Falls
4,940 acres
90 percent contained
New Mexico
NEW: White's Peak
14 miles southwest of Cimarron
900 acres
Jaroso Fire
Santa Fe National Forest, 8 miles south of Truchas
3,538 acres
0 percent contained
Silver Fire
Gila National Forest, 6 miles west of Kingson
3,538 acres
0 percent contained
Tres Lagunas Fire
Las Vegas District of the state forestry, 15 miles north of Pecos
10,219 acres
85 percent contained
Thompson Ridge Fire
Bernallio District of the state forestry, 10 miles north of Jemez
24,000 acres
75 percent contained
Oregon
Crowley Creek Fire and Stockdale Fire
Vale District, 20 miles southeast of Riverside
About 19,000 acres
98 percent contained
NEW: Utah
Rock Creek Fire
110 acres
15 miles east of East Carbon, near Price
Caused by lightning
——————————
5:53 p.m. EDT (4:53 MDT)
Colorado
 All Mandatory Evacuations lifted within the city limits of Colorado Springs, while voluntary evac remains from North Gate & Old North Gate to Interquest, Hwy 83 to Voyager Pkwy
New Mexico
Rain and hail have been helping slow down some of the fires in the state. 
4:42 p.m. EDT (2:42 MDT)
Colorado
The National Weather station reported there is a chance of precipitation for Colorado Springs later this afternoon around 3 p.m. MDT and into the early evening.
The temperature is decreasing from 90 (F) to an expected 56 (F), and wind is expected to also start decreasing gradually to 5-10 miles per hour.  
Locals have been tweeting about lightning and rain. One cameraman for CBS, @SamCBS4NewsCam, said that the rain has started in one area while at least one other is still dry.
Meredith Montañez  (@Bubafettt) said that there's a "Storm coming in too far south & lots of lightning," and tweeted a picture of the sky darkening in the Colorado Springs area.
Local broadcaster KTTV tweeted a picture showing rain from a traffic cam over I-25 and Gleneagle, and showed a radar picture showing rain and thunderstorms over the burn area.
4:33 p.m. EDT (2:33 MDT)
Colorado:
COLORADO SPRINGS, Colo.—Firefighters were finally gaining some ground Friday on a wildfire in which two people were killed as they tried to escape and 389 homes were destroyed.
Some cloud cover and calmer winds earlier in the day seemed to be helping slow the Black Forest Fire and authorities for the first time seemed confident they could stop it.
The fire zone near Colorado Springs remained at 25 square miles, thanks to lighter winds and firefighters quickly stamping out flare-ups overnight. Sheriff's deputies patrolling for looters directed crews to dozens of hot spots, incident commander Rich Harvey said.
However, the residents of 10 more houses learned Friday that their homes had been destroyed as authorities continued to survey the damage.
The homes were burned earlier in the fire. Only one home burned Thursday and none were lost overnight.
Read the rest of the story here
4:10 p.m. EDT (2:10 MDT)
New Mexico
Fire Reaches Evacuated Village; Buildings Saved 
HILLSBORO, N.M.—A fire in southern New Mexico has reached the historic mining town of Kingston but a fire management team spokesman says crews have protected buildings and that none have burned.
The lightning-caused Silver fire is burning in a rugged area of the Gila National Forest west of Hillsboro. It has burned more than 33 square miles.
Fire officials say the fire continues to grow and that the flames reached Kingston by early Thursday.
Fire information officer Larry Helmerick says crews protected the lookout tower on Hillsboro Peak by wrapping it with fire-resistant material and cleared away burnable fuel around Kingston's several dozen buildings.
He says crews have also built protective lines around the evacuated community.
Firefighters hoped thunderstorms developing in the area Friday afternoon would bring some relief.
3:57 p.m. EDT (1:57 MDT)
Colorado:
People Help Each Other Out After Black Forest Fire
Residents affected by the Black Forest Fire near Colorado Springs have banded together as the fire continues to burn.
With an estimated 38,000 people having to evacuate from their homes, people have been communicating through friends, family, and social media to offer food and shelter to displaced people.
Jennifer Nielsen Lingard, owner of the Peakview Stables in Elizabeth, northeast of Colorado Springs, told people throughthe Black Forest Fire Facebook page that she has a barn, sheds, and three pastures, and can take in some horses if people have nowhere else to put them.
"I'll even provide feed for awhile until these poor folks get on their feet," she said. "I can take a few dogs as well. I am on 36 acres so we have lots of room!"
3:49 p.m. EDT (1:49 MDT)
Utah:
A 110 acre fire and at least several smaller ones have cropped up in Utah today, keeping fire crews busy battling the flames.
Lightning caused at least two of them, the 110 acre Rock Creek Fire 15 miles east of East Carbon, and a 18 acre fire in the Manti-La Sal national Forest, 20 miles southeast of Moab.
3:30 p.m. EDT (1:30 MDT)
New Mexico:
Fire Growth Depends on Wind: Experts
ALBUQUERQUE, N.M.—With each dry thunderstorm that moves across New Mexico, the chance of another wildfire breaking out goes up. But experts say it's the wind that will help determine whether the state has another record season.
More than 93 square miles of New Mexico's tinder-dry forests have burned in the past two weeks. Firefighters are battling a handful of blazes in the Santa Fe National Forest, on private land near Whites Peak and in rugged territory in southern New Mexico.
The flames are being fueled by overcrowded forests, the terrain and dry conditions.
However, New Mexico State University wildland fire management specialist Doug Cram said Friday the wind hasn't been as big of a factor this year.
"For the most part, these haven't been big wind events," he said. "Could this be another record setting year? I don't know. If the winds get to blowing 30 mph and gust to 50, then it's possible."
Read the rest of the story here
3:06 p.m. EDT (2:46 MDT)
Colorado
Evacuees are being asked to register with Red Cross regardless of whether they are staying in a Red Cross shelter or not, so family members and others can know they're safe. 
2:58 p.m. EDT (12:58 MDT)
Colorado
Jeremy Beach lost his house to the Black Forest Fire, including his DirecTV dish. The company informed him he owed $400 for the dish and two receivers.
Beach said he was shocked by the information. "I had lost everything and they acted like the could[n't] care less," he said, according to the Colorado Springs Gazette.
DirecTV later apologized, saying that the agent who told Beach that he would have to pay was wrong.
"We have contacted the customer to apologize and assure him and his family that we will do everything we can to help them through this difficult time," the company said in a statement obtained by local broadcaster KDVR-TV. "DirecTV has a clear policy that fully supports its customers during natural disasters that includes replacement of damaged equipment at no charge, long-term suspensions of accounts for customers who must leave their home and waiving cancellation fees for those who need to disconnect service."
2:50 p.m. EDT (12:50 MDT)
New Mexico:
A progression map showing the growth of the Silver Fire has been released.

2:47 p.m. EDT (12:47 MDT)
Colorado
GLENWOOD SPRINGS, Colo.—Encana Corp. has shut down 32 natural gas wells in central Colorado because of a nearby wildfire.
Company spokesman Doug Hock said Friday the shutdowns are just a precaution. Garfield County officials say two wells owned by WPX Energy have also been shut down.
Maria Pina of Colorado River Fire Rescue says the fire is located about a quarter mile from some of the wells, but no structures are currently threatened. She said the fire is expected to be under control soon.
Garfield County sheriff's spokesman Walt Stowe says several wildfires broke out Thursday because of lightning strikes.
The largest fire, in the Beaver Creek and Porcupine Creek areas near the wells, covered 6 acres and was quickly knocked down.
2:24 p.m. EDT (12:24 MDT) 
New Mexico:

In southwest New Mexico, the Silver Fire has spread 21,400 acres into the Kingston and Royal John Mine area of Gila National Forest.  The fire reached Kingston early Thursday; after that the town's 25 to 45 residents have been evacuated. Jim Laupan, a local from a nearby town, Hillsboro, helped the evacuees leave Kingston.
"When this fire started up the other night, it is amazing how fast it came in on those people," said Laupan, in an interview with Fronterasdesk.
Kingston is a ghost town that used to be the largest silver mining town in the state in the 1880's, with a population of about 7,000.
The area is expecting t-storms and abnormal winds today. Firefighters have stepped in prepared to take on the warm and harsh region.
Photo: View from Kingston, New Mexico of the Silver Fire in the Gila National Forest on June 12, 2013. (US Forest Service Gila National Forest)
2:15 p.m. EDT (12:15 MDT)
California:
The Hathaway fire near Banning has slowed down recently and is holding at about 3,500 acres. The fire's east side remains the most active, and firefighters are having trouble combating it because of steep terrain. Crews may need to wait for the flames to burn down to them, Bob Poole,  a public information officer with the San Bernardino National Forest, said in a statement obtained by the LA Times.
"With a significant rise in overnight relative humidity, firefighters were able to progress fire line at a very fast pace," U.S. Forest Service spokesman John Miller said, according to the Desert Sun. "Relative humidity reached as high as 50 percent, forcing the flames and smoke to subside."
The fire, which started on June 10, is burning on the northern portion of the Morongo Indian Reservation. 
The Desert Sun reports that 1,372 firefighters are being assisted by 12 helicopters and six air tankers. 
2:05 p.m. EDT (12:05 MDT)
Colorado:
El Paso County Sheriff Terry Maketa says that fire crews have made some "tremendous ground" on the Black Forest Fire.
"I don't want to overstate it … but I think yesterday we gained some tremendous ground, especially when it came to structure prevention," he said at a briefing. "Last night was a success," he said. "It was kind of that turning point we've been looking for."
Also, firefighters have been holding the fire at about 25 square miles. Work can be seen in the raw video below.
1:57 p.m. EDT (11:57 a.m. MDT)
Colorado:
The Black Forest Fire in Colorado has cost $2 million so far in damages, according to a recent update by federal authorities.
As the fire continues to burn, reaching almost 16,000 acres, 50 fire engines and 800 personnel are battling it. The percent contained increased to 5 percent from 0 percent overnight, but there is not yet an estimated containment date.
The cause of the fire, which started on June 11, is still under investigation.
1:52 p.m. EDT (11:52 a.m. MDT)
Idaho:
A new fire, ignited by lightning, has been burning today in Idaho near Twin Falls. The Bruneau fire is at an estimated 4,940 acres but is 90 percent contained and is expected to be fully contained on June 16, according to local broadcaster KMVT-TV.
1:40 p.m. EDT (11:40 a.m. MDT)
New Mexico:
The two larger fires in New Mexico, the Silver Fire and the Thompson Ridge Fire, are now threatening residences and other structures after primarily burning in wilderness areas the last several days. Evacuations are happening around the outskirts of the Gila National Forest because of the Silver Fire's growth of 800 acres over the past 24 hours, according to the National Interagency Coordination Center. No evacuations have happened yet for the Thompson Ridge Fire, which has grown 2,100 acres over the past day but is 75 percent contained.
Meanwhile, the Jaroso Fire in New Mexico, near the Santa Fe national Forest, has been cut down to less than 4,000 acres because of more accurate mapping. And thunderstorms are happening near the Tres Legunas fire.
1:37 p.m. EDT (11:37 a.m. MDT)
The Douglas County Sheriff's department has issued a notice reminding residents to stay at high alert level. The Black Forest Fire has not entered the country yet but climate conditions remain dry and hot.
1:29 p.m. EDT (11:29 MDT)
El Paso Resident Finds Fire Evacuation 'Surreal'
John Bissett, president of the Housing and Building Association of Colorado Springs, had been following the news of the Black Forest Fire burning near his community in northern El Paso county. With the winds changing directions, and the mandatory evacuation line drawn to Walker Road—just three quarters a mile south—he started packing what he needed into his motor home, along with his two cats.
He started packing about four hours before he received the reverse 911 call at his home alerting him of the mandatory evacuation. 
"Then about 20-30 minutes later the police and sheriffs came into the community and went door-to-door to make sure everybody was getting out, or got out," Bissett said. He left his house around 6 p.m. MDT on Wednesday, June 12.
Read the rest of the story here
1:18 p.m. EDT (11:18 a.m. MDT)
The Denver Post reported that the Black Forest Fire is not likely caused by natural forces according to the El Paso County Sheriff Terry Maketa. Instead, someone may have started the fire.  
12:55 p.m. EDT (10:55 a.m. MDT)
NEW LINK: Photos of the Black Forest wildfire
12:45 p.m. EDT (10:45 a.m. MDT)
CIMARRON, N.M.—A wildfire in northern New Mexico has prompted approximately 100 Boy Scouts to relocate to another camping area within the Philmont Scout Ranch as a precaution.
State Forestry officials say the White Peak's fire has charred an estimated 900 acres as of Friday morning.
The lightning-caused fire began Thursday morning in a remote forested area of private land about 14 miles southwest of Cimarron and 3 miles south of Philmont's border.
Authorities say the fire is zero percent contained.
Air tankers are dropping retardant to slow the spread of the flames. About 80 firefighters and support personnel are assigned to the fire.
Several structures in the vicinity are threatened but none have burned so far.
12:24 p.m. EDT (10:24 a.m. MDT)
LINK: A list of homes in the Colorado Springs area, where the Black Forest Fire is burning. The list shows which homes have been damaged or completely destroyed.
Also, crews in California and Oregon have made significant progress containing wildfires there. The wildfires in Oregon are 98 percent contained.
June 14, 11:28 a.m. EDT (9:28 a.m. MDT)
El Paso El Paso County Sheriff's Office in Colorado Springs reminded residents that mandatory evacuation for Flying Horse neighborhood will remain in place.
Sheriff Terry Maketa said via Twitter that 38,000 people are still impacted by fire.
Firefighters have at least temporarily battled to a "draw" with a fast-moving fire that has already killed two people and destroyed 379 homes, giving weary authorities and residents the first glimmer of hope after three days of mounting damage, a sheriff said.
After nearly doubling in size overnight, the fire held at about 25 square miles Thursday despite more swirling winds and bone-dry conditions, said El Paso County Sheriff Terry Maketa. "If it was a draw, then that was a victory today," Maketa said, "because we haven't had many draws lately."
 Epoch Times Staff members Daniel He, and the Associated Press, have contributed to this report.