Less than two dozen lionfish have been discovered in the Mediterranean Sea, but they need to be fished out immediately if the ecosystem is to be preserved, a marine biologist said.
"We know they're pairing up in Cyprus right now. They just need to be removed—urgently," Jason Hall-Spencer said over the phone. "It has to happen, preferably, tomorrow."
Lionfish, native to Indo-Pacifc region, lack natural predators in the Mediterranean. They can spread extremely fast and decimate the rich biodiversity of the sea, according to Hall-Spencer, professor of marine biology at the Plymouth University, and co-author of a study that confirmed the lionfish invasion.
The lionfish probably slipped in from the Red Sea with the widening of the Suez Canal, Hall-Spencer said. Also, the Mediterranean Sea is getting warmer, making it possible for tropical species like lionfish to survive. And, as in the Caribbean years ago, over-fishing means the sea lacks predators capable of stemming the lionfish population. Though it is not clear if local predators were ever able to counter the likes of lionfish.
Lionfish are relatively small (about 2–18 inches), but are fearsome predators. They can swallow a small fish in a single bite like a canape and quickly suppress other species by eating their young. Yet lionfish themselves are a difficult prey thanks to their venomous spines.

Caribbean Lesson
Far from its natural habitat, a lionfish was spotted off the Florida coast over 30 years ago.
For many years, additional sightings were rare, but then, since 2000s, the species rapidly spread throughout the Caribbean.
It is believed the invasion started with aquarists releasing their lionfish into the wild. The fish are popular with aquarists for their ostentatious shape and coloring.
The region now struggles to suppress the fish, and it's unlikely they can get rid of it completely.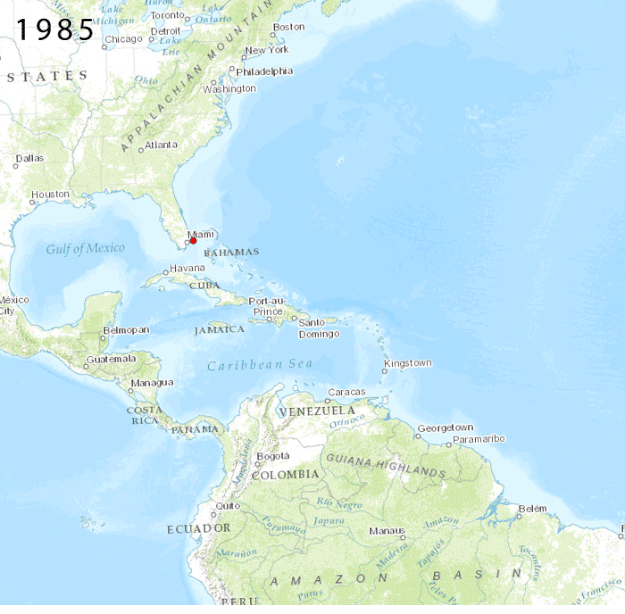 Lionfish can reproduce up to every four days, all year round, releasing up to 30,000 eggs each time that can travel with ocean currents for a month before settling down.
Related Coverage
Due to over-fishing, the Caribbean lacks enough predators that would be able to regulate the fast-spreading lionfish. Then again, it is not certain if local predators were ever able effectively hunt the venomous fish, said Lad Akins, director of Special Projects at Reef Environmental Education Foundation, in an email.
Understandably, the local fauna struggles to cope, but it is not clear how much. A study mapping the impact should be released in several months.
In one controlled study in the Bahamas, 80 percent of youth native fish were wiped out in 5 weeks on an isolated artificial reef inhabited by lionfish.
Mediterranean Threat
In the Mediterranean, lionfish have been spotted sporadically since 1990s, but the new study, released on June 28, confirmed there are now groups capable of reproducing.

The study authors interviewed local divers and spearfishermen and collected photos, videos, and even specimens caught in trammel nets by local coastal fishermen.
In total, they counted 24 sighting of at least 19 lionfish along the coast of Cyprus.
That may not seem like many, but the Carribean invasion was a lesson of how quickly lionfish can spread.

"We're very, very concerned, now we start seeing groups of these fish in Cyprus, that exactly the same things can happen again in Mediterranean," Hall-Spencer said.
Lionfish can be netted or speared during scuba diving, snorkeling, or free diving.

Reef Environmental Education Foundation holds multiple lionfish derbies each year along Florida shores, inviting divers to help reduce the lionfish population. Since 2009, they have removed over 16,000 lionfish.
Something similar may help stop the Cyprus invasion.
"Just encourage people to get out there and capture these fish as quickly as possible over the next two weeks," Hall-Spencer said. "Because otherwise, the situation will just get out of control."
To be sure, lionfish need careful handling.

Though its venom can't normally kill a healthy, non-allergic adult, it can cause extreme pain, nausea, fever, vomiting, diarrhea, convulsions, headache, and some other discomforting symptoms.
On the other hand, "they do taste delicious," Hall-Spencer said.
Related Coverage
Update: The article was updated to reflect that both Caribbean and Mediterranean predator fish may have never been able to hunt lionfish. It was also clarified that the controlled study in the Bahamas was conducted on artificial structures and measured recruitment of juvenile fish.