Sen. Mike Lee (R-Utah) objected to one of the House impeachment manager's remarks late Wednesday during the impeachment trial against former President Donald Trump, sparking confusion among fellow senators.
Rep. Jamie Raskin (D-Md.), the lead manager, alerted the Senate that managers were prepared to recess for the evening after nearly eight hours.
That's when Lee pronounced that he wanted some remarks by Rep. David Cicilline (D-R.I.), another manager, stricken from the record.
"Statements were attributed to me moments ago by the House impeachment managers. Statements relating to the content of conversations between a phone call involving President Trump and Sen. Tuberville were not made by me, they're not accurate, and they're contrary to fact. I move pursuant to Rule 16 that they be stricken from the record," Lee said.
Cicilline had name-checked Lee, claiming that the senator was called by Trump on Jan. 6. Lee told a newspaper last month that Trump called him thinking it was the number for Sen. Tommy Tuberville (R-Ala.).
As the manager spoke, Lee shook his head vehemently, pulled out a legal pad, ripped off a sheet of paper, and began writing furiously. He wrote, in part, "This is not what happened." After finishing, he passed the paper to Trump lawyer David Schoen, who read it and nodded his head.
Shortly after, Lee objected.
Sen. Patrick Leahy (D-Vt.), presiding over the trial in lieu of Supreme Court Chief Justice John Roberts, ruled against the request, citing a portion of the impeachment trial rules he apparently thought dealt with it.

Lee appealed the ruling as other senators began to weigh in, wondering what was happening. Calls of "strike 'em" and "hear, hear" could be heard from Republican senators as House managers began clustering around Senate Majority Leader Chuck Schumer (D-N.Y.).
Leahy was forced to repeat himself before appearing ready to allow a vote on the matter, but was interrupted by senators who said they didn't know what they would be deciding.
"What is the question?" Sen. Roger Wicker (R-La.) wondered. "What are we voting on?" Sen. Mitt Romney (R-Utah) said.
"My point was not about whether it's appropriate for them to make characterizations. My point was to strike them because they were false," Lee told Leahy.
A House clerk appeared to feed Leahy lines to say, which he then repeated.
"Mr. President, that is not my motion. You've ruled on a motion, you've ruled on something that was not what I moved. What I asked was, statements were attributed to me repeatedly, as to which I have personal knowledge because I am the source. They are not true," Lee insisted. "I never made those statements. I ask that they be stricken."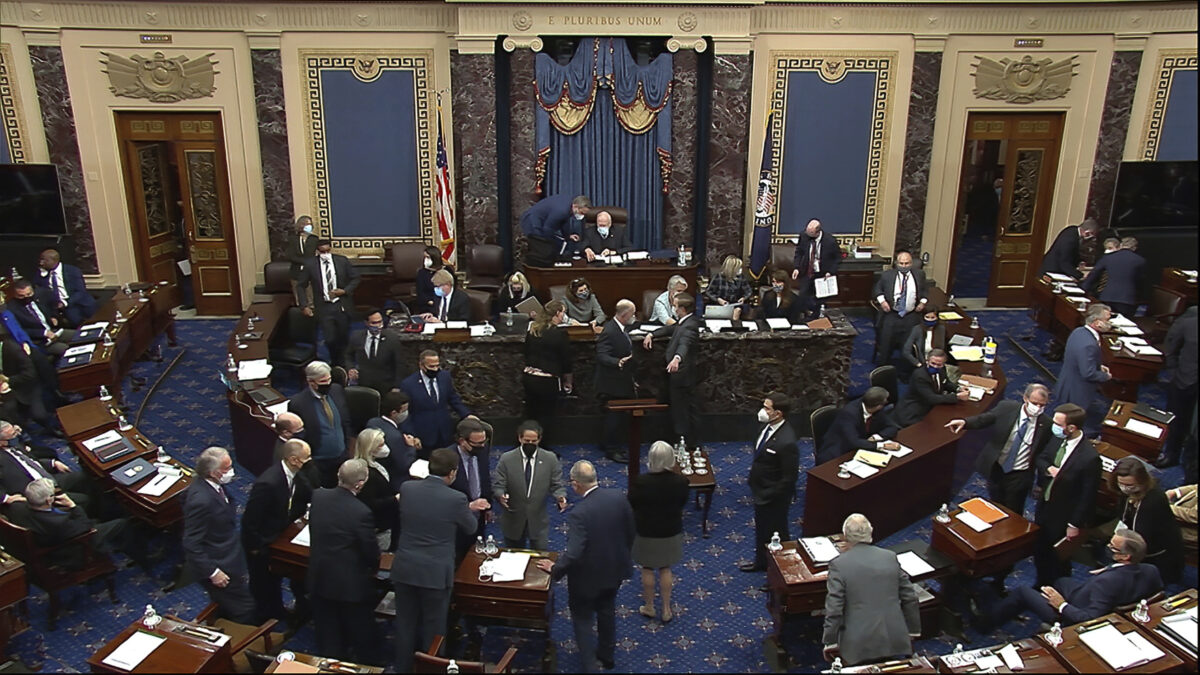 Republican senators vocally supported Lee. Schumer could be heard on a hot mic asking about the matter.
"Let him explain. Please let him explain Mr. President," Sen. Joe Manchin (D-W.Va.) told Leahy, as the Senate president pro tempore stumbled over his words.
Leahy then asked for a vote, but as the clerk called a roll call, Schumer asked for a point of clarification.
"What is the question?" he asked. Schumer halted the proceedings while the issue was worked out and senators could be seen gathering around Raskin and Lee to figure out what was happening.
Raskin eventually said the managers had agreed to strike the comments about Lee from the record.
"This is much ado about nothing because it's not critical in any way to our case," Raskin said. Lee responded, "You're not the one being cited as a witness, sir."
"The objection was, they made statements attributed to me, which they repeatedly characterized… consisted of statements that I did not make," Lee told reporters after the chaotic sequence of events. "They're going to withdraw the statements."