Hurricane Jose, a Category 1 storm, is inching a bit closer to the U.S. East Coast, according to an 11 a.m. Sunday update posted by the National Hurricane Center.
Jose might bring "dangerous surf and rip currents … along the East Coast of the United States," the agency said.
U.S. Air Force "hurricane hunters" said they found Jose "stronger" than in the previous update, the NHC added.
It's located about 355 miles southeast of Cape Hatteras, North Carolina, and 425 miles west of Bermuda in the Atlantic Ocean.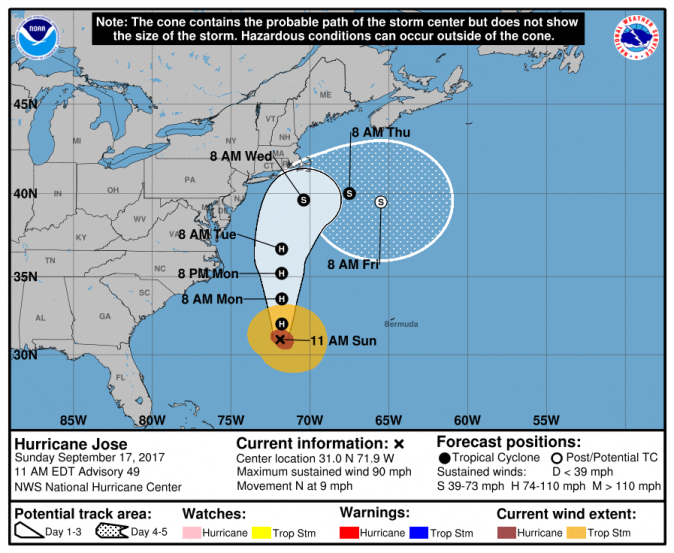 The Weather Channel says that Jose will curl to the north and then head northeast off the U.S. East Coast. "Depending on how close the track of Jose is in relation to the Northeast coastline some areas could see rain and gusty winds during the first half of this week," it says.
There are no hurricane watches or warnings in effect.
But, "Interests from North Carolina northward to New England on the east coast of the United States should monitor the progress of this system," said the NHC. "Tropical storm watches may be needed for portions of this area during the next day or so."
The storm has maximum sustained winds of 90 mph.
Forecasters have had a difficult time predicting exactly where Jose will turn. It spent much of last week circling around in the Atlantic.
The storm formed Sept. 5 in the open Atlantic before getting dangerously close to the Caribbean islands. It intensified to a Category 4 storm before weakening.