Hurricane Helene is forecast to weaken over the eastern Atlantic Ocean, and interests in the Azores islands should monitor the storm's progress.
The U.S. National Hurricane Center (NHC) said Helene has 90 mph winds, meaning it is a Category 1 storm.
The storm is located about 1,350 miles south-southwest of the Azores, and it is moving north-northwest at 14 mph.
"There are no coastal watches or warnings in effect," said the NHC in its 11 a.m. Sept. 12 update.
"A turn toward the north and northeast with an increase in forward speed is expected during the next few days," according to the agency. "Maximum sustained winds remain near 90 mph (150 km/h) with higher gusts. Gradual weakening is forecast over the next couple of days, and Helene is expected to become a tropical storm on Thursday."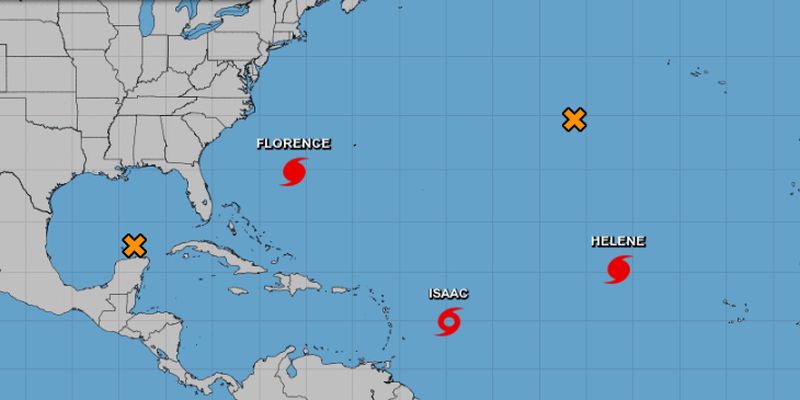 The NHC at 11 a.m. on Sept. 12 has issued warnings for Tropical Storm Isaac, which is still moving west about 420 miles east of the island of Martinique.
Tropical storm warnings were issued for Martinique, Dominica, and Guadeloupe. A tropical storm watch was issued for Antigua, Montserrat, St. Kitts and Nevis, and Saba and St. Eustatius.
The storm is moving at 17 mph to the west and has 60 mph winds.
The NHC said, "A Tropical Storm Warning means that tropical storm conditions are expected somewhere within the warning area within 24 to 36 hours. A Tropical Storm Watch means that tropical storm conditions are possible within the watch area, in this case within 24 to 36 hours. Interests elsewhere in the Leeward Islands should monitor the progress of Isaac."
It's not clear if the storm is expected to strengthen back into a hurricane after it hits the eastern Caribbean.
Update on Florence
Florence is currently 485 miles from Wilmington, North Carolina. It is moving northwest at 15 mph, according to the NHC's update at 11 a.m. Sept 12.
The National Hurricane Center said that the storm is Category 4 in strength. Earlier forecasts showed that the storm was slated to directly hit around North and South Carolina.
However, according to the latest projections, the storm might shift slightly to the south and affect Georgia with heavy rain and possible flooding.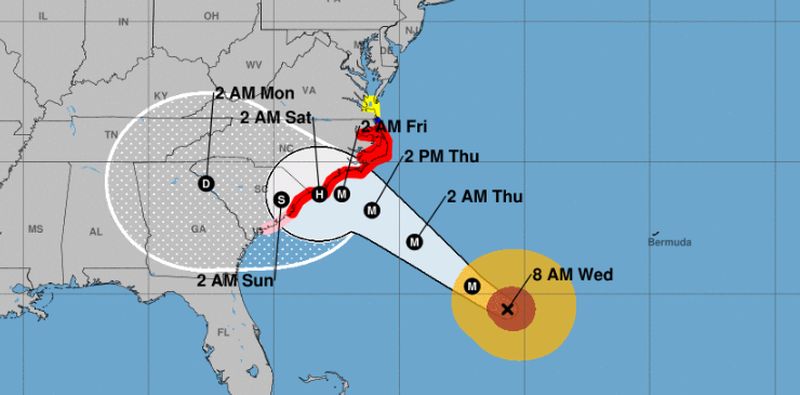 The NHC is estimating that as many as 20 inches of rain could fall in some places along the southern North Carolina coast while bringing in excess of 10 inches of rain in parts of South Carolina. Some forecasting models say that the storm could dump as many as 35 inches of rain in some areas.
The storm is currently around 530 miles southeast of Cape Fear, North Carolina, and is moving west-northwest at 17 mph. Florence has 130 mph winds, enough to make it a dangerous Category 4 hurricane.
"Interests elsewhere in the southeastern and mid-Atlantic states should monitor the progress of Florence," said the NHC.
Tropical Disturbance in Gulf
The agency is also monitoring a tropical disturbance that has a 60 percent chance of forming a tropical storm.
"Cloudiness and showers associated with a trough of low pressure over the south-central Gulf of Mexico have decreased since yesterday and the Air Force reconnaissance plane scheduled to investigate the system for today will likely be canceled," said the NHC on Sept. 12. "However, upper-level winds are forecast to become a little more conducive for development, and a tropical depression could still form Thursday or Friday before the system reaches the western Gulf Coast."
"Regardless of development, heavy rainfall and gusty winds are expected across portions of northeastern Mexico, Texas, and Louisiana late this week, and interests there should monitor the progress of this system," it added.