LAPD Chief Retires, New Police Chief Confirmed
June 27, 2018 Last Updated: June 28, 2018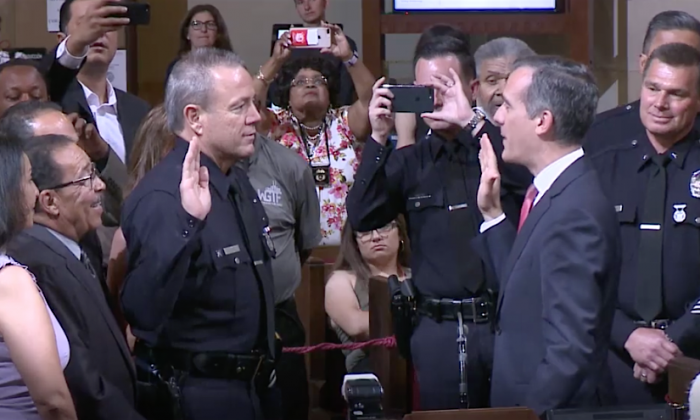 Los Angeles Police Department (LAPD) Chief Charlie Beck retired on Wednesday, June 27, on his 65th birthday after 43 years of service with the department.
He passed on the badge to Michel Moore, a 37-year LAPD veteran and former first assistant chief. Moore was appointed by Mayor Eric Garcetti and will be the 57th chief of the LAPD, the third-largest police department in the United States.
"Passing the badge means passing the torch. The weight of this badge was never lost on me, and it's history and legacy will continue to transcend any one Chief," said Beck in a post on Twitter.
Passing the badge means passing the torch. The weight of this badge was never lost on me, and it's history and legacy will continue to transcend any one Chief. pic.twitter.com/5OWvsrfJ9N

— Chief Charlie Beck (@LAPDChiefBeck) June 27, 2018
During his confirmation hearing on Wednesday, Moore faced questions from city council members on topics including immigration, diversity, and increasing police presence in certain areas.
"How I will make judgements is how I have made judgements my entire career," said Moore. "I have a moral compass. I know the difference between right and wrong. That's not a matter of tenure. That's a matter of principles. I see things done today for a matter of politics. The Los Angeles Police Department will provide for the safety of every Angeleno on a matter of what is right." 
Being ratified by the @LACityCouncil this morning was not only an honor and privilege, it was a promise on my part— to continue to lead this great organization into an age of collaborative, community-based policing. Thank you to the Council Members for their trust. pic.twitter.com/HnBYl6Z9k4

— Chief Michel Moore (@LAPDChiefMoore) June 27, 2018
The city council voted unanimously to confirm Moore as police chief, which would take effect at midnight on Thursday. Los Angeles Mayor Eric Garcetti saluted Beck for his time as chief. 
"This city owes him (Beck) such a deep, deep debt of gratitude," said Garcetti. 
Former chief Beck was appointed as chief in November 2009 and oversaw the department's 10,000 sworn officers and 3,000 civilian employees, with an annual budget of more than $1 billion, according to LAPD. The department covers an area of 473 square miles and a population of approximately 3.8 million people.
Beck is known for creating the original Safer Cities Initiative, which brought together a coalition of city department and council offices, homeless advocacy groups, and service providers to increase shelter space for the homeless and work towards reducing crime in downtown Los Angeles. Other police departments nation-wide also adopted this model.
Chief Charlie Beck, on behalf of the men and women of the LAPD, we wish you a Happy 65th Birthday. Thank you for your leadership and service pic.twitter.com/BhcyUZBoZy

— LAPD HQ (@LAPDHQ) June 27, 2018
The former chief also oversaw the merging of two separate divisions into the Gang and Narcotics Division, which brought both gang and narcotics detectives together. The change targeted gangs' ability to profit from narcotics and firearms sales, and triggered a reduction in gang violence.
Beck also served as president of the Los Angeles Police Relief Association. He is married with three children, and two of his children are also LAPD officers.
New chief Michel Moore made his way up through the ranks as a police officer, detective, sergeant, and lieutenant before becoming first assistant chief. In the past, he served as chair of the department's Use of Force Review Board, which evaluated all uses of force, including deadly force and hospitalizations.
Moore has received many awards for his police service, including the Department's Medal of Valor, the Police Medal, the Police Star, and the Meritorious Service Medal.
Watch Next:
What is MS-13?