The mayor of Kyiv, former heavyweight boxing champion Vitali Klitschko, claimed that Russian forces have encircled the capital city.
When asked by reporters on Sunday about evacuation efforts, Klitschko responded: "We can't do that, because all ways are blocked," according to The Associated Press. "Right now we are encircled."
Later, Klitschko appeared to walk away from earlier claims by writing on his Telegram: "In the evening, Russian Internet publications spread information with reference to me that Kyiv is allegedly surrounded and evacuation of people is impossible. … Do not believe lies! Trust information only from official sources."
With Russian forces encircling the capital city of about 3 million, Klitschko said that "we are at the border of a humanitarian catastrophe" and that, "Right now, we have electricity, right now we have water and heating in our houses, but the infrastructure is destroyed to deliver the food and medication."
Private satellite operator Maxar said that imagery taken on Sunday suggested that a large deployment of Russian ground forces, including tanks, are moving toward Kyiv. They're about 40 miles away, Maxar told Reuters. The contingent included hundreds of Russian military vehicles and spaned 3.25 miles in length, it added.
A Klitschko-ordered curfew of the city started on Sunday and is slated to end on Monday night. The order stipulated that any person outside during that curfew would be considered a Russian saboteur.
"We are hunting these people, and it will be much easier if nobody is on the street," Klitschko explained, saying that six alleged Russian saboteurs were killed on Saturday evening. Video footage uploaded to social media showed at least one instance of an alleged saboteur being shot and killed by men holding rifles after they stopped his vehicle driving down a street.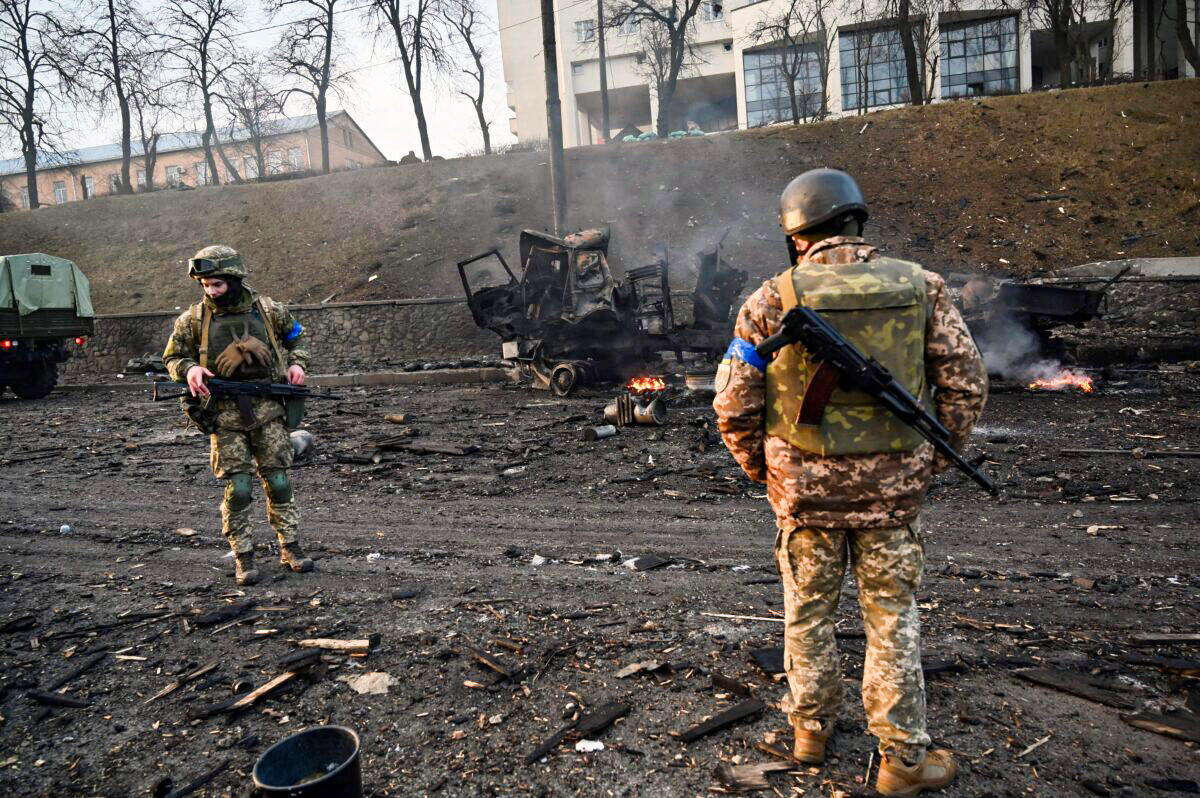 Even though some analysts have said that Russia's military advance has been slower than expected, Moscow still has a military advantage. Several days ago, Ukrainian officials called on Kyiv residents to make Molotov cocktails and also handed out thousands of rifles to civilians.
"Ï just talked to the president (Volodymyr Zelensky). Everybody is not feeling so well," Klitschko told the AP. "We show our character, our knowledge, our values."
After handing out rifles to civilians, Klitschko admitted that, "to be honest, we don't have 100 percent control" of them. "We built this territorial defense (system) in a short amount of time—but these are patriotic people" and that "right now, the most important question is to defend our country," he added.
Earlier Sunday, Russian President Vladimir Putin said in a televised speech that he would place the country's strategic defense forces, which controls Russia's nuclear arsenal, on high alert. It's not clear, however, what that entails.
After that, Ukraine's Zelensky said on social media that he agreed to send a delegation to hold talks with Russian officials on the Ukraine-Belarus border.