Several senators revealed this week that there aren't enough votes for a new gun control bill amid calls from President Joe Biden to pass it during the lame-duck Congress.
"I don't think that's on the table," Sen. John Cornyn (R-Texas) told Fox News on Dec. 7 when he was asked about whether Democrats in the upper chamber could pass a ban. Notably, Cornyn had helped negotiate the Bipartisan Safer Communities Act, which Congress passed earlier this year, although he drew considerable criticism from his own party.
Meanwhile, Sen. Richard Blumenthal (D-Conn.) told reporters this week that there are "probably not 60 votes" on a new gun control measure. At least 10 Republican senators would need to join Democrats in passing the bill in order to overcome the Senate filibuster.
On Dec. 7, Biden called on senators to pass a ban on so-called assault weapons, a nebulous term often used to describe a range of semiautomatic rifles including the most popular rifle in the United States, the AR-15.
"We did it before," Biden said at St. Mark's Episcopal Church in Washington on Dec. 7, referring to the 1994 Assault Weapons Ban that expired in 2004. "We did it, and guess what? It worked … we can do it again."
Biden has made banning such weapons part of his agenda after pushing a gun control law in Congress in June that includes provisions intended to help states keep guns out of the hands of those deemed to be a danger to themselves or others. In November, Biden said that he was "going to try to get rid of assault weapons" and that he would "start counting the votes" on whether doing so was possible before the end of the current Congress on Jan. 3, 2023.
Pressed by reporters on Dec. 7 on where that pledge stands, White House spokesperson Karine Jean-Pierre said, "I don't have any determination to share with you at this time."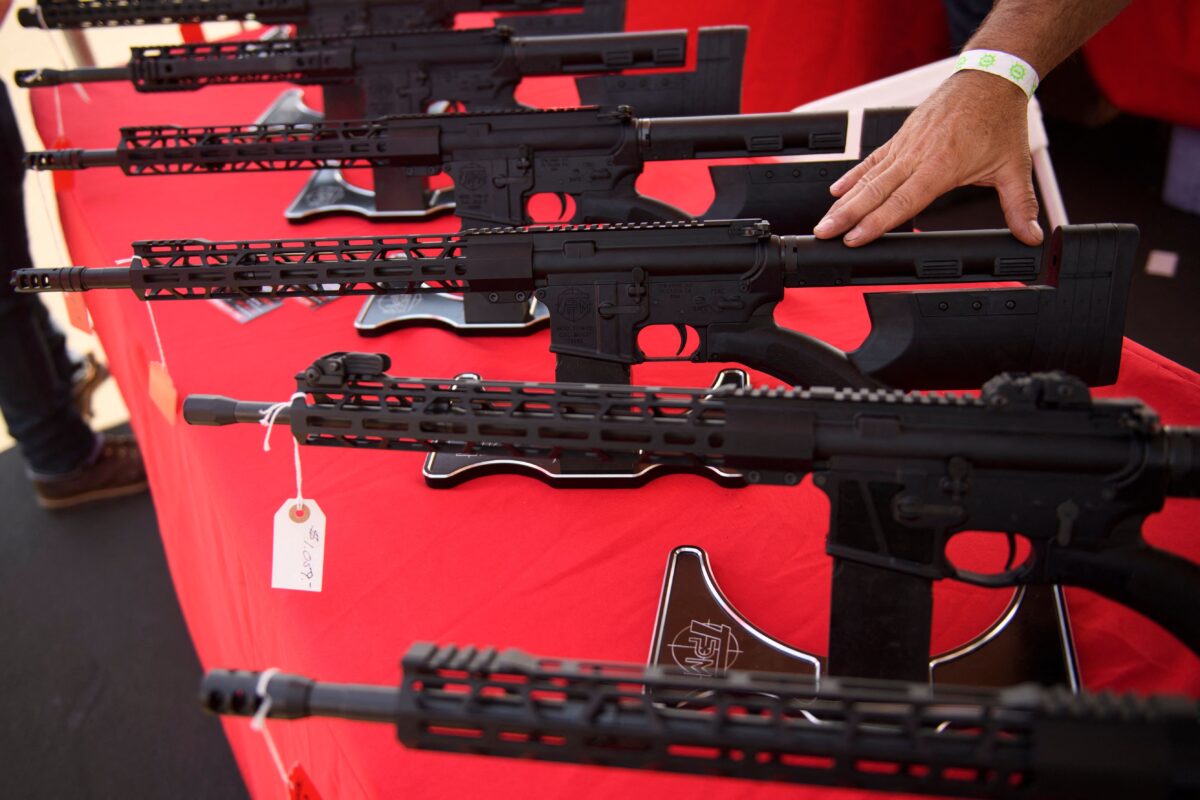 Senate Majority Leader Chuck Schumer (D-N.Y.) had indicated to reporters last week that he wanted a new "assault weapons ban" to be passed during the current Congress.
"The bottom line is that I am the author of the assault weapons ban. I believe in it strongly," he told reporters. "And we're continuing to work to see the best way we can try to get this done."
The Democrats currently have control of the House of Representatives for a few more weeks before the Republicans become the majority party. When the GOP takes over, it will be much more difficult for the Democrats to pass any new gun control bills in Congress.
The renewed push to pass a gun control measure comes in the wake of a November mass shooting at a gay bar in Colorado that left at least five dead. The FBI on Dec. 7 confirmed that it received a tip about the alleged shooter, Anderson Lee Aldrich, about a day before he threatened members of his family during a June 2021 incident.
"The FBI received information on June 17, 2021, concerning Anderson Aldrich. As part of the assessment, the FBI coordinated with the El Paso County Sheriff's Office, which arrested Aldrich on June 18, 2021," the FBI's press office told The Epoch Times on Dec. 7. "With state charges pending, the FBI closed its assessment on July 15, 2021."
Aldrich, 22, has since been charged with 305 counts, including hate crimes and murder, in connection to the incident.
Democrats and Biden have argued that more gun control measures would prevent similar mass shootings from occurring in the future. "If you passed an assault weapons ban you would see less mass shootings in this country," Sen. Chris Murphy (D-Conn.) said last month.
Report
A Department of Justice report issued in 2004 found that the 1994 ban that targeted larger magazines and certain semi-automatic weapons didn't lead to a significant drop in murders and shootings. The study has often been cited by pro-Second Amendment groups such as Gun Owners of America and the National Rifle Association (NRA) in arguing against such a measure.
"We cannot clearly credit the ban with any of the nation's recent drop in gun violence," the DOJ's report said (pdf). "Should it be renewed, the ban's effects on gun violence are likely to be small at best and perhaps too small for reliable measurement."
It noted that so-called assault weapons weren't often "used in gun crimes even before the ban," and it noted that while large-capacity magazines "are involved in a more substantial share of gun crimes," it was then unclear "how often the outcomes of gun attacks depend on the ability of offenders to fire more than ten shots (the current magazine capacity limit) without reloading."
Reuters contributed to this report.