Arizona Republican candidate Kari Lake said she is currently "entertaining" a run for Arizona's U.S. Senate seat in 2024 if her election-related court cases don't pan out.
During an interview with Turning Point USA President Charlie Kirk this week, Lake spoke about speculation that she would run for Arizona's Senate seat in 2024. That would pit her against Sen. Kyrsten Sinema (I-Ariz.) and Rep. Rueben Gallego (D-Ariz.), who recently announced he would be running for the seat. A former Democrat, Sinema announced last year she would switch to be an independent.
Asked by Kirk on Monday if she's "entertaining" a run for Sinema's seat, Lake said, "Yes, I am entertaining it. I mean my number one priority is our court case, and I have full confidence in our court case and I hope we will get a judge to do the right thing.
"But I'm also looking at what happens if we don't get a decent ruling in that, and they want me to go away, they want our movement to go away," Lake said. "I represent we the people, and if they want us gone so badly that they're willing to steal an election then I'm not going to let them have that, I won't go away."
Further, Lake said that she viewed "internal polling" that showed she would have a good chance of unseating Sinema or defeating Gallego. It's not clear if Sinema, who was first elected in 2018, is planning to run for reelection, and she has made no public comments in response to Lake's or Gallego's criticisms of her.
Gallego, meanwhile, announced that he would run for Senate in January. Since then, both he and Lake have repeatedly sparred with one another on Twitter and in public appearances.
"I've seen some internal polling that shows I'm the only Republican who can beat these other two," Lake said, referring to Gallego and Sinema. "I find both of them incredibly dangerous to the people of Arizona, Kyrsten Sinema's voting record being 93 percent of the time voting for Joe Biden's agenda, I find Ruben Gallego being a self-admitted socialist really frightening for Arizona and if I'm the only Republican who can beat them, I would be willing to jump in."
A spokesperson for Lake, meanwhile, confirmed to Politico that she met with Republican Senate officials in Washington, D.C., although few details were divulged. A meeting between Lake and the National Republican Senatorial Committee officials lasted about an hour on Thursday, said Lake advisor Caroline Wren.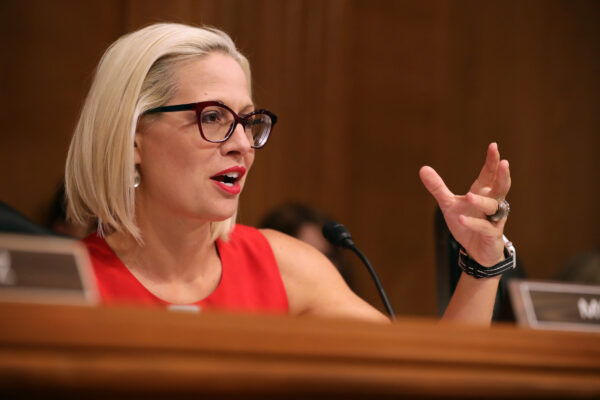 Wren was asked whether Lake has made a decision on a Senate bid, and she told the outlet: "I don't think so. I think it was more listening." The Epoch Times contacted Lake's team for comment about the matter.
At the same time, Lake was interviewed by the New York Times and provided more criticism of both Gallego and Sinema. "She's the furthest thing from an independent," Lake told the paper about Sinema.
Lawsuit Status
In December, a Maricopa County judge tossed Lake's lawsuit during a two-day trial in which her lawyers argued that a range of issues in Maricopa on Election Day caused enough problems for voters that the midterm election should be re-done or Lake should be declared the winner. She has since appealed to the Arizona Court of Appeals, while the state Supreme Court has twice rejected a petition to transfer her case.
Her challenge cites statements made by Maricopa County officials on Nov. 8 that dozens of vote tabulation machines suffered printer errors that Lake and GOP officials say caused widespread delays and chaos. Maricopa County has maintained that no Election Day voters were disenfranchised by the errors, which they said were corrected that same day.
Lawyers for then-Secretary of State Katie Hobbs in late January filed a response that seeks to dismiss Lake's challenge, asserting that the GOP challenger failed to provide enough evidence.
Data from state election officials show that Lake trailed Hobbs, a Democrat, by about 17,000 votes. Last month, Hobbs was officially sworn in as governor of Arizona.
In court and in interviews, Lake said that Election Day voters trended Republican and has suggested that issues that were reported at polling stations disproportionately affected the outcome of the contest.
The Arizona Court of Appeals was scheduled to hear Lake's challenge on Feb. 1.