A federal judge has sentenced a man who was involved in the Jan. 6 U.S. Capitol breach to 41 months in prison.
Jacob Chansley, 34, became one of the faces of the breach after going shirtless and wearing an animal fur hat with horns into the building. He also carried a spear with an American flag affixed to it.
Chansley pleaded guilty in September to one count of obstructing an official proceeding.
The Arizona man was facing up to 20 years in prison. Prosecutors had recommended 51 months, in part because Chansley had become so well-known during and after the breach.
In court on Nov. 17, prosecutors argued that Chansley's urging of people to go to Washington before Jan. 6 should prompt a harsher sentence and challenged Chansley's attorney on the portrayal of his client as peaceful.
"In the months leading up to Jan. 6, the defendant posted vitriolic messages on social media encouraging his thousands of followers to 'expose the corrupt politicians,' to 'ID the traitors in our government,' to 'halt their agenda,' to 'stop the steal.' This is not peaceful," prosecutor Kimberly Paschall said.
Albert Watkins, attorney for the defendant, repeatedly praised prosecutors before arguing for a lighter sentence because of the mental health issues his client has experienced. Chansley said he has undergone a "spiritual evolution" while in jail, where he's been held since being arrested in January.
He expressed regret for his actions and said he wouldn't commit crimes once he's let out of prison.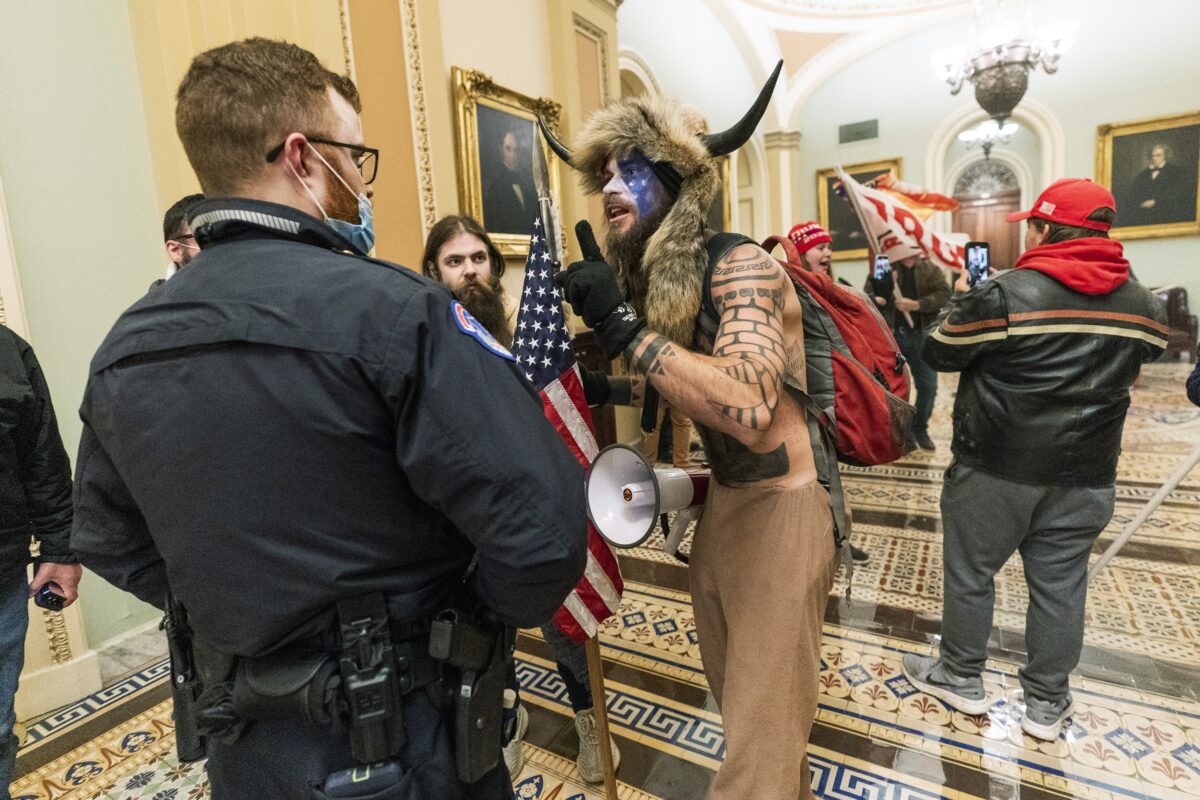 U.S. District Judge Royce Lamberth, a Reagan appointee, complimented Chansley.
"What you did here was horrific, as you now concede. And obstructing the government as you did is the type of conduct that is so serious that I cannot justify a downward departure," Lamberth said as he sentenced Chansley to the lowest end of the sentencing guidelines. "I do think the minimum end of the guidelines is what you've earned, because you've done everything right from the time that you started, and you've certainly done everything good today, convinced the court that you're a new person.
"You were smart. It may not feel it today, but you were smart, did the right thing."
Lamberth also noted that some defendants are facing decades in prison.
While Chansley could have been sentenced to up to 20 years behind bars, it would have been unusual for the judge to go beyond the recommendation from prosecutors.
The sentence was one of the longest yet imposed on a Jan. 6 defendant. Scott Fairlamb, a former mixed martial arts fighter, also was sentenced to 41 months in prison earlier this month for assaulting law enforcement officers that day.
A joint session of Congress to certify the results of the 2020 presidential election was taking place on Jan. 6 when it was interrupted by a breach of the Capitol building at approximately 1:30 p.m.
Chansley was spotted among the crowd outside shortly before 2 p.m. Certain individuals in the crowd forced their way through barricades and Capitol Police officers at roughly 2 p.m. that day and soon entered the building.
Some have suggested that he may have been let inside the building.
Chansley later ignored commands to leave the Capitol, according to prosecutors. He eventually made his way to the Senate chamber, according to court documents, video footage, and photographs. While inside, he screamed obscenities and called then-Vice President Mike Pence a traitor.
Chansley and others were cleared from the chamber at about 3:09 p.m.