A federal judge rejected a motion made by CNN this week to dismiss a defamation lawsuit filed by Harvard University law professor Alan Dershowitz.
CNN presented an abridged version of remarks made by Dershowitz to the Senate during former President Donald Trump's first impeachment trial, which "is not accurate, to the extent that it omitted a crucial qualification: that an illegal motive for a quid pro quo would be corrupt," U.S. District Judge Raag Singhal, a Trump nominee, wrote in his 22-page ruling.
At issue is a Jan. 29, 2020, broadcast on CNN which featured hosts employed by the network, as well as panel guests—including other CNN employees—discussing arguments made that day during Trump's impeachment trial.
While Dershowitz spoke for more than five minutes to answer a question from Sen. Ted Cruz (R-Texas) on whether "quid pro quo" arrangements are used often in foreign policy, CNN focused on a single sentence from his answer before claiming that the law professor was arguing that a president could do anything, including illegal acts, if he believed his re-election was in the public interest.
But Dershowitz stated in another portion of the answer that "the only thing that would make a quid pro quo unlawful is if the quo were somehow illegal."
CNN attempted "to falsely paint Professor Dershowitz as a constitutional scholar and intellectual who had lost his mind," Dershowitz stated in his $300 million defamation lawsuit.
In its motion to dismiss, lawyers for CNN stated that "Dershowitz's disagreement with CNN about the meaning the words he spoke on the Senate floor is just the type of political debate involving matters of profound national importance that is central to the American values of self-governance; it is not grounds for a defamation lawsuit."
The lawyers further said CNN's reporting was protected because it was pertaining to a government proceeding, that CNN "cannot be held liable for reporting—verbatim—what Dershowitz actually said to Congress," and that the remarks made by CNN employees are non-actionable because they were opinions based on testimony from the impeachment proceedings.
Dershowitz panned the motion as an attempt to skip a trial, arguing the broadcaster "is essentially making a pitch for this Court to be the jury and decide the case on the merits right away."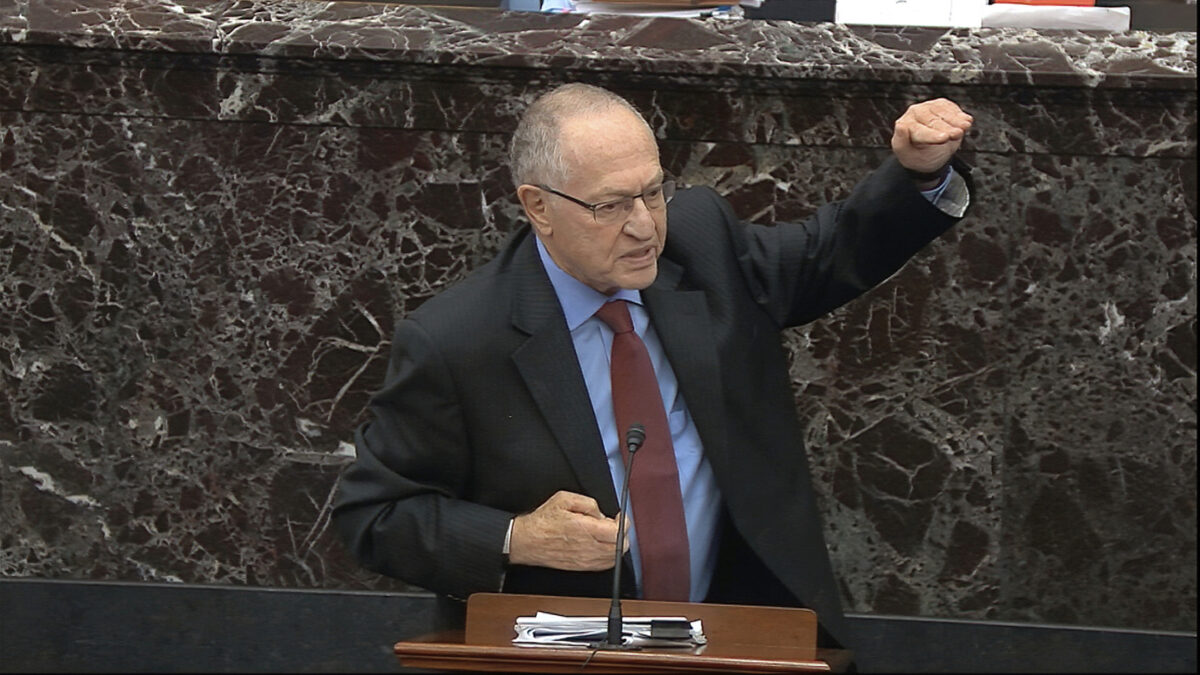 The case boils down to CNN and its paid commentators falsely telling an audience of millions of people that Dershowitz went before the Senate and told members "that an American President can commit crimes and be immune from impeachment so long as the president believed his reelection was in the public interest while he was committing the crimes," he wrote in a reply to the motion.
"The complaint alleges that CNN and all of the commentators knowingly lied when they said this and that they knew they were lying when they said it. If the evidence proves plaintiff's allegation, then each commentator committed unlawful defamation and CNN is both vicariously and primarily liable for damages. It really is that simple," Dershowitz said.
Singhal sided with the plaintiff.
Because CNN's abridged version of Dershowitz's remarks omitted a crucial qualification, its commentators' statements "are not based upon a fair and accurate summary of Dershowitz' statement to the Senate," Singhal said.
The network's claim of protection by fair privilege is null because it didn't correctly portray the official proceedings, according to the judge, who wrote that the CNN broadcasts didn't meet the standard of presenting "a fair and accurate report of the source documents."
Additionally, the remarks put forth by CNN employees weren't pure opinion, Singhal said, citing an appellate court ruling that found the distinction that comments can sometimes be a mixture of opinion and fact and, in this case, could be "reasonably construed as defamatory."
"At this stage, the Court concludes that Dershowitz' Complaint meets the plausibility standard for alleging a false statement of fact," the judge said, before noting that CNN played Dershowitz's entire statement earlier in the day.
Attorneys for Dershowitz and CNN didn't respond to requests for comment.
A joint scheduling report in the case is due by June 21. Dershowitz is seeking a jury trial.