A New York judge on Wednesday denied a last-minute effort by New York City's largest police union to halt the city government's COVID-19 vaccine mandate that goes into effect starting next week, a decision that may send about a quarter of the force home without leave.
Richmond County Supreme Court Judge Lizette Colon, whose court is on Staten Island, denied the Police Benevolent Association (PBA) union's request for a temporary restraining order (TRO) against the city's sweeping vaccine mandate for city employees, which includes all NYPD employees. The PBA represents about 23,000 current and retired NYPD officers.
Colon's ruling came just hours after hearing arguments from lawyers for the PBA and the city. Although the TRO request was denied, the lawsuit from the PBA will proceed after it was filed on Monday. The suit seeks to have the vaccine mandate declared illegal and blocked from taking effect. Colon ordered city officials to appear in court on Nov. 12 to defend the mandate.
NYPD officers and other municipal workers who do not get their first COVID-19 vaccine dose by 5 p.m. on Oct. 29 will be placed on unpaid leave starting Nov. 1. The new mandate replaced what was originally a requirement to take the vaccine or be tested weekly for the CCP (Chinese Communist Party) virus, which causes the disease COVID-19.
Lawyers for the PBA said in court papers after Wednesday's hearing that the vaccine mandate forces officers to choose between their careers and their personal beliefs, infringing on officers' "right to bodily integrity."
Patrick J. Lynch, the PBA's president, said in a statement on Wednesday that the ruling "sets the city up for a real crisis."
"The haphazard rollout of this mandate has created chaos in the NYPD. City Hall has given no reason that a vaccine mandate with a weekly testing option is no longer enough to protect police officers and he public, especially while the number of COVID-19 cases continues to fall," Lynch said.
"Instead, police officers are being told to make a possibly life-changing decision in a matter of days to meet a completely arbitrary deadline, while the NYPD's leadership spins its wheels and offers no guidance," he added. "This not only violates police officers' rights—it will inevitably result in fewer cops available to protect our city."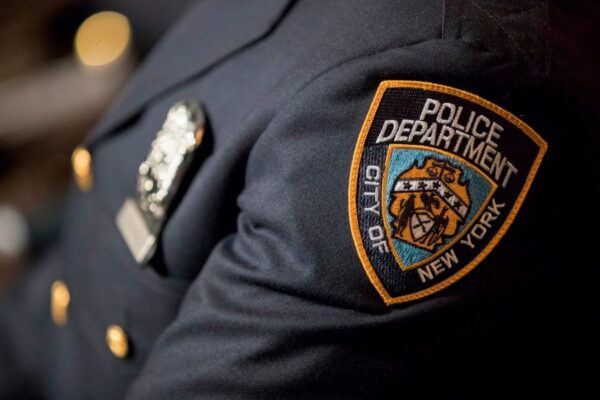 As of Tuesday, about 73 percent of the NYPD has gotten at least one shot—this includes nearly 35,000 uniformed officers and almost 18,000 civilian employees, reported New York Post.
Police Commissioner Dermot Shea on Tuesday urged all officers to receive the COVID-19 vaccine and said that if unvaccinated cops are scheduled to work over the weekend, they should still show up for their shifts, the outlet reported.
The figures should increase ahead of the deadline, Shea said, reported the New York Daily News. Shea suggested that NYPD officers should not wait to see whether the PBA's lawsuit against the city is successful.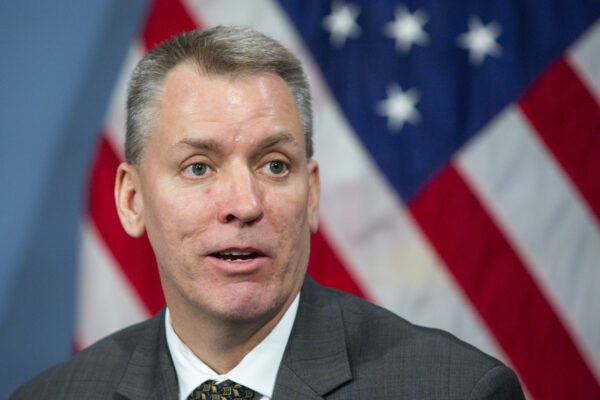 "Anyone at this point in time, unless something changes, will be put into a leave-without-pay status," he noted. "What I would urge is for people not to wait to the last moment to see what happens with the lawsuit or anything else. Get the vaccine."
Lynch said the PBA will immediately appeal the state Supreme Court judge's ruling and vowed to "continue the fight."
"New Yorkers should know who to blame for any shortfall in city services: Mayor Bill de Blasio, Police Commissioner Shea, and the other bureaucrats who are putting politics before public health and public safety," he said.
The NYPD did not provide specific answers when asked how it will manage personnel levels and public safety if one-quarter of its workforce—including thousands of officers—is put on unpaid leave for noncompliance. "We will be prepared for any changes in personnel due to the mandate," NYPD spokesperson Al Baker said in a written statement.
The New York City government did not immediately respond to The Epoch Times's request for comment.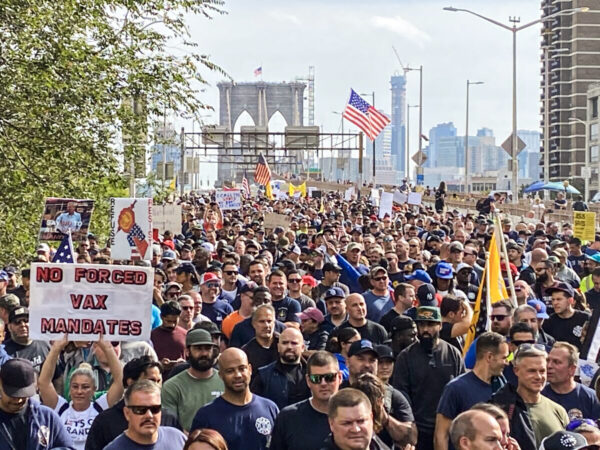 Thousands of New York City employees, including firemen and police officers, protested on Monday in defiance of the looming vaccine mandate that would apply to some 160,500 people.
Paul, a 24-year-old NYPD officer, has been with the police for 3 years. He told The Epoch Times that he joined the march because he's being denied freedom of choice.
"It should be our choice," Paul said. "I personally don't want [the vaccine] and if it's that effective for everyone else, then they shouldn't care if we get it."
Enrico Trigoso and The Associated Press contributed to this report.