A journalist who rode out Hurricane Irma—responsible for two dozen deaths in the Caribbean and likely did billions of dollars in damage—claimed that the storm's eye made a strange noise.
Freelance journalist Kelsey Nowakowski, who couldn't escape Irma's wrath in time, said she experienced the devastating mega-storm firsthand as it slammed St. Thomas, one of the U.S. Virgin Islands. She said the two remaining seats on a departing flight cost $6,000 each, leaving her and her cousin stranded.
Nowakowski said they sheltered in a concrete building, adding that the people she was with—who had endured previous hurricanes—said Irma was especially destructive. As a Category 5 storm, Irma had winds of 185 mph.
"We were shaking when the eye was over us," she said.
"We heard a noise that almost sounded like the noise a movie makes when an alien ship is landing," Nowakowski told Fox News.
The building shook, and she thought the roof would be torn asunder.
"Now all we hear is generators, chainsaws and helicopters #hurricaneirma," she tweeted on Sept. 7.
For Florida residents who are riding out the storm, Nowakowski had words of caution.
"Florida is too flat. It's gonna take on too much water," she told the outlet.
On Friday afternoon, Irma hit parts of Cuba and central Bahamas as it headed toward Florida.
"We are running out of time. If you are in an evacuation zone, you need to go now. This is a catastrophic storm like our state has never seen," Florida Gov. Rick Scott told Reuters, saying the storm's effects would be felt across the state—from coast-to-coast.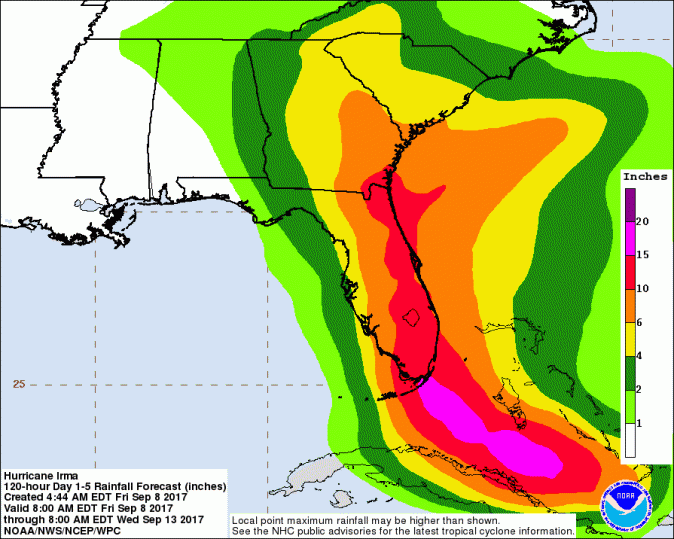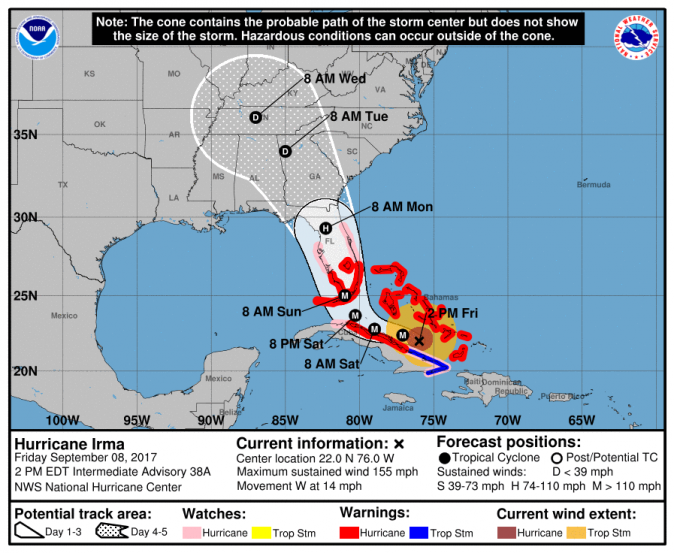 Irma was about 225 miles east of Caibarien, Cuba, and 380 miles southeast of Miami, said the National Hurricane Center (NHC) in an advisory at 2 p.m EDT on Friday. Hurricane conditions were spreading westward over parts of Cuba and the central Bahamas as the storm skirted near Cuba's northern coast, Reuters reported.
Reuters contributed to this report.