Prominent Hong Kong activist Joshua Wong and two of his longtime colleagues were handed prison sentences on Dec. 2 for their roles in a mass protest that occurred in front of the city's police headquarters in 2019.
Wong, 24, was sentenced to 13 1/2 months after a court session at the West Kowloon Magistrates Court. Fellow pro-democracy activists Agnes Chow, 23, and Ivan Lam, 26, received prison sentences of 10 months and seven months, respectively.
The sentencing—the toughest since a mass movement against Beijing's rule was ignited in 2019—drew immediate global condemnation against both the Hong Kong government and the Chinese regime.
The ruling also comes amid the Beijing-backed government's intensifying crackdown on Hong Kong's opposition figures, as scores of lawmakers, activists, and journalists have been arrested.
#JoshuaWong 13.5m in jail – via lawyers, "it's not the end of the fight. Ahead of us is another challenging battleground. We're now joining the battle in prison along with many brave protestors, less visible yet essential in the fight for democracy and freedom for HK. pic.twitter.com/1ZGmfUDf7k

— Joshua Wong 黃之鋒 😷 (@joshuawongcf) December 2, 2020
After the sentence was read, Wong, wearing a black sweater and surgical face mask, shouted, "I know the coming days will be tougher. We will hang in there."
All three pleaded guilty to the charge of "inciting others to take part in the unauthorized assembly" on June 21, 2019. Wong also pleaded guilty to a separate charge of "organizing an unauthorized assembly," while Chow also pleaded guilty to "taking part in an unauthorized assembly."
During the 2019 demonstration, thousands of protesters besieged the police headquarters in Wan Chai district, blocking nearby roads and entrances into the building. They gathered to oppose an extradition bill that would have allowed people in Hong Kong to be sent to mainland China for trial. The extradition bill has since been scrapped.
As protesters gathered, Wong led them in chants.
Sentencing
All three made their initial court appearances in July, then returned for another court session on Nov. 23, when they were remanded to custody. According to the court ruling, Wong was sentenced to nine months for the incitement charge, more than the 7 1/2 month sentence issued to Chow, because Wong "took a more active role" that day.
For the charge of organizing an unlawful assembly, Wong was handed 15 months imprisonment. Meanwhile, Chow was sentenced to 12 months for taking part in the protest. The court ultimately reduced the sentences because they pleaded guilty, the ruling stated, adding that it would be "inappropriate" to suspend the three defendants' sentences.
"As the present case involves a breach of public order and safety, as well as a threat to the personal safety of the public, deterrent sentences are warranted to safeguard public interests and the lives and property of the people … Immediate imprisonment is the only appropriate sentencing option," the court ruled.
Many supporters showed up outside the courthouse on Dec. 2 to encourage the three activists. Some chanted slogans such as "add oil," which means "keep it up" in Chinese. Several held up papers with words such as "Free Agnes Chow." Many held up five fingers in one hand and one finger in the other, a gesture referring to a popular protester slogan, "five demands, not one less," in calling for greater democratic freedoms in the former British colony.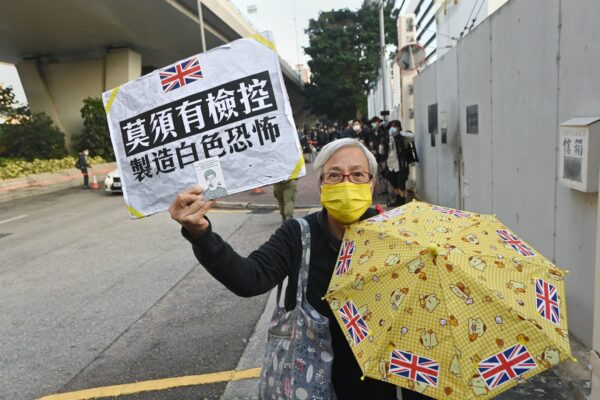 Activist Alexandra Wong, who frequently waved a British flag while appearing at mass protests in 2019, held up a yellow umbrella and a poster that read, "groundless prosecution, [the government is] creating white terror."
She went missing last summer and resurfaced this fall, revealing that she was detained in mainland China because of her activism.
International Condemnation
Officials and rights groups around the world swiftly condemned the ruling.
U.S. House Speaker Nancy Pelosi (D-Calif.) called the sentencing "appalling" and "clear proof that Beijing will stop at nothing to stamp out dissent."
Meanwhile, Yamini Mishra, Amnesty International's Asia-Pacific regional director, said in a statement: "By targeting well-known activists from Hong Kong's largely leaderless protest movement, authorities are sending a warning to anyone who dares openly criticize the government that they could be next."
The Inter-Parliamentary Alliance on China (IPAC), a global coalition of lawmakers, called for urgent action to hold Beijing accountable.
"The punishments given are illegitimate and wholly disproportionate with the actions that the Hong Kong authorities claim to be crimes," IPAC stated.
IPAC added that the sentencing "has made a mockery of the rule of law in the city" and demonstrated the Chinese regime's erosion of freedoms that were guaranteed in the city's mini-constitution, Hong Kong Basic Law, and Sino-British Joint Declaration.
The Chinese regime and the United Kingdom signed the treaty in 1984 to pave the way for the territory's transfer of sovereignty to China in 1997.
Under the treaty, the Chinese Communist Party (CCP) pledged that for at least 50 years after 1997, Hongkongers would enjoy autonomy and freedoms not granted to those in mainland China under the governance model of "one country, two systems."
British Foreign Secretary Dominic Raab also condemned the ruling in a statement. He urged "the Hong Kong and Beijing authorities to bring an end to their campaign to stifle opposition."
Meanwhile, Lord Alton of Liverpool, lawmaker and patron of British NGO Hong Kong Watch, said the sentencing was "an example of the outrageous authoritarianism which the Chinese Communist Party regime has imposed on Hong Kong."
1. It's devastating to witness three of my former colleagues, Joshua, Agnes, Ivan are jailed. The sentencing is absurd. Retweet if you have the same demands:
1.Immediate release of the trio
2.Stop prosecuting under National Security Law
3.Sanction accountable govt officials pic.twitter.com/ObJPTttmaN

— Nathan Law 羅冠聰 😷 (@nathanlawkc) December 2, 2020
Samuel Chu, managing director of the Washington-based pro-democracy lobbying group HKDC, issued a statement condemning Hong Kong leader Carrie Lam and the CCP for using the sentencing to send the message, "Obey or spend the best part of your youth behind bars."
He added: "The CCP is ready and willing to maintain control and power at all costs, even if it means imprisoning and wiping out a whole generation of Hong Kongers."
Chu also questioned Hong Kong's judicial system.
"Hong Kong's courts are now clearly under Beijing's constant pressure and threats to pursue and deliver politically motivated rulings."
Reuters and the Hong Kong edition of The Epoch Times contributed to this report.