Miracle baby Billy Kimmel celebrated two years on this glorious earth on Easter of 2019, and as proud parents Jimmy Kimmel and his wife, Molly McNearney, know all too well, it truly is a birthday worth celebrating.
"Happy 2nd birthday to our little #Easter buddy Billy," Kimmel, 49, posted in a touching tribute to his youngest child on Instagram. "We are grateful always to the nurses and doctors at @CedarsSinai & @ChildrensLA who saved his life and all of you who prayed & sent positive thoughts our way."
The accompanying photo, cute to the extreme, shows little William "Billy" John Kimmel in a stripy cardigan, holding a carrot, and looking for all the world like he is having the time of his life. Happy Easter, indeed! Billy was allegedly named after Kimmel's longtime TV partner Guillermo, the Spanish form of the name William.
Kimmel and McNearney also have a daughter together, 4-year-old Jane.
Happy 2nd Birthday Billy. Thanks to all the nurses and doctors at @ChildrensLA who saved his life. Sending love and prayers to all the families in the hospital today and always. ❤️ pic.twitter.com/sdlblD66MG

— Molly McNearney (@mollymcnearney) April 21, 2019
The reason for television host Kimmel's warm message of gratitude to the nurses and doctors of LA's finest medical institutions? Their baby son Billy underwent not one but two intense heart surgeries, the first of which was hastened just three days after his birth.
The second came shortly thereafter, when Billy was 7 months old.
sincere thanks for the outpouring of love & support – Dr. Jane is keeping a close ear on Billy, who is very well – XO pic.twitter.com/QgSUminhmg

— Jimmy Kimmel (@jimmykimmel) May 2, 2017
According to People, Billy was born with a congenital heart condition named tetralogy of Fallot with pulmonary atresia. The condition prevented his lungs from getting enough oxygen.
"Subconsciously, we didn't want to get too close to the baby," Kimmel shared with Oprah Winfrey in April of 2018, admitting to the fear that prevented both him and his wife from submitting to the profound love they felt for their vulnerable second child. "We didn't know what was going to happen."
Kimmel was open about his son's unstable start in life from the very beginning. In a moving speech on his own show, Jimmy Kimmel Live, the host spoke frankly.
"It's a terrifying thing," he shared, recalling the anguished moments after his son was born. "I'm standing in the middle of a lot of very worried looking people … who are trying to figure out what the problem is."
"He has a hole in the wall between the left and right sides of his heart," Kimmel said of his infant son, through tears. The ensuing operation was a success, he revealed, but it was "the longest three hours of my life."
At the time, Kimmel had nothing but positive words to say of his wife of six years. He thanked her "for being so strong and level-headed and positive and loving during the worst nightmare a new mother could experience. I couldn't ask for a better partner," Kimmel continued.
"I'm so happy we had this baby together."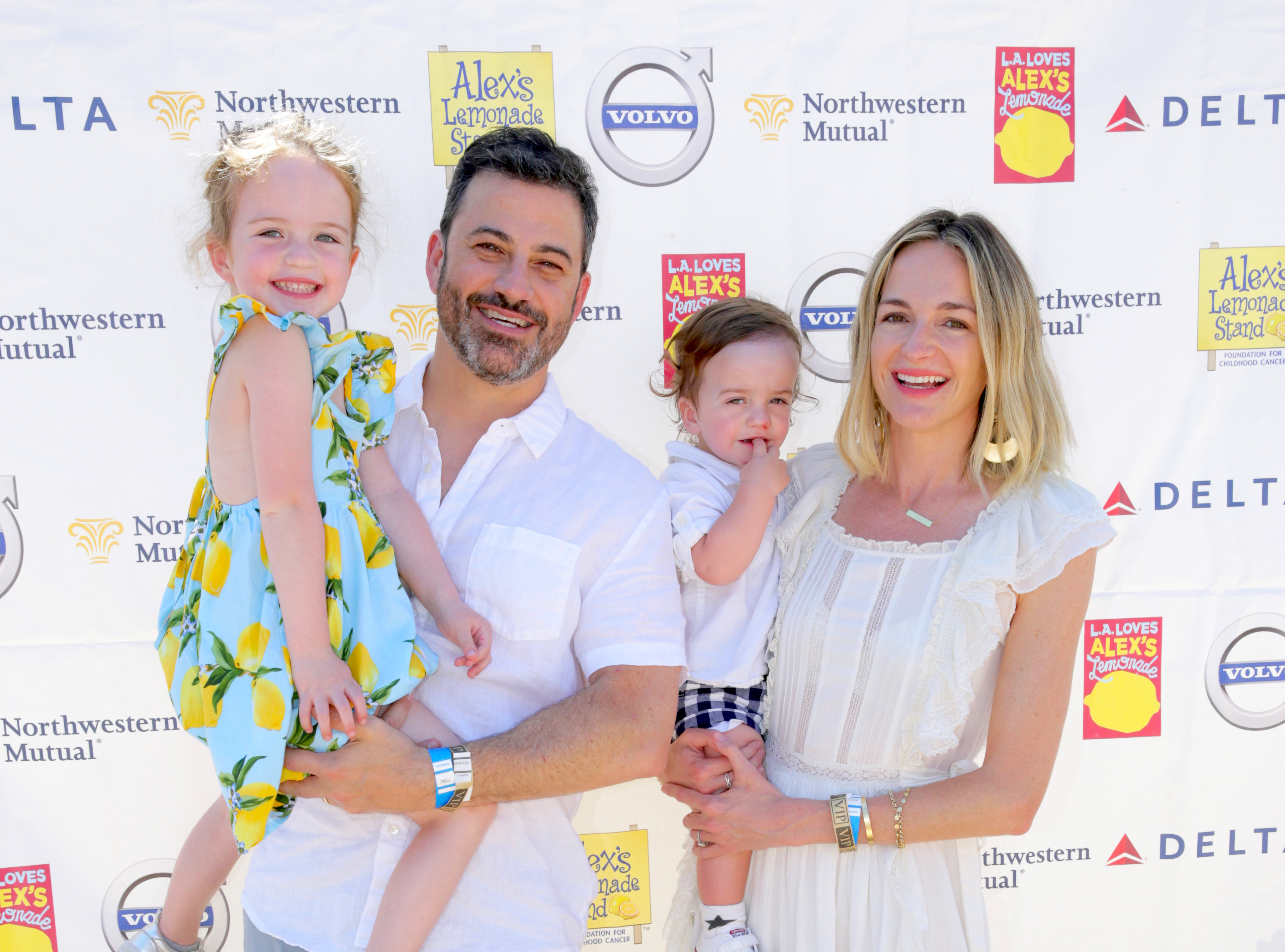 But all's well that ends well, and Billy's brilliant birthday photo says it all. He's a fighter; the proof is in that million dollar smile. "Poor kid. Not only did he get a bad heart," Kimmel joked, "he got my face."
Kimmel, he wears it well!