A Minnesota woman who said she was trapped inside the West Terrace tunnel of the U.S. Capitol during the Jan. 6 protests was struck by police nearly 40 times in a little over four minutes, newly released surveillance video footage shows.
Victoria C. White, 39, of Rochester, Minnesota, was charged in federal court with numerous felonies related to her presence at the Capitol that day, but footage released last week shows she was beaten by police in riot gear inside the tunnel entrance.
The video footage, which was under government seal until a federal judge ordered it released last week, shows White was pepper-sprayed twice, suffered 30 blows from police batons, received seven punches to the face, head, and neck, and was twice grabbed by the hair at the back of her head and shaken.
Joseph McBride, White's attorney in her criminal case, said the beating she took was a crime. He wants a special prosecutor to investigate police behavior in the West Terrace tunnel.
"A special prosecutor without a doubt should be appointed," McBride told The Epoch Times. "There needs to be an independent investigation."
The Epoch Times extracted video clips from a five-minute, nine-second video that McBride posted online, and superimposed a red rectangle to show the position on screen where a woman in red—identified by McBride as White—is repeatedly struck by police. The video clips also zoom in to more clearly show the areas in question.
White initially is in the corner of the tunnel entrance, against the wall. Another protester wearing a heavy coat and backpack is struck on the head by a police officer wearing a white uniform shirt and a helmet with "MPDC" stenciled on it.
In the course of 60 seconds, the protester is struck in the head by a baton 19 times and jabbed with the baton twice. After being sprayed with pepper gas, the protester climbs over people along the wall and escapes the tunnel. At that point, White is pushed back in the tunnel and finds herself within arm's reach of the officer with the white shirt, the video footage shows.
About one minute into the video, White slumps down near the floor and is struck twice with a collapsible baton. She covers her head with her arm. The officer thrusts the butt of the baton at her and then strikes at her head. His baton becomes stuck in the crook of her arm and he yanks it back while her arms flail. An officer standing above her sprays pepper spray in her eyes from less than 12 inches away.
Over the next minute, she receives several baton blows and several jabs from the baton. In a roughly 10-second period, the officer in white strikes White's head eight times, then punches her with his left fist. About three minutes into the video, the officer makes a fist and punches White in the face and head six times. Another police officer—with both hands on his baton—jams the butt of the weapon at her face and then rams her with the baton 10 times, the video footage shows.
Numerous times, White is seen gripping the edge of a riot shield in what appeared to be attempts to stand. She is pushed back and forth as the crowd of police move about. At about the four-minute, 30-second mark, White is semi-reclined and looks at two of the police officers and says something. She earlier told an interviewer that she reminded them of the oath they took to defend the Constitution. One of the officers grabs her arm, pushes her away, and then pulls her back, causing her to fall to the floor.
"This is going to raise a lot of questions," McBride said. "It's going to legitimize a lot of claims that were made."
Video Will Be Part of Defense
In April, White was charged with knowingly entering or remaining in any restricted building or grounds without lawful authority, disorderly and disruptive conduct in a restricted building or grounds, violent entry and disorderly conduct on Capitol grounds, parading, demonstrating, or picketing in a Capitol building, impeding or attempting to impede law enforcement officers performing official duties, and obstruction of Congress.
Hers is among the 625 cases listed on the U.S. Department of Justice's Jan. 6 webpage, although the FBI says more than 700 people have been arrested.
"We're obviously going to use this in our defense of her," McBride said. "She didn't do anything wrong that day. She got pushed into a tunnel. We're going to make sure they're held accountable.
"We are going to defend her with the full force of truth and we are going to pursue justice for her because that is exactly what she needs and what she deserves.
"We're going to hold the person and the people that hurt her accountable to the fullest extent of the law. There's no doubt about it."
The Metropolitan Police Department of the District of Columbia didn't respond to a request for comment on the video by press time. William Miller, a public information officer for the U.S. Attorney's office in Washington, said, "We typically do not comment on cases beyond what is stated or submitted to the court and have no comment on this particular case."
In the criminal complaint filed against White by federal prosecutors, she is accused of positioning herself near the tunnel entrance and helping hoist a rioter so he could hang from the top of the arch and attack police. They allege she attempted to assault police inside the tunnel. The complaint included still photos showing her hand reaching for one officer and grabbing the baton of another.
The video footage released by McBride appears to show White grabbing and raising her arm after being struck repeatedly in the head and sprayed with pepper spray. At other times, she grabs onto a riot shield and the sleeve of a police officer in what appears to be an attempt to regain footing after she had fallen to the tunnel floor.
Questioning Police Mindset
McBride said records he obtained for defending his various Jan. 6 clients make him question the mindset of police guarding some of the Capitol entrances.
According to a U.S. Capitol investigative report reviewed by The Epoch Times, one of the police officers at the Upper West Terrace doors (not the tunnel entrance) attempted to deescalate things while protesters tried to push their way inside. He later told investigators the options were limited.
"I think being there and experiencing it—the only way that we could have prevented those people from coming in was killing 'em," he said. "And I don't know if the department's ready to reckon with—if that's an alternative to what took place." The officer's name is redacted on the report.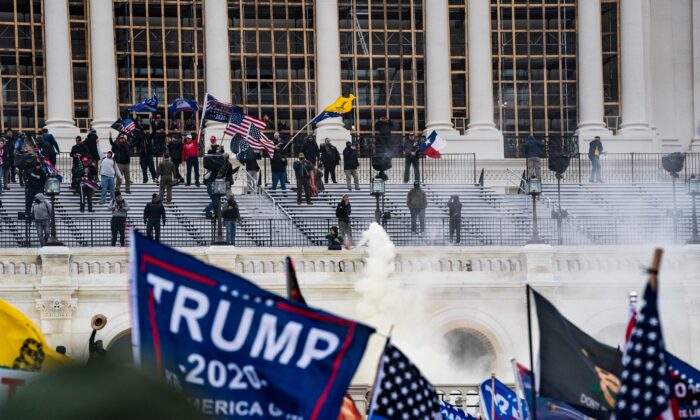 The officer said one protester goaded the police, saying, "Are you ready to die for this place?" The officer said he "squared up on him, had my baton in my hand and raised it up to him and said, 'You know I took an oath to protect this place and that's what I"m gonna do.'"
Another officer at the same entrance made a remark that was caught on video footage posted to social media, the report stated.
"It's not worth it," the officer said. "It's just a building." His colleague defended him when interviewed by a Capitol Police investigator.
The report stated: "Management and leadership is going to have that debate, politicians are going to have that debate, but in his defense, we were out of options—to be put in a position to have to use lethal force to repel that door and I don't know that that was the wrong idea.
"That has been the thought that I have wrestled with the last several weeks—optically, of course, it looks horrible."
Violence at Tunnel Entrance
Video footage released by McBride shows the violent conditions between police and rioters at the tunnel entrance. While White is being repeatedly struck just inside the tunnel, feet away, police fend off attacks, including a large aluminum ladder being used as a battering ram by rioters.
Some of the rioters are dressed for battle, wearing helmets, tactical gloves, gas masks, and what appears to be body armor. One protester suspended near the top of the tunnel arch is armed with a large can of high-velocity pepper spray that he shoots at police. He wore a black helmet, sunglasses, and a red, white, and blue neck gaiter.


Video footage from outside the tunnel posted on social media led to the man being nicknamed "Flag Gaiter Cop Hater," according to the FBI.
In August, federal prosecutors identified the man as David N. Dempsey of Van Nuys, California. His date of birth is redacted on the criminal complaint posted online by the U.S. Department of Justice. Dempsey was charged with assaulting, resisting or impeding certain officers using a dangerous weapon, obstruction of law enforcement during civil disorder, engaging in physical violence in a restricted building or grounds with a dangerous weapon, and disorderly conduct and an act of physical violence in a Capitol building or grounds.
The criminal complaint says Dempsey used a medical crutch and a metal pole to assault police defending the tunnel entrance.
The surveillance video footage from inside the tunnel shows a man wearing a black top, helmet, and red, white, and blue neck gaiter spraying police with a large can that appears to be pepper spray. The man at one point removes the cap of a green soda bottle and throws it at police. It bounces off the helmet of an officer and sprays the lens of the surveillance camera with white foam.
The criminal complaint alleges Dempsey appeared in video footage from earlier in the day, standing next to a wooden platform with a noose hanging from it. He complains about being demonized by the likes of House Speaker Nancy Pelosi (D-Calif.), and Rep. Jerry Nadler (D-N.Y.), the complaint stated.
"They need to hang from these [expletive]," he says, pointing to the mock gallows, according to the complaint. "Hopefully one day soon, we really have someone hanging from one of these [expletive]."