The Department of Justice's (DOJ's) latest objection to allegations that it suppressed evidence in its prosecution of Jan. 6, 2021, defendant Jacob Chansley flies in the face of the Sixth Amendment, current and former attorneys of Chansley told The Epoch Times in separate interviews this week.
"They are hiding. They affirmatively are electing not to disclose [exculpatory evidence]," Albert Watkins, Chansley's former attorney who negotiated the Navy veteran's 41-month sentencing agreement in 2021, told The Epoch Times on March 14, referring to the DOJ.
"They're doing so in a fashion which, in my opinion, gives rise to an inescapable conclusion that the Department of Justice has done more damage to our democracy by how it has treated Jan. 6 defendants than anything that had occurred on January 6."
Watkins was reacting to the DOJ's March 12 court filing on another Jan. 6, 2021, defendant's case, in which the government confronted, for the first time in court, the newly surfaced surveillance footage of the Jan. 6, 2021, Capitol breach aired by Fox News's "Tucker Carlson Tonight."
Among the footage was a clip showing Chansley, unarmed, walking along with several Capitol Police officers who didn't attempt to remove him from the Capitol building, which Carlson said shows that Chansley was less violent on Jan. 6, 2021, than described by the government.
Despite the video records of the Navy veteran's behavior, Chansley's current and former lawyers argued that the government violated Chansley's rights by suppressing this evidence during his trial, in response to the DOJ's claims to the contrary on March 12.
The answer to this debate is important because it shines a light on the government's prosecutorial conduct in handling Jan. 6, 2021, cases, many of which have ended with swift sentencing.
Chansley is currently serving a 41-month sentence in federal prison after pleading guilty to an obstruction charge in September 2021.
Government Shared All Evidence: DOJ
In a filing on March 12, the DOJ stated that it provided the footage to Chansley's attorney during the discovery phase of Chansley's trial in 2021, therefore satisfying the requirement of producing exculpatory evidence, or evidence favoring the defendant, to the defense counsel.
The filing was in response to a motion to dismiss filed by the attorneys of Dominic Pezzola, a Jan. 6, 2021, defendant currently on trial, which alleged that the footage shown on "Tucker Carlson Tonight" shows that the government "withheld" evidence in prosecuting participants of the Jan. 6, 2021, Capitol breach.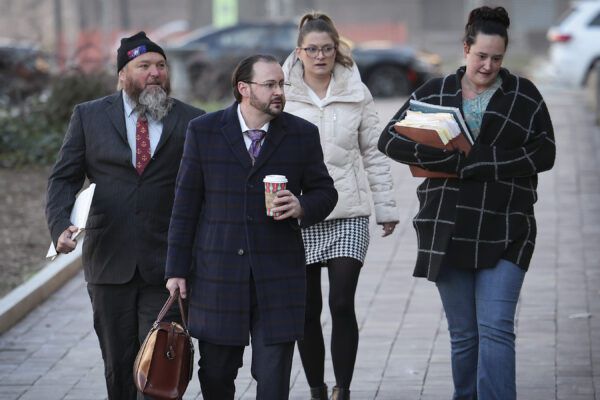 "The CCTV footage is core evidence in nearly every January 6 case, and it was produced en masse, labeled by camera number and by time, to all defense counsel in all cases," the DOJ wrote in its filing.
The department cited Brady v. Maryland, a 1963 case in which the Supreme Court held that prosecutors must make available to the defense counsel exculpatory evidence. As a part of that requirement, the DOJ cited Brady's text establishing that a Brady violation requires the material in question to be "something that is being '[suppressed] by the prosecution.'"
"Pezzola's Brady claim therefore fails at the threshold, because nothing has been suppressed," the DOJ wrote, basing it on the claim that it had provided Watkins with the "necessary tools" to identify relevant CCTV evidence notwithstanding the voluminous discovery.
"Accordingly, the volume of discovery does not excuse defense counsel from making reasonable efforts to ascertain whether an item has been produced, let alone before filing inaccurate and inflammatory allegations of discovery failures."
DOJ Suppressed Evidence: Chansley's Lawyers
Chansley's lawyers disagreed with the DOJ's claims, saying that the bar for suppression is lower than what the government claims it to be.
"Suppression … is not the nefarious burying of evidence," Bill Shipley, Chansley's current counsel, said in an interview with The Epoch Times on March 13. "It just means it wasn't brought to light by the government. The government knew what was there and did not illuminate the fact that it was there."
He says the government may have violated Brady because they didn't identify the footage and its nature as potentially exculpatory evidence during Chansley's trial. Making them available without making sure the defendant knows of the existence of the footage may constitute suppression, he said.
"Suppression simply means it went undiscovered by the defendant beyond a point at which it could be made use of," said Shipley, who was a federal prosecutor for 21 years. "If the government produced thousands of hours of video and said, 'There's a minute of evidence that's favorable to Jacob Chansley—good luck,' that production is not an effective Brady disclosure."
The video footage is relevant for reasons beyond proving Chansley's innocence or guilt, he told The Epoch Times, noting that it's important to answer the question of whether Chansley's sentence was fair under due process considerations.
"The question is: Were Jacob Chansley's rights to due process and effective assistance of counsel violated? Were the procedural requirements complied with such that the process and outcome of his case was a fair proceeding?" Shipley asked.
"They're clearly the kinds of videos that, had Judge [Royce Lamberth] seen them at sentencing, he might have concluded that Mr. Chansey is not the personification of evil in the way the government has made him out to be."
Lamberth presided over Chansley's trial.
"That might have caused Judge Lamberth to think that maybe 41 months was too much time to give him, taking into consideration all of his conduct, as opposed to just the precise conduct the government gave," Shipley said.
Not the 1st Time, Allegedly
For Watkins, the DOJ's filing on March 12 rung in his mind vivid images of deja vu that date to 2021, when the department recommended to the courts a 20-year sentence for Chansley for his alleged actions on Jan. 6, 2021. Watkins said the government lowered that sentence to 41 months only after Watkins requested Chansley's military records that demonstrated his mental health problems.
"Prior to entering into a plea, Jake was fighting for his sanity and life in solitary confinement. He had been diagnosed 15 years earlier by the government with a mental health issue, but the government never told him of the diagnosis," Watkin told The Epoch Times, noting that that the government had records of Chansley's mental health issues since about the time that Chansley was in the military, but withheld that record before offering a 20-year sentencing after Jan. 6, 2021.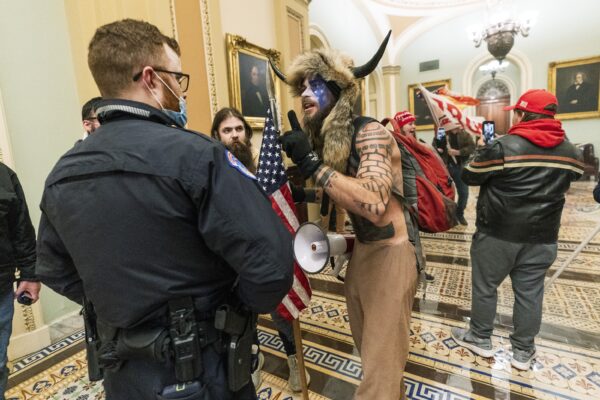 "The government didn't provide [Chansley's mental health records] to me. They had control of that as well. I asked them for it, they did not give it. And it wasn't until I literally, after screaming and yelling for help from the Department of Justice and from the Bureau of Prisons and from the court itself, I finally got out there with a very vulgar and high-profile characterization of many of the January 6 defendants, and lo and behold, within a matter of 24 hours or 48 hours, I get a call from the military record staffers, 'Listen, I found them, I'm getting them to you right now.'
"It wasn't until we got the medical records, and only after a very public involvement pleading for them, that we were able to convince the government that indeed, maybe Jake wasn't the leader—that Jake wasn't leading the charge into the Capitol."
He said Chansley's mental health record, which he characterized as a piece of exculpatory evidence, was key to lowering the government's 20-year sentencing recommendation to 41 months.
Fast forward to March 12, Watkins said the DOJ's rebuttal is erroneous and that the government has denied some of Chansley's right to counsel as defined in the Sixth Amendment of the Constitution.
"Not producing [exculpatory evidence] when you have it is suppressing it. And it's not [just] suppressing it—it's shrouded in secrecy, which is even more problematic," he said. "When a criminally accused enters into the federal court system, that criminally accused has constitutional rights … [including] the ability to see the evidence that has been amassed by a prosecuting party prior to making a decision about whether to enter into a plea of 'guilty,' or to take a case to trial."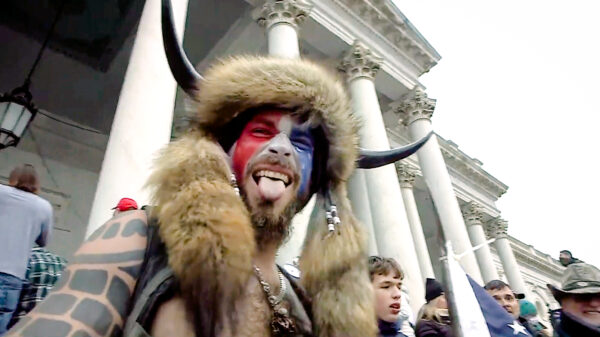 "The government, by not affirmatively discharging its duties to Jake, denied Jake his ability to enter into a plea agreement from a position of knowledge and to freely—knowingly, and in an informed and voluntary fashion—enter into that plea. Those requirements are vital. They are fundamental tenants of our federal judicial criminal system."
Judge Should Issue Show-Cause Order: Legal Expert
Mike Davis, president of the Article III Project, a legal nonprofit, echoed Shipley's and Watkins's view in an interview with The Epoch Times on March 15, noting that Lamberth should reopen the case and ask the government to explain their rationale for prosecuting Chansley.
"The government violated Brady by failing to give Jacob Chansley reasonable access to the exculpatory video evidence played on Tucker Carlson's show before Chansley pled guilty," said Davis, a former clerk under Supreme Court Justice Neil Gorsuch. "Judge Royce Lamberth should issue a show-cause order. He should have issued it the day after Tucker Carlson aired those videos."
According to Davis, the government's process of getting Chansley to agree to the 41-month plea deal constituted fraudulent inducement.
"I would call this fraud in the inducement of the plea agreement. They had access to these videos and didn't provide them, and they induced Jacob Chansley into a fraudulent plea agreement based upon this omission," he said.
The Department of Justice declined to comment.