More than two years have passed since Big Tech controversially suppressed the New York Post's infamous exposé on Hunter Biden's laptop, yet despite those efforts, the story continues to make waves.
"I guess the chickens are coming home to roost," noted Miranda Devine, New York Post reporter and author of "Laptop From Hell: Hunter Biden, Big Tech, and the Dirty Secrets the President Tried to Hide."
On Dec. 1, as Twitter owner Elon Musk was preparing to release internal documents revealing the true motivations behind the social media platform's decision to censor the story, Devine delved into the details of the story, the cover-up, and more for Epoch TV's "American Thought Leaders" program. The episode is due to air on Dec. 8 at 7:30 p.m. ET.

The Scoop
On Oct. 14, 2020, just weeks before the presidential election, the Post published its bombshell report that then-presidential candidate Joe Biden had met in 2015 with an executive from Burisma, a Ukrainian energy firm that had been paying his son, Hunter, a salary of up to $50,000 a month.
The report cited emails sourced from a laptop that had been abandoned at a Delaware repair shop in April 2019 and had since been seized by the FBI.
In one email, Vadym Pozharskyi, an adviser to the board of Burisma, contacted the younger Biden seeking "advice on how you could use your influence" to benefit Burisma.
In a subsequent email, Pozharskyi thanked the then-vice president's son for "giving an opportunity to meet your father" in Washington.
Throughout his campaign, Joe Biden had repeatedly denied any knowledge or participation in his son's business dealings. And as the other contents of the laptop included what appeared to be a pornographic video of Hunter in which he was also smoking crack, the Post knew it had a big story on its hands.
"Because it was so close to the election, it was going to have an impact—it was detrimental to one of the two candidates for president," Devine noted. "So, very high stakes; we expected that there would be pushback because of that. What we didn't expect was that Big Tech would weigh in—would, you know, unsheathe their claws, show the world their power, and step in and censor the oldest newspaper in the country, the fourth largest by circulation."
The Cover-up
Holding that the "egregious" censorship of the story essentially amounted to election interference, Devine recounted how, mere hours after the article was published, Facebook announced that it would limit the story's reach pending a fact check.
"And by the way, that fact-checking never happened, as far as we can ascertain," she added, "because the most obvious way you would do it is you would contact the other recipients of the emails that we were publishing and ask them, 'Did you get this email?' And I know, having talked to recipients, that none of them got any question or phone call from Facebook."
In August, Mark Zuckerberg, CEO of Facebook's parent company, Meta, divulged that the platform's decision to limit the story was largely based on warnings Facebook had received from the FBI about a potential forthcoming "dump" of "Russian propaganda" to influence the election.
And according to recent testimony from Yoel Roth, Twitter's former Trust and Safety Department head, Twitter also received those warnings of a "hack-and-leak operation" involving Hunter.
"Obviously, whatever the FBI had warned Twitter and Facebook about was so similar to our story that they censored it within hours of publication," Devine said.
Although Musk's so-called Twitter Files did not reveal the details of those warnings, the released documents provided insight into some employees' confusion over the decision to censor the article under Twitter's "Hacked Materials" policy.
"I'm struggling to understand the policy basis for marking this as unsafe," senior communications manager Trenton Kennedy wrote in one exchange, "and I think the best explanation for this externally would be that we're waiting to understand if this story is the result of hacked materials. We'll face hard questions on this if we don't have some kind of solid reasoning for marking the link unsafe."
But while being locked out of its Twitter account for two weeks was certainly difficult for the Post, Devine noted that it was particularly shocking and disheartening for staff when the media and former intelligence officials also adopted the "Russian disinformation" narrative.
And while the White House recently described the new revelations about Big Tech's censorship of the story as a "distraction," Devine also noted that FBI whistleblowers had come forward to allege that efforts to suppress the story extended beyond social media and into the bureau itself.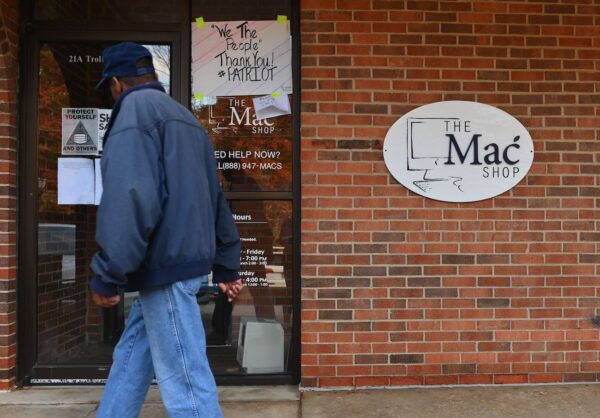 Furthermore, Devine said that when FBI agents retrieved the laptop from John Paul Mac Isaac, owner of the repair shop where it was abandoned, they left him with the impression that they might be threatening him.
"One of them turned and said to him, 'In our experience, nothing happens to people who basically keep their mouth shut,'" she said. "And he wasn't quite sure whether that was a warning, but he was discomforted by it."
Admitting that she had initially dismissed Mac Isaac's concerns as paranoia, she added, "Now, I'm more inclined to believe John Paul Mac Isaac's instinct, which was that he was being warned to keep his mouth shut."
Peddling Power
While noting that the coverup of the laptop's contents is certainly a big story in and of itself, Devine said that the bigger picture needs to be acknowledged.
"You can't lose sight of the fact that this is a story about Joe Biden," she said. "And that is why the cover-up was so concerted."
Where much of the attention surrounding the laptop's contents has focused on Hunter and his wayward lifestyle, Devine stressed that his role was just to be the "bagman" for his father.
"It's not about Hunter Biden—it's about Joe Biden," she said. "And it's about an influence-peddling operation that he set up early on with his brother, Jim Biden, back in his first days in Delaware."
And Hunter's laptop, she added, provided key evidence that those schemes continued through his father's time as vice president.
"Joe Biden told the American people during the campaign and ever since that he knew nothing about his son Hunter's overseas business dealings," Devine noted, "but there is just copious evidence on the laptop that he met with numerous, you know, at least a dozen of Hunter Biden's overseas business partners from China, from Kazakhstan, from Russia, from Ukraine."
Even without the laptop's materials, however, she contended that the signs of influence-peddling were there for all to see.
"Particularly in China, it was very obvious to Chinese eyes what was going on when Joe Biden, as vice president, flew into Beijing on Air Force Two with his son, Hunter Biden, in tow," she said. "This was American power, come to do private business."
Emphasizing the Biden family's relationship with China as especially troubling, Devine said she felt it served as an example of how China "plays the long game to infiltrate into the highest reaches of American power elites."
Devine traces Biden's "love affair" with China back to his 1979 trip to the country as a young senator, holding that ever since, Biden has been all too eager to advance the goals of the Chinese Communist Party in the United States.
"And it's, I think, a great tragedy for America that a man like Joe Biden … should have been targeted so early by the Chinese Communist Party, and have been such a useful tool to them in his entire career."
The Epoch Times has reached out to the White House for comment.