A house built via 3-D printing was unveiled to the public on Saturday, April 7, in western France, with backers praising it as a breakthrough in green construction.
While it is not the first created with printing technology, this is the first house ever built in situ intended for permanent habitation. The house will be allocated by June 2018 to a local family that qualifies for social housing, authorities said.
"It's a solution and a constructive principle that is interesting because we create the house directly on site," said professor Benoit Furet, whose teams from the University of Nantes led the building project called Yhova.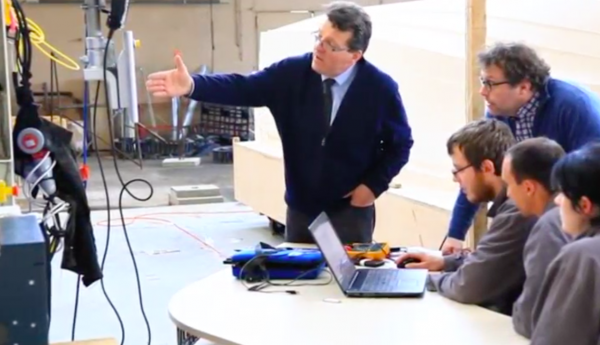 "In addition thanks to the robot, we are able to create walls with complex shapes," he said.
This Y-shaped, five-room, 1,000-square-foot home is incredibly insulated, thanks to an innovative method employed to build it.
A special polymer material—polyurethane—is sprayed layer-by-layer by the 3-D robot named BatiPrint3D. Eventually this forms hollow walls, a process which takes about 18 days. These supporting walls are subsequently filled with concrete that serve as insulation.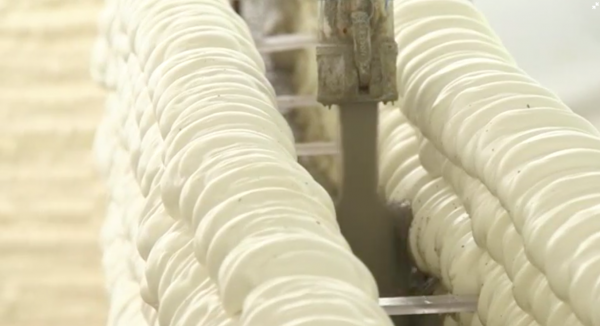 The structure is "a kind of reverse way of traditionally made walls," according to 3D Printing Industry.
"Once you've printed the material you've used very little material, and produced zero waste," Furet said.
"This material [polyurethane] once it's laid down allows us to achieve efficiency in the house which means that the wall is so insulating, that you'll use very little energy to heat this house for 100 years," he continued.
The house has been equipped with multiple sensors that monitor air quality, humidity, and temperature, as well as equipment to analyze the thermal properties of the building. This is intended to enable tenants to save on energy costs, according to the designers.
According to the university, Batiprint3D will reduce construction time, improve thermal insulation and reduce construction operating costs. It said that if this building method can be scaled up, energy-efficient affordable social housing can be developed on-site faster and cheaper than currently possible.
Nantes Métropole, the city authority, is considering the feasibility of printing out an entire district of such homes, in different shapes and sizes. It also wants to consider printing a public reception center.
By Mimi Nguyen Ly
Recommended Video:
Archaeologists Discover Ancient Necropolis in Egypt