The power of faith. The power of humanity. When we truly have compassion for one another, the heart-melting power is insurmountable.
To kids, little gestures can have the biggest effects, and even just a tiny gesture of kindness can have profound results.
Santa had his work cut out for him in the lead up to Christmas last year.
With a line of excited children eagerly awaiting their turn to sit on Santa's lap to receive a gift at the fishing and hunting retailer Bass Pro Shops, presumably in Oklahoma, the man with the big white beard tirelessly worked his way through a seemingly never-ending conveyer belt of kids.
But it soon became evident to Steve Dane, who posted his Santa experience on Love What Matters, that this guy was the right man for the job.
When most kids sit on Santa's lap to tell him what they wish for, they generally ask for presents like toys, dolls, and many other items that kids dream of. But for others, it may not be something so concrete like a teddy bear.
Sometimes, it's surprising for adults to find out just how much compassion and heart a child has for someone else who might be less fortunate.
It was his daughter Taylor's turn to spend a moment or two with Santa. As Dad watched on, he was deeply touched to hear what his innocent young daughter requested of Santa.
Taylor had asked Santa to heal her cousin, Ashley Freihoff, of leukemia.
"Wow, what a tear jerker to hear your daughter break down to the one she believes can do anything," writes Dane.
When a child believes in Santa with his or her whole heart, it speaks tremendously of the amount of faith that a child has—faith in who he or she believes in, and faith in that the possible is just around the corner. In the eyes of children, Santa can do pretty much anything. He brings them toys, grants their wishes, and no matter what happens, Santa manages to bring a smile to every kids' faces—which in a sense, is magical in itself.
Despite the amount of Christmas magic Santa has up his sleeves, even the jolly father of Christmas has his own limitations—there is a first time for everything, even Santa. But that didn't seem to put off the Christmas icon—and even though he won't be able to grant the full scope of the little girl's wish, he seems to have something else in mind—something that will make him even more magical than ever.
And Santa's response to that request?
Well, it was enough to knock Dane's socks off.
"This man stops all the commotion and tells her he even as Santa does not have the power to heal but knows someone who can."
For a man who knows the importance of faith to a little girl like Taylor, he made sure to dedicate his sole attention to her to allow him to answer her wish in the most earnest way possible.
In a short clip of the intimate moment, Santa bows his head and says a short prayer with Taylor for her cousin.
Seeing this, Dane was "crying like a baby."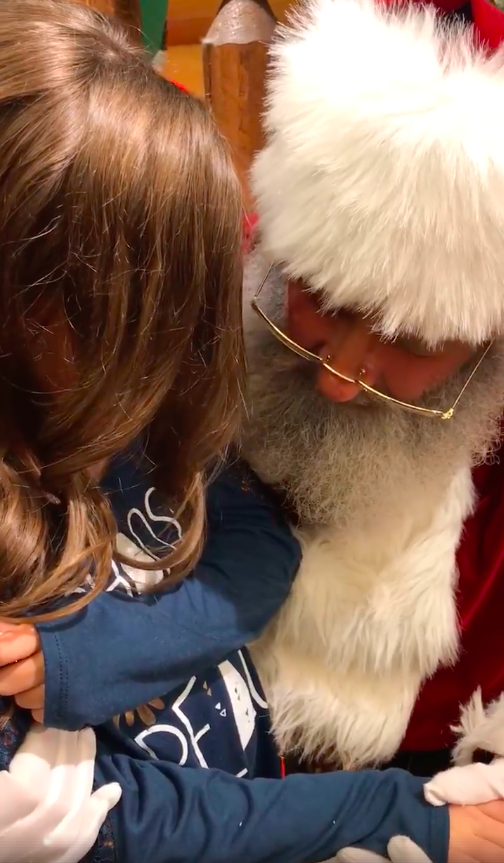 It was incredible. Not only was Santa able to keep his composure despite the pressure of so many waiting kids and parents, but he was so compassionate, giving his full attention to Taylor and her request, ensuring their prayer was said with the purest heart.
It was a very precious scene unfolding, as seen in the video—a sweet moment for a remarkable girl, a compassionate and kind Santa, and a heartwarming prayer dedicated to Taylor's wish.
"Thank you, Santa, for showing my family and everyone there what Christmas is really about. I hope this amazing man sees this post and knows how much he touched my family tonight."
Touched? As simple as it seems, the power of compassion from such a simple act, born of selflessness and faith, has touched not only Dane and his family, but thousands many more online.
Many have left wonderful comments praising both Taylor and the Santa who compassionately prayed with her for her cousin's wellbeing, and called the moment precious, beautiful, and among other kind words to describe what they saw.
In an update made by Dane on his facebook, millions of prayers had poured in for his family on social media, for Taylor's cousin's leukemia. He wrote that Ashley Freihoff's last treatment would be in May 2019.
Whether it be Christmas or some other time of the year, be sure to keep that compassion in your heart every day. Cultivate it. Be it. A little goes a long way.
Compassion makes the world go round.
Watch the moment below:
You may also want to watch this video:
Baby sees snowy footprints on Christmas Eve—then, he rushes in to see if Santa likes his gift