Increasing Waves of Protest in China
September 4, 2005 12:00 am Last Updated: September 4, 2005 12:00 am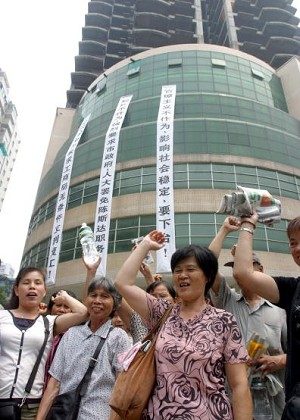 Guangdong Province Gov. Huang Huahua has ordered all coal mines in the province to halt production in order to conduct safety inspections. The shutdown prompted more than 10,000 people in the Shaoguan area to stage a sit in front of city government building to protest their loss of income. Bloody conflicts between police officials and protesters occurred during the incidence. The protesters said they would continue their efforts.
A recent coal mine accident caused more than 100 deaths at Daxing mine in Guangdong Province.
According to an article in the New York Times, the reasons for social turmoil include industrial pollution, illegal forced demolition of residential houses by real estate developers and corrupted local officials, and an increasing gap between rich and poor. Chinese people have begun expressing their requirements for a decent life more openly. The Chinese Communist Party appears unwilling or unable to improve the situation in China.
On average there are at least one or two significant occurrences of conflict between police and citizens reported every week in China. Certain incidents involved police use of tear-gas and batons against protesters. When answering a Reuter&#039s inquiry on the protests, the Ministry of Public Security indicated that during 2004 there were total of 74,000 protests in China, all of which ended in conflict. These numbers are up significantly, compared to 58,000 in 2003. Ten years ago there were only around 10,000.


The most recent protests in China include:
Xian City, Shaanxi Province
July 11, 2005 — A man climbed a tower to protest local commercial bureau officials closing his restaurant. Official said he did not have a license to operate.
July 11 — A couple in Xian city hung a banner on their roof and sat at the top of the banner in protest. The couple was protesting government plans to demolish their house. It was reported that many houses in that area are antique houses that have survived more than 11 dynasties of history. The houses apparently date back to the Xizhou Dynasty in 1068 BC.
Guangzhou city, Guangdong Province
July 26 — Purchasers of a new building posted banners and sang slogans in front of the building. The new owners were protesting government officials who ignored charges of embezzlement from the purchasers against the developer. The building developer had allegedly been pocketing purchasers&#039 money illegally. When the government finally intervened, the developer fled with purchasers&#039 money. The development of the building was then stopped by the government, and the purchasers lost all their money as a result. Banners held at the protest said: "We ask that all bureaucratic officials to leave office, they are responsible for instability of the society"; "We request the City government and the City People&#039s Congress to dismiss Commercial Bureau Chief Chen Sida. He does not work for the people"; "Relocated households request Commercial Bureau to disappear." July 14 — People at a local market in Guangzhou city were trying to stop police from forcing people move out of their homes that were slated to be demolished.


Shenyang City, Liaoning Province
July 14 — A man threw alcoholic beverages at police from the roof of his soon-to-be-demolished house in protest of forced demolition. The man set fires at the scene and held police at bay for more than 11 hours.
Chengdu City, Sichuan Province
July 11 — Employees laid off from the Sichuan Province Chengdu City Engine Limited Co. sat in the middle of the street to protest the lay offs. The protest ended in a conflict with officials.