Even though schools across the country are closed, many of them continue to serve breakfast and lunch to their students. Despite the health risks to themselves, these heroic food service workers continue to provide meals for kids. One woman in Michigan is going above and beyond, and making sure the meal-pick up experience is more than just a daily routine—by serving up smiles and more.
Pattie Guck has been the food service director for Birmingham Public Schools in Michigan for the past six years. Since schools have been shut down, she and her team have been making more than 1,000 meals a day for any students under the age of 18, even if they don't attend the school. Not only is she and her "dream team" serving up breakfast and lunch, they're also making sure the experience is fun for both students and parents.
Guck and her team pick different dress-up themes every day to keep things light and fun for their students. Guck describes herself as a fun and high-energy person, and the idea to have theme days just came to her. As she planned for the first day, March 16, she wanted to maintain a sense of normalcy for her students.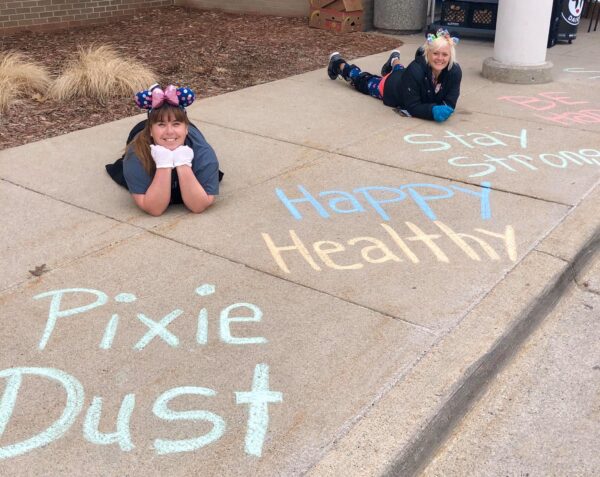 "We wanted them to see their school lunch ladies and lunch dudes with their smiles on their faces and we wanted to make it fun for the kids, so my team and I sat down and we brainstormed and we came up with a bunch of different themes together," Guck said.
Some of the popular themes have been Christmas, school spirit, Disney, sports, and Superhero Day. Every Friday is Pajama Day. With so much uncertainty and fear in the air, Guck and her team are striving to provide a fun part of the day for their students.
When kids and parents pull up to the serving window in their cars, they tell Guck and her colleagues how much they love the themes, and how excited they are to see what the theme will be the next day. Kids and parents often participate, too: They have pulled up to the window wearing Mickey Mouse ears for Disney Day and pajamas on Fridays.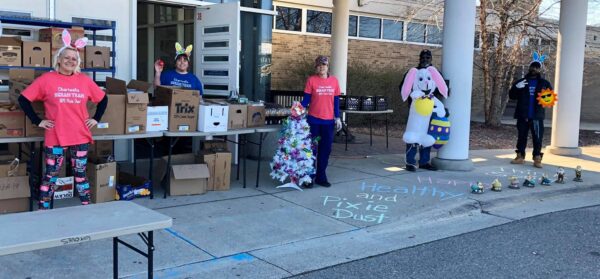 The biggest challenge has been the Michigan weather, but Guck and her team have served breakfast and lunch outside despite rain, sleet, snow, and 50 mile-per-hour winds. The other day, it was snowing and sleeting, but they stayed outside serving meals for two hours.
"We danced to stay warm, and we always have music playing to keep the environment really happy and high-energy," Guck said. "At the end of two hours we were a little wet and a little cold but we just all came inside and warmed up and just started making lunches for the next day," Guck said.
The most rewarding part of Guck's job is how proud she is of her "dream team," knowing that they're still able to serve their kids during such an uncertain time, and maintaining their core values of serving happy, healthy meals "with a little bit of pixie dust."
"It's an amazing feeling to know that we're helping our community and people from surrounding communities," Guck said.