With China's being the host for the G-20 for the first time since the summit was first held in 2008, the regime has been pulling out all the stops to roll out the red carpet for dignitaries coming from around the world. And local citizens have been paying the price.
The G-20 will be held on Sept. 4 and 5 in Hangzhou, the capital and largest city in eastern China's Zhejiang Province, and authorities have imposed "martial law-like" conditions.
"Here it is like martial law in Hangzhou. Helicopters fly over the roof every five minutes. Tanks and armored vehicles are seen outside a conference center," said Mr. Fan, a resident of the city, in an interview with the New York-based New Tang Dynasty TV on Aug. 19. "There is like a check post every 50 meters and you need to show your ID, and people from out of town need to have a temporary document that permits them to stay."  
The G-20, or Group of Twenty, is a financial forum for 19 countries and the European Union. This year, U.S. President Barack Obama will be attending the summit, marking his third visit to China as president.
Mr. Fan added, "Many hotels are closed for business because they have been taken over by police and the special police."
Nearly two months ago, local police officers saw an upgrade in their firepower. Chinese news portal Sohu reported that in the Xiaoshan District in Hangzhou, police were handed new military rifles, semi-automatic crossbows, and anti-drone rifles. Photos of tanks and armored vehicles in the city have been appearing on China's social media in recent days.
This is not the first time that the Chinese authorities have adopted draconian measures in preparation for international events.
The most well-known case was the Summer Olympics in Beijing in 2008. Some locals felt the measures were unbearable. Companies encouraged employees to leave the city, and citizens were made to sign documents promising that they would behave. Now, citizens in Hangzhou are feeling the crunch of the security measures.
Related Coverage
In July, China's State Council, the highest administrative body in the country, issued a directive that businesses and organizations in all districts in Hangzhou would observe seven nonworking off-days beginning on Sept. 1. In addition, educational institutes, from colleges to preschool, also saw their opening day pushed back to Sept. 8.
For people who might be interested in booking a sightseeing tour during the summit, China's tourism bureau similarly has imposed a restriction—Hangzhou will not welcome any tourism groups beginning on Aug. 28, and the ban will not be lifted until Sept. 7, according to state-run Xinhua.   
Several companies, including a hardware store in China's southern city of Huizhou and a seller on a Chinese e-commerce website (www.qjvip.cn), have posted notices on their websites asking potential customers in Hangzhou and nearby cities to adjust their purchasing plans, since pickup and delivery would be halted from Aug. 24 to Sept. 6, as truck service was completely suspended.

Hangzhou is more than ready for #G-20 pic.twitter.com/s3e0YxrUDB

— Afra Wang (@afrazhaowang) 2016年8月12日
Chinese authorities apparently had no problem sacrificing a little GDP when it came to the summit's security. According to a business website of the Henan provincial government, textile factories in 11 cities in Zhejiang, including Hangzhou, have been asked to suspend their production from Aug. 26 to Sept. 6, even though textiles are the second-largest industry in Zhejiang. The textile factories have also been known for both air and water pollution.
The city has undergone major renovations. According to People's Net, the online version of the state-run People's Daily, over 2,334 roads have been flattened and paved, over 5,600 outdoor billboards have been removed, over 10 million square meters of illegal buildings have been torn down, and over 9 million square meters of old neighborhoods and factories have been renovated.
Authorities have encouraged locals to go elsewhere, according to Radio Free Asia. Local tourism companies have offered locals cheap package deals, and 55 tourists sites in China have offered Hangzhou residents free admission from Sept. 1 to Sept. 7.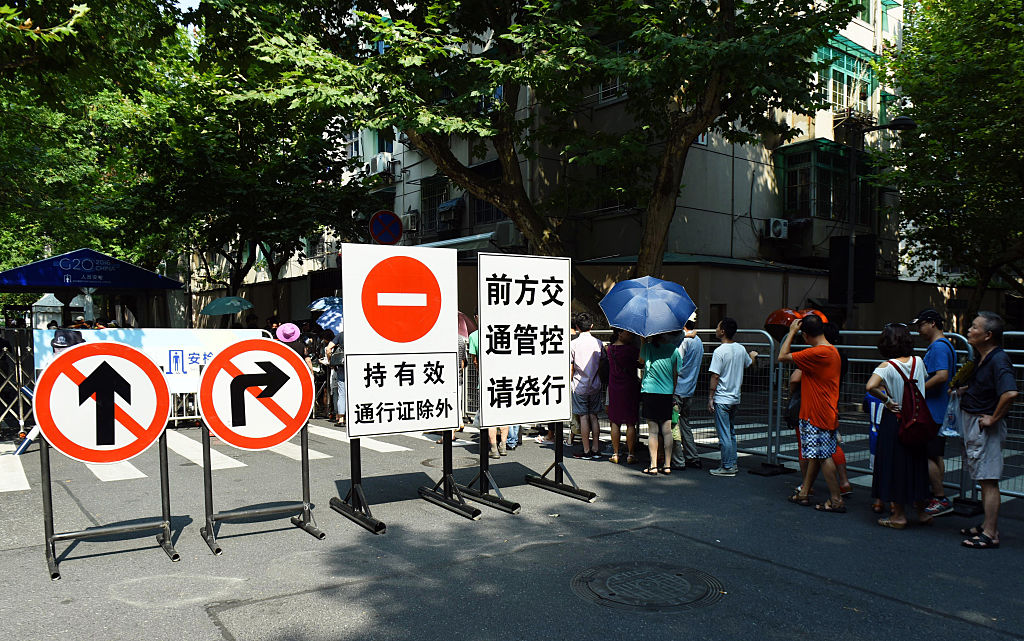 In addition, local authorities have reportedly offered a travel allowance of several thousand yuan (1,000 yuan equals $150)  to residents living near the Hangzhou Olympic and International Expo Center, where the summit will be held,  and near Xiaoshan International Airport, the principal international airport serving Hangzhou.
As with every international event in China, Chinese authorities have enforced a harsh crackdown on petitioners—people who might take the slim chance that their grievances might be covered by media, especially foreign media.
According to Weiquanwang.org, a Chinese human rights website, Ye Xueqing, a women's rights activist in Yiwu, a city in Zhejiang Province, was placed under close surveillance after police showed up unexpectedly at her home on Aug. 12.
A petitioner from the city of Wuxi, Chen Aibin, who was once sentenced for rescuing petitioners from a black jail (an extralegal facility used to detain individuals without trial), was fined 200 yuan (about $30) and placed in detention for 10 days by the local security bureau for leaving his residence on Aug. 23.
Practitioners of Falun Gong, also known as Falun Dafa, an ancient spiritual practice with moral teachings and slow, meditative exercises, which has been persecuted since 1999, were also targeted by security officials in Hangzhou.
According to Minghui.org, a clearinghouse for reports about the persecution of Falun Gong, state security officials from Hangzhou have, since as early as May, repeatedly showed up at homes of practitioners and told them to stay home during the summit. As of Aug. 20, at least one practitioner has been thrown in a detention center in Hangzhou, while several others are suspected to have been put into brainwashing centers.
For those who manage to stay in Hangzhou during the summit, the local authorities have issued a notice, telling people to behave in a civilized manner, according to the state-run Hangzhou Daily. The notice came in eight phrases, including "being all smiles meeting people" and "being confident and calm in words and action."  
"These phrases are simple and concise, and they are about some of the most simple things we do everyday. Everyone can do it," said Xu Lianchong, a community Party secretary in Hangzhou.