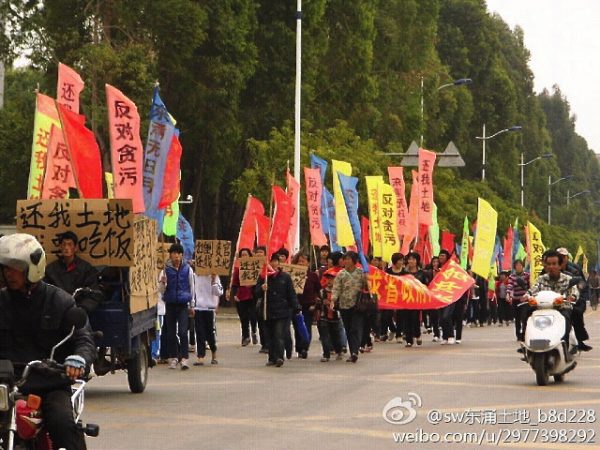 There were nearly three dozen large protests against officials in the ruling Chinese Communist Party around China on Monday, showing that such incidents are becoming more and more commonplace.
Overall there were 30 public demonstrations in 16 provinces, according to the activist website molihua.org. There was only one protest on Sunday.
Over 4,000 villagers in Shanwei, a city in southern Guangdong Province, partook in an anti-corruption protest on Sunday, demanding that the municipal government get rid of local officials who are suspected of confiscating and selling off their farmland. Police were deployed to quash the demonstration, which was said to be the seventh to erupt over the issue.
The villagers' demonstration on Sunday was part of a series of ongoing protests against the confiscation of their land, which they claim was sold without their consent and received no compensation from the sale.
Their protests demand that the local government investigate officials who were involved in such deals over the past two decades. Some 50 acres of farmland were sold off in 17 secret land sales, netting profits of several million dollars, which were then embezzled, they claimed.
"We must keep it on. Otherwise, our painful three-month-long will come to nothing," villager Cai Siteng told The Epoch Times. A Chinese blogger, who apparently is from Dongyong, also said that around 1,000 people have gathered to protest "every night to gain more strength."
But despite protests and thumbprint-covered petitions, the Shanwei government, where Dongyong is, has not responded.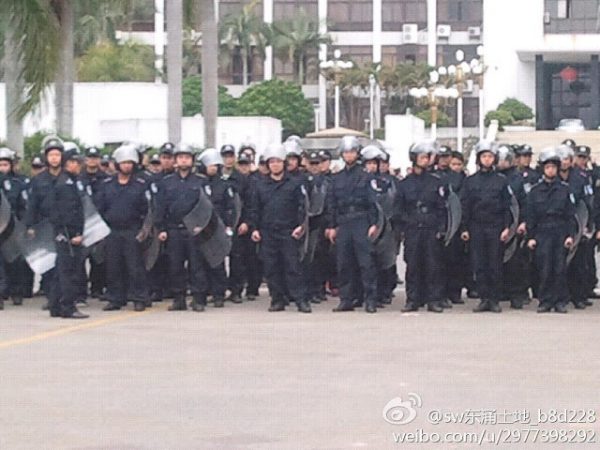 Mass protests have been on the rise in China in recent years. In 2000, there were around 40,000 mass demonstrations or riots. But in 2009, there were 110,000, reported the Observer News Weekly last month.
In the following year, that figure soared, with reports of 280,000 "mass incidents" taking place across China in 2010, according to the Observer.
The Observer said that the number of people involved in these demonstrations has also increased by an average of 17 percent every year in the past decade. In 2000, there were a total of 1.63 million demonstrators involved, but in 2009, 5.72 million protested.
Illegal land sales and confiscations, labor disputes, and environmental pollution are the main reasons why Chinese people protest, said Chen Guangjin, the deputy director of the sociology department at the China Academy of Social Sciences, reported the IBTimes.
Among the dozens of demonstrations on Monday were: construction workers in Lanzhou, Gansu Province, blocking roads over wages; property owners in Chengdu going on strike about government policy; drivers of three-wheel vehicles in Tongxiang city of Zhejiang Province, protesting about not being able to pass certain roads; retirees from a military equipment factory in Nanjing; villagers in Guangzhou, Guangdong, demanding compensation for a railway construction project.
Read the original Chinese article.
The Epoch Times publishes in 35 countries and in 21 languages. Subscribe to our e-newsletter.