New York Gov. Andrew Cuomo "can no longer remain in office," a top Democrat legislator said on Aug. 3.
Cuomo, a Democrat, sexually harassed multiple women, violating state and federal law, the state's attorney general announced earlier in the day, following a months-long investigation.
Democrats in the New York Assembly met to discuss the report after it was released.
"It is abundantly clear to me that the governor has lost the confidence of the Assembly Democratic majority and that he can no longer remain in office," Assembly Speaker Carl Heastie said, following the meeting.
"Once we receive all relevant documents and evidence from the attorney general, we will move expeditiously and look to conclude our impeachment investigation as quickly as possible."
Letitia James, the New York state attorney general (AG), said her office was cooperating with the Assembly.
"At the Assembly's request, we have provided the Assembly Judiciary Committee with the report that was released today, and we will provide them with all relevant evidence. We will cooperate with their investigation as needed," the Democrat AG said in a statement.
Cuomo, who's in his third term, is refusing to resign. But lawmakers in the state are signaling that they may move to impeach him over the harassment and assault allegations that the investigators tapped by James said they've substantiated.
Impeachment would require a simple majority to approve a resolution in the state's lower chamber. A trial would then be held in the New York Senate. A two-thirds vote among senators and state appeals court judges is needed to convict an official on impeachment charges.
Numerous state lawmakers said they wanted Cuomo to step down, with some saying that they would move to impeachment if he didn't do so.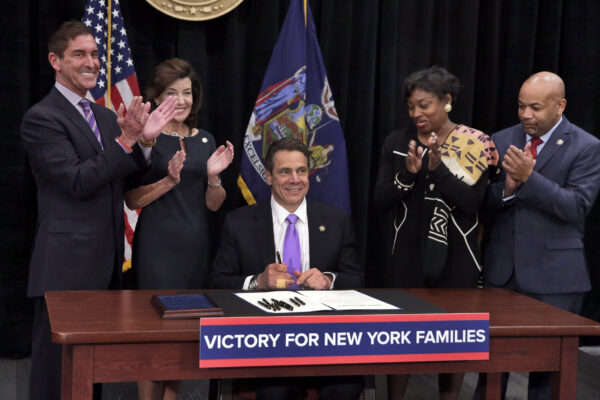 Senate Majority Leader Andrea Stewart-Cousins was among them, though she didn't mention impeachment.
"Now that the investigation is complete and the allegations have been substantiated, it should be clear to everyone that he can no longer serve as Governor," she said in a statement.
Democrats control both legislative chambers in New York state. Many Republicans want Cuomo removed, either through resignation or conviction.
The entire New York congressional delegation also called on Cuomo to resign, including Sens. Chuck Schumer (D-N.Y.) and Kirsten Gillibrand (D-N.Y.).
"Confronting and overcoming the COVID crisis requires sure and steady leadership. We commend the brave actions of the individuals who have come forward with serious allegations of abuse and misconduct. Due to the multiple, credible sexual harassment and misconduct allegations, it is clear that Governor Cuomo has lost the confidence of his governing partners and the people of New York. Governor Cuomo should resign," the pair said in a joint statement.
Cuomo in a video message on Aug. 3 accused the investigators of being biased and asked New Yorkers to peruse a report he had produced by his lawyer (pdf) that alleges the investigators "ignored the Governor's testimony and substantial corroborating evidence."
"I want you to know directly from me that I never touched anyone inappropriately or made inappropriate sexual advances. I am 63 years old. I have lived my entire adult life in public view. That is just not who I am and that's not who I have ever been," the governor said, as pictures of him hugging and kissing various officials were shown.