The White House has released pictures of Mike Pompeo meeting with North Korean communist dictator Kim Jong Un over the Easter weekend.
Pompeo visited North Korea secretly in his role as the director of the CIA. President Donald Trump has since appointed Pompeo the State Secretary. The Senate has confirmed the pick on Thursday, April 26.
"He wasn't supposed to meet with Kim Jong Un, but he did," Trump told Fox & Friends over the phone on Thursday. Adding that the Kim regime arranged the meeting while Pompeo was there.
"We have incredible pictures of the two talking and meeting, which I'd love to release," Trump said. "If we can, I'll do that. Actually, it's not a bad idea."
Two images were released later that day.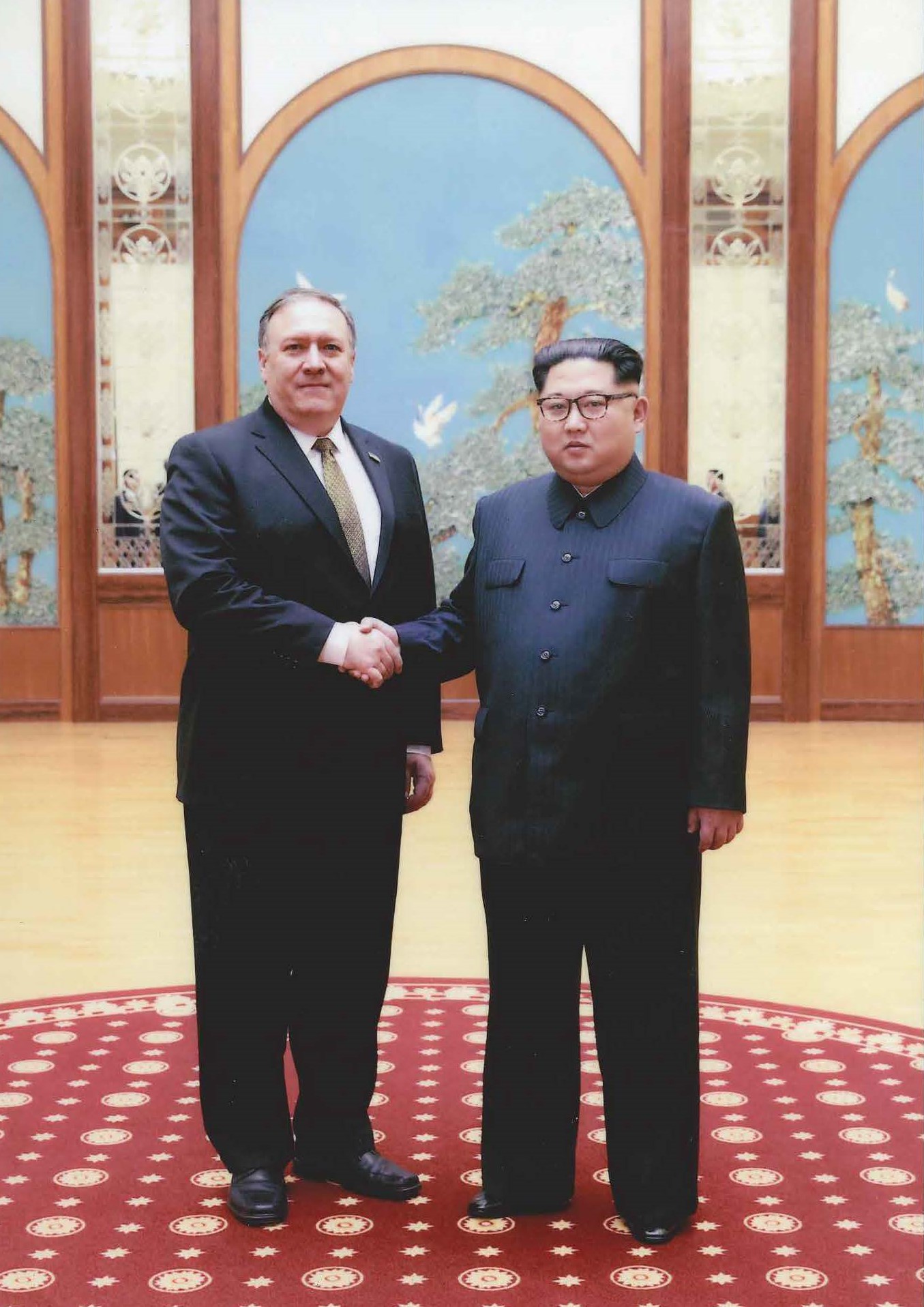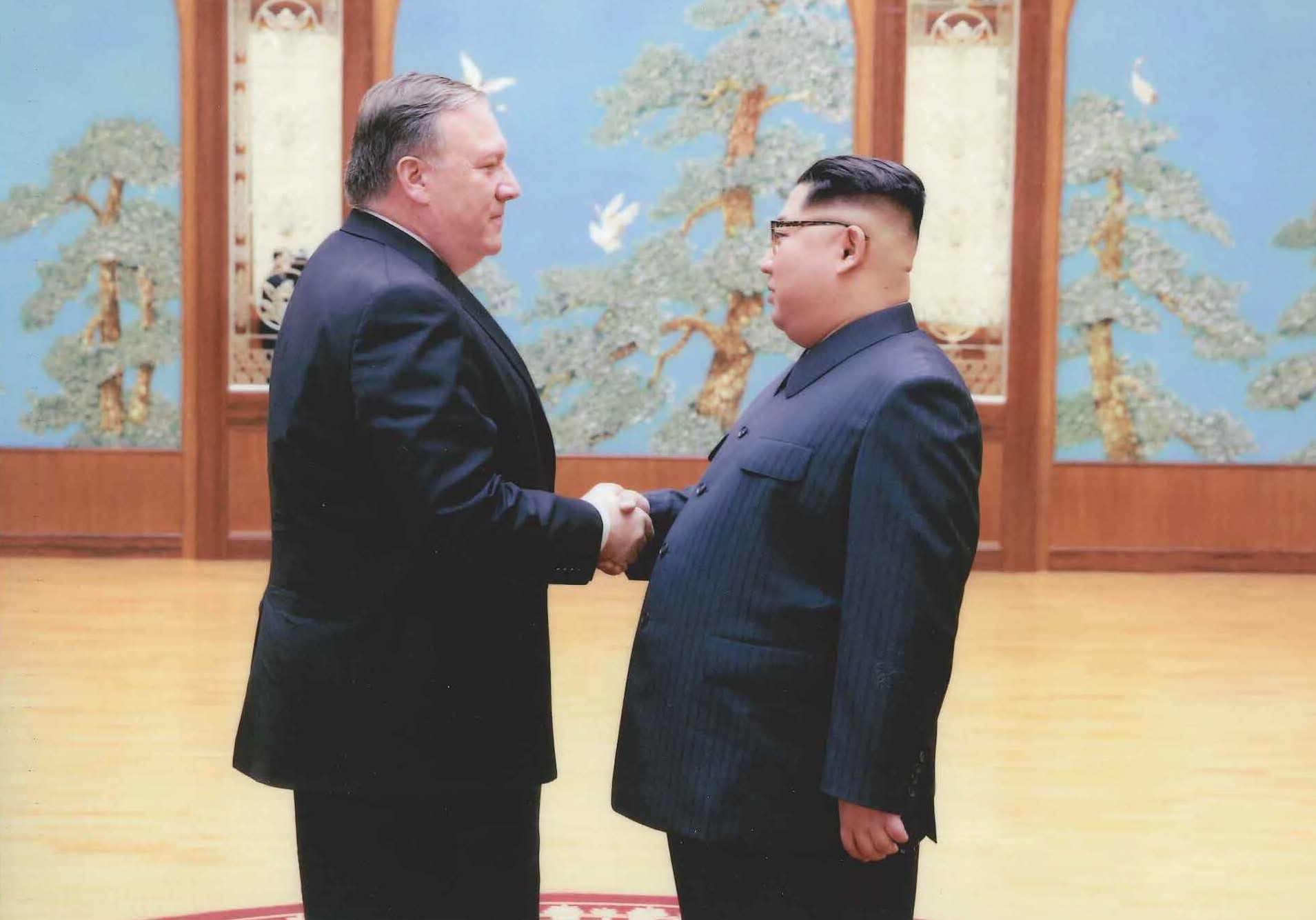 Trump said the two spend over an hour together and "got along."
"They spoke and he [Pompeo] also spoke with his counterparts in North Korea. They had a great meeting. He then left," Trump said. "It was very, very secret—very, very quiet."
Kim is set to cross his country's heavily militarized border with South Korea on Friday for the first inter-Korean summit in more than a decade, as the old foes seek to end their decades-long conflict and ease tensions over the North's nuclear weapons program.
The summit with South Korean President Moon Jae-in will set the stage for Kim to meet with President Donald Trump in late May or early June in what will be an unprecedented first encounter between sitting leaders of the two countries.
Just months ago, Trump responded in kind to Kim's threats and insults as North Korea's rapid advances in pursuit of nuclear-armed missiles capable of hitting the United States raised fears of a fresh conflict on the Korean peninsula.
South Korea's Moon will personally greet Kim at the military demarcation line at 9:30 a.m., making Kim the first North Korean leader to set foot in the South since the 1950-53 Korean War.
The two will be escorted by South Korean honor guards to an official welcoming ceremony before beginning official dialogue at 10:30 a.m. at Peace House, a South Korean building inside the border truce village of Panmunjom.
In a dramatic gesture just days before the summit, Kim announced North Korea would suspend nuclear and long-range missile tests and dismantle its only known nuclear test site.
But skepticism remains about whether Kim is ready to abandon the nuclear arsenal his country has spent decades developing.
South Korea hopes the North Korean leader on Friday will directly confirm his will for "complete" denuclearization of the peninsula.
The two neighbors expect to release a joint statement late on Friday—possibly called the Panmunjom Declaration—that could address denuclearisation and peace, and an improvement in relations, South Korean officials said.
Lingering Hostilities
Impoverished North Korea and the prosperous democratic South are technically still at war because the Korean War ended in a truce, not a peace treaty.
The United States stations 28,500 troops in South Korea as a legacy of the Cold War conflict, which pitted the South, the United States and United Nations forces against the communist North, which is backed by China and Russia.
Trump said he was considering three or four dates as well as five locations for his meeting with Kim, although, once again, he added that it remained unclear whether the meeting will occur.
Trump has said he expects to meet with Kim in May or June, but he has warned several times that the meeting could be called off if he did not think it could deliver the desired results.
"It could be that I walk out quickly—with respect—but … it could be that maybe the meeting doesn't even take place," he said. "Who knows. But I can tell you right now they want to meet."
Friday's inter-Korean summit will be the third ever after two former South Korean leaders, Kim Dae-jung in 2000 and Roh Moo-hyun in 2007, met with Kim Jong Un's late father and predecessor, Kim Jong Il, in Pyongyang.
The latest summit has particular significance not least because of its venue: the Demilitarised Zone, a 160-mile long, 2.5-mile wide strip of land created in the 1953 armistice to serve as a buffer between the South and North.
With heavily armed soldiers and propaganda broadcasts blasted over loudspeakers from both sides, the DMZ has long been a symbol of hostilities on the divided peninsula.
South Korea switched off its propaganda broadcasts on Monday to set a positive tone ahead of the summit, and South Korean residents living near the border said the North Korean broadcasts had also appeared to stop on Tuesday.
South and North Korea are in discussions about a peace agreement that could officially end the state of war, an effort Trump said has his blessing if Pyongyang agrees to give up its nuclear arsenal.
For the first time, key moments such as Kim crossing the border into the South, the two leaders shaking hands, and walking to the Peace House for their summit talks, will be broadcast live.
The summit includes a dinner where Swiss fried potato rosti, as well as chocolates, macarons, and gruyere cheesecakes will be served as a homage to Kim's childhood spent in Switzerland.
Prelude to Trump Summit
Moon took office in May pledging to restore ties with the North and has called for dialogue.
After dozens of missile launches last year, Kim embarked on a diplomatic offensive at the beginning of the year. Kim sent a delegation to the Winter Olympics in South Korea in February before Trump stunned the world by agreeing to meet Kim to discuss "denuclearisation" of the Korean peninsula.
Yet the history of failed nuclear negotiations with Pyongyang has made some U.S. officials skeptical of Kim's true intentions and suspicious of his recent overtures as more of a bid to win relief from wide-ranging U.N. sanctions and to divide Washington and its allies.
There is also concern that North Korea could insist on taking incremental steps in return for simultaneous incentives from Washington, the kind of phased approach that U.S. officials have rejected.
Unlike two previous inter-Korean summits, joint economic projects are not expected to be discussed, South Korean officials said. U.N. sanctions imposed since North Korea's first nuclear test in 2006 and expanded over the past decade deny North Korea a considerable amount of international trade.
Reuters contributed to this report.
Recommended video:
Memoir of a Communist Slave