Illinois Gov. J.B. Pritzker this week activated 500 National Guard members and is sending them to Washington to help with the continued military presence in the nation's capital.
The activation was at the request of the U.S. Department of Defense.
"We are deploying these forces in support of civilian law enforcement based on threat-levels against the U.S. Capitol. These threats were assessed by the FBI and other federal agencies," Maj. Gen. Rich Neely, the adjutant general of Illinois and commander of the Illinois National Guard, said in a statement. "Our soldiers and airmen are committed to the defense of both our nation and our state. We have asked a lot of them in the last year and each time these men and women have answered the call and upheld their oath to defend and support the U.S. Constitution."
"Major General Neely and I are ready to ensure that the state of Illinois continues its proud legacy of protecting our democracy. Ultimately, we must root out the dark forces of racism, white supremacy, and disinformation that have created this moment, but until we do that, our extraordinary troops will deploy with honor," Pritzker, a Democrat, added.
The troops are slated to be in Washington by the beginning of next week. They're expected to stay there until mid-March.
Massachusetts Gov. Charlie Baker, a Republican, and New York Gov. Andrew Cuomo, a Democrat, also approved sending personnel to Washington this week.
Other governors have recalled their troops and are not sending them back.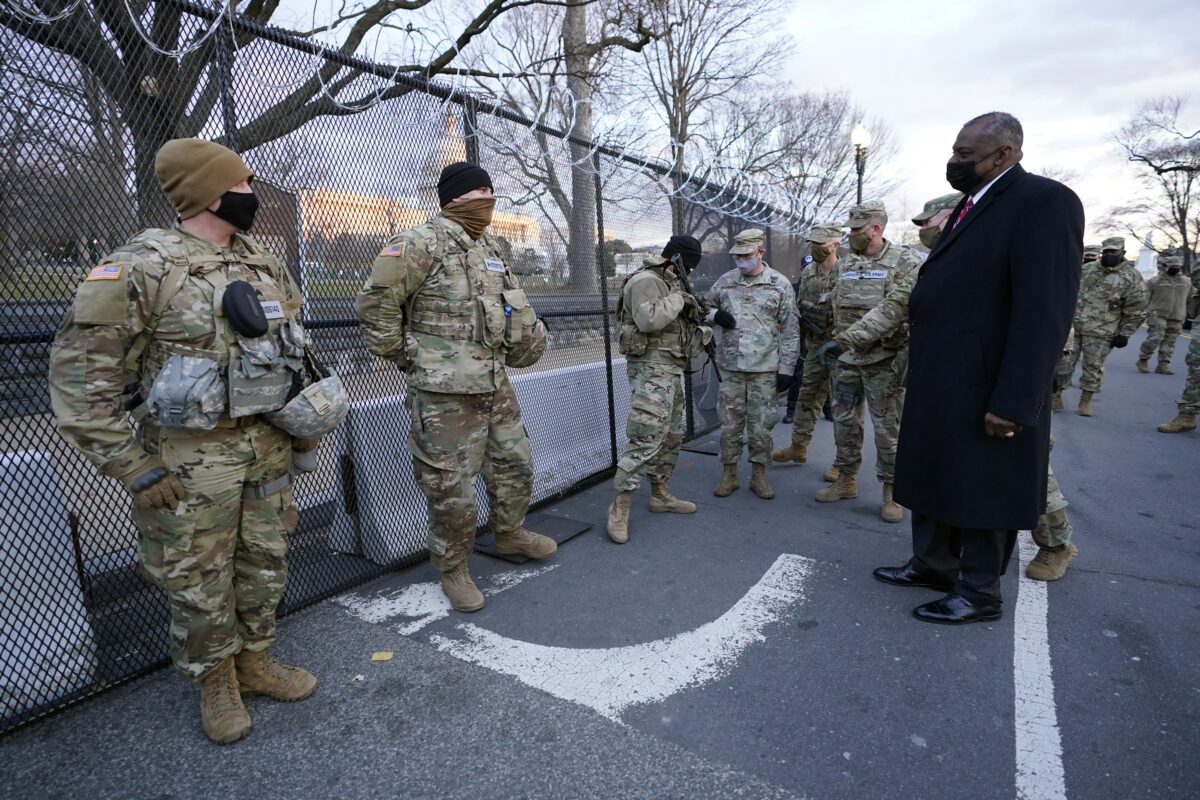 Approximately 7,000 troops have been requested to remain in Washington for the coming weeks. That level will likely go down to 5,000 by mid-March, acting Army Secretary John Whitley told reporters this week. The personnel are armed.
Members are providing a variety of support, including security, logistics, and medical evaluation.
Over 25,000 members poured into Washington after the Jan. 6 breach of the U.S. Capitol, in preparation for President Joe Biden's inauguration. Practically no incidents were recorded, with only three arrests made by any agencies.
A number of lawmakers have said the presence makes them feel safer but others have challenged the continued deployment.
Their presence, coupled with tough federal charges against the Capitol rioters, deterred any further violence; the presidential inauguration occurred without incident," Sen. Tom Cotton (R-Ark.) wrote in a recent op-ed. "With the inauguration complete and threats receding, now it's time, yes, to send home the troops."
House Republicans are seeking a briefing on the deployment, asking for justification for the decision.
Asked why troops are staying in the city for so long, Whitley told reporters that "there are several upcoming events—we don't know what they are—over the next several weeks, and they're concerned that there could be situations where there are lawful protests, First Amendment-protected protests that could either be used by malicious actors or other problems that could emerge."
Secretary of Defense Lloyd Austin visited troops on Capitol Hill on Friday.
"I want to tell you we're really grateful for your service. And we know it's not easy to leave home, come out here and help us out," he told them. "But you're doing a great service on behalf of your country in protecting the Capitol so that our lawmakers can rest at ease and do the work that they got to do on behalf of this country."