The story of a boy who was killed as he attempted to push his sister out of the way of an oncoming car has touched the hearts of many over the years. It's also has served as a remember for drivers to be extra cautious around bus stops and stopped school buses.
La'Darious Wylie, 11, was waiting at a bus stop with his 7-year-old sister, Sha'Vonta, in Chester, South Carolina.
The boy noticed an oncoming vehicle that had swerved toward the children at the bus stop.
"He knew to look out for her," mother Elizabeth McCrorey told the Charlotte Observer.
His aunt Felicia Mobley told WBTV: "We [are] just dealing with it on a daily basis because when it's a tragedy like this we just have to deal with it day by day."
"He saved his sister. And he ended up being the one that's where he is now."
La'Darious' cousin, Kimberly Robinson, told HuffPost that witnesses saw the car driving toward the children, noting La'Darious' split-second bravery.
"His little sister was standing at the bus stop when the car come," she said. "He pushed her out of the way, but he was unable to move in time. The impact of the car threw him but, my God, I can't talk about that."
The boy was taken to Levine Children's Hospital in Charlotte, North Carolina, and was rushed to the intensive care unit.
"He survived, but he was brain dead," Robinson said. "His mom stayed by his side and they kept him on life support until the following day, when she finally decided to let him go."
The vehicle's driver, Michelle Johnson, got probation over the incident, the Herald Online reported. Family members of La'Darious were upset that she didn't get a harsher sentence.
"I don't hate you, but you didn't stop. I don't judge you, that's for God to decide. … (La'Darious) had dreams. … Now I have to wear him on my shirt," Liz McCrorey, the boy's mother, told the woman.
Johnson had claimed that she hit a deer and went to drop her grandchildren off at school, the report noted.
Carlos Wylie, La'Darious' father, told a judge that he didn't believe her claims about a deer.
"She should have gotten at least five years, community service, something," Wylie said. "My son was a hero. My son saved his sister that day."
Johnson cried during her court hearing.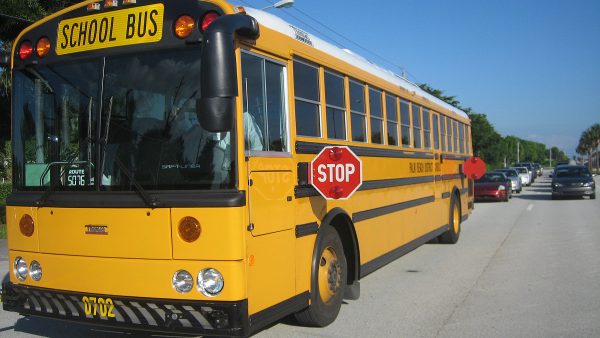 She said, "To the McCrorey and Wylie families, I am so, so sorry. I wanted to tell you for a long time. I cry myself to sleep every night. Forgive me. I am trying to forgive myself."
Meanwhile, in court, his sister, Sha'Vonta, wore a T-shirt with her brother's photo on it.
"My hero," Sha'Vonta said of her brother.
"La'Darious loved his family," Robinson added to HuffPost. "He was the apple of his momma's eye. He was well-behaved, he got good grades and he played football. He liked the Baltimore Ravens. The school was supposed to take him to the Bank of America Stadium this week to meet the [Carolina] Panthers and, even though it wasn't his team, he was so excited because he loved football."
According to Schoolbusfleet.com, between six of eight school bus stop fatalities were caused by other drivers in 2016 and 2017.